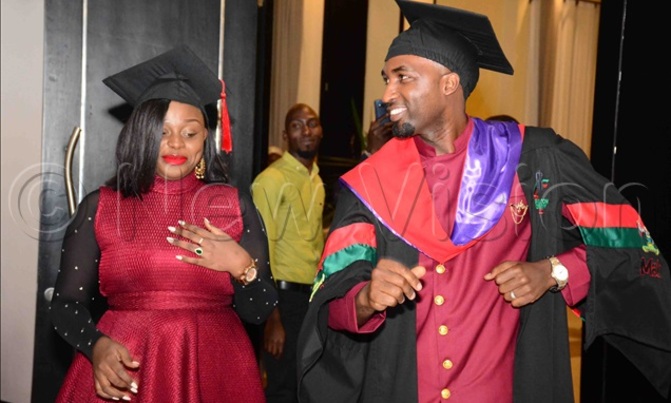 The couple recently returned from there honey money and the graduation party was one of there major appearances ever since there lavish wedding.
REMA NAMAKULA STUDIES
Singer Rema Namakula admitted that the mortarboard (graduation cap) she donned when she walked hand in hand with her husband, Dr. Hamza Ssebunya at his graduation party on Friday was 'kiwaani', but declared that she was ready to go back to school.
Without mentioning her current level of education, Rema, as she is popularly referred to walked alongside Dr. Ssebunya at a party attended by only what the couple described as the 'cream' of their family members and friends at Mestil Hotel, Nsambya.
She had donned a university cap, arguably to imitate her husband, who graduated with a Bachelors' degree in Human Medicine and Surgery from Makerere University.

She said the cap was not real but declared that she had been inspired by his achievement and hinted on returning to school. Rema dominated the news after dropping award-winning long-time fiancé, Eddy Kenzo Musuuza to get married to her newfound 'love', Dr. Ssebunya.
The couple recently returned from their honeymoon and the graduation party was one of their major appearances ever since their lavish wedding.

Dr. Ssebunya, who spoke for almost an hour also offered to sponsor his wife's education 'anytime' she felt ready to return to school.
The function was attended by a few friends, including the chairman of the Kwagalana group, Godfrey Kirumira, Fredrick Kiyimba alias Freeman, Hammis Kiggundu alias Ham of Ham Towers and Sheikh Muzaata Batte, among others.

Ssebunya knelt down while speaking about his mother, Hajati Anifa Kibirige, who he described as a great mother who raised him well in an extended family, with several children.
He said his father, the Hajji Ali Twaibu Kibirige, was working in Dubai, United Arab Emirates but died of a stroke, which he said inspired him to study medicine to save the lives of people.

He spent much time speaking about their love, revealing how Rema unlocked his happiness.
Referring to his wife as 'Little Rema', he said the singer was the only missing part of his life. He advised everyone to get a lover and choose what he described as the 'right person and not those who will waste their time'.


Kirumira congratulated the couple for having gone through what he described as a difficult time when 'haters' were on their case and attempted to fail their wedding.
He, however, said Rema will never regret her decision and vowed that they will look after her well.