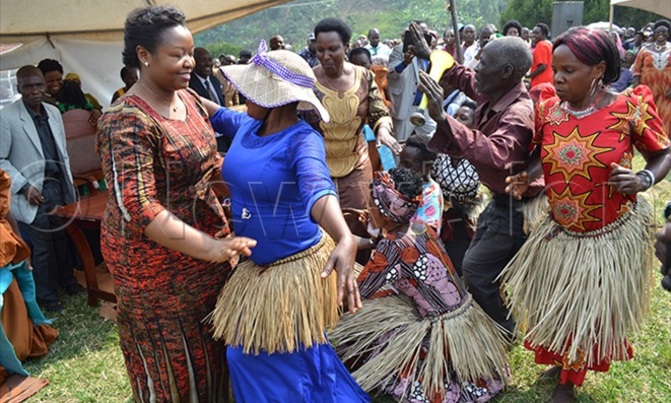 "Please remain firm. Don't abandon your children. Your husbands and wives will return home," she said.
CONFLICT
Widows and widowers of the Rwenzururu kingdom subjects killed or spouses of those imprisoned following the November 2016 clashes have been cautioned against abandoning their children to re-marry.
The Rwenzururu queen Agnes Asimawe Ithungu, wife to the Rwenzururu king, Charles Wesley Mumbere, the Irema-Ngoma, said she had information that the widows and the wives of the incarcerated were re-marrying.
She was addressing a public rally at Nkaiga Primary School, Maliba trading centre, Busongora county north constituency recently on the second day of her tour of the district, code-named "Meet
"I have been informed that some of you are abandoning your children to re-marry other men or women. Please be patient," she implored.
The Nyabaghole said, "Please remain firm. Don't abandon your children. Your husbands and wives will return home."
According to the Rwenzururu spokesperson, Yona Maate Tumusiime, there are about 600 widows and and 300 orphans.
Optimistic about freedom
She said following the on-going peace dialogue between government and the Obusinga Bwa Rwenzururu, she was optimistic that the jailed subjects will be released.
She revealed that the dialogue team, comprising various Rwenzururu and Government representatives and chaired by a neutral person, had reached some promising levels of peace negotiation
"Let us reconcile, give peace a chance and pray that one day we shall all return home," she said.
She added, "I have hope that our uncle, President Museveni, will not leave his nephew (King Mumbere) and the king's children in such misery,"
Earlier, a Senior Presidential Advisor, Christine Mugara, had advised the residents to leave the issues of Rwenzururu to "President Museveni and his nephew" (Omusinga Mumbere)."
President Museveni used to call the deceased Rwenzururu Queen Mother, Christine Biira Mukirane, his sister when he discovered that she belonged to his clan, known as Abaswagha among the Bakonzo.
On November 26, security forces raided the Rwenzururu administration offices on Alexander Street and the Rwenzururu Palace on November 27 burning down the palace and arresting Mumbere along with some 200 of his subjects.
More than 100 subjects are said to have died in the clashes in which 16 police officers were also killed and some 200 others arrested along with the Rwenzururu king, Charles Wesley Mumbere.
According to the Nyabaghole, they are detained in various prisons in the country.
Mumbere and co-accused have since been charged with several criminal counts, including treason, murder, attempted murder, arson and destruction of property.
But Mumbere is currently on bond and lives with his immediate family in a Kampala residence whose access is highly restricted.
He is also prohibited from visiting his kingdom.
87 royal guards surrender
The chairperson of the Prime Ministerial Commission (PMC), Gad Mbayahi, said following a peace campaign spearheaded by the Busongora Development Forum, 87 fugitive royal guards had come out of hiding.
Dr. Nathaniel Walemba, the author of the Rwenzururu constitution and the institution's anthem, said some opportunists had usurped the kingdom powers using them to mislead the people.
The Maliba One LC1 chairman, Uriah Baluku Madi, urged the government to release the king and his co-accused subjects.
The resident district commissioner, Lt Joe Walusimbi, warned the residents to guard against politicians and other agencies who have invested in what he called (factories and schools of lies).
The RDC caused a stir when he said, "We are fighting hard to have our king freed despite these prophets of doom."
Walusimbi also sternly warned that those sabotaging the peace process in the region risk being harshly dealt with, calling them "abakolikoli" (rebels).
He said he had intelligence reports that some politicians were re-organising to disrupt the process and had attempted to demobilise residents to shun the queen's public rallies.
"If I had the power to exonerate king Mumbere, I would do so and instead charge the politicians who are busy manufacturing and spreading negative information," he said.
He also mocked them for claiming to have access to the king whenever they wish and take selfless with him at court, using them to support their claims.
Walusimbi urged the Bakonzo to jealously guard their king and their institution and emulate Buganda's loyalty to the Buganda Kabaka (king) and obwa Kabaka bwa Buganda (Buganda kingdom.)