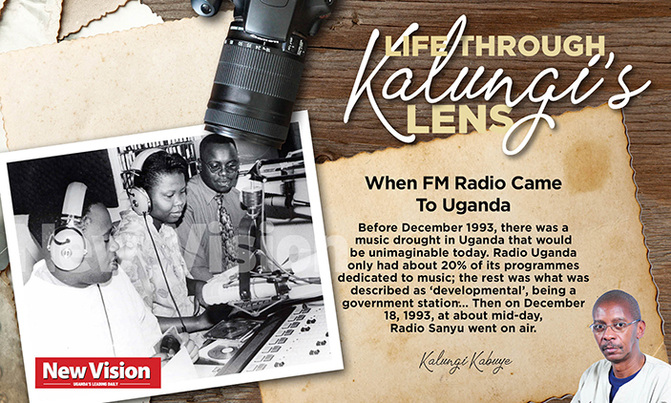 For the first time ever, Ugandans could listen to music almost the whole day. They didn't have to buy those recorded cassettes, or listen to boring Radio Uganda
December 1993 was a threshold month in Ugandan life because that was when private FM stations had their beginning. Before that, all we had was Radio Uganda, and it's FM channel that nobody ever tuned into.
Before 1993 December, there was a music drought in Uganda that would be unimaginable today. Radio Uganda only had about 20% of its programmes dedicated to music, the rest was what was described as 'developmental', being a government station.
With the economy still to recover fully from the turbulent 70s and 80s, there was really no new music available. The only available source was from several 'discos' around town that managed to get new music from abroad and record it on cassettes, which they then would sell. So if you had a cassette with the latest music, you were a star.
Then on December 18th, 1993, at about mid-day, Radio Sanyu went on air, the first private FRM station ever in the country's history. It is a cliché to say the rest is history, but indeed history was changed that day. For the first time ever, Ugandans could listen to music almost the whole day. They didn't have to buy those recorded cassettes, or listen to boring Radio Uganda; just own a radio with an FM option, and they were good to go.
Then that same month of December, on the 31st, Capital Radio also went on air, after losing the race to become the first private FM station to Radio Sanyu. The first presenters to feature were Chris Ireland and Alex Ndawula. Alex would move to Capital Radio in April of 1994, where he became a fixture till he retired in 2017, a whopping 24 years after he was first heard on radio.
While Radio Sanyu took off running, it took a while before Capital Radio found its feet, thanks mainly to Peter Sematimba, who would later leave to form CBS, and then later Super FM. The presenters in those early days of FM radio became instant celebrities, and they were really a special lot. People like Gloria Kamba, DJ Bruno (RIP), Allan 'Cantankerous' Mugisha (RIP), Wilfred Bangirana, and others. Even songstress Julian Kanyomozi was a presenter on Capital Radio.
Below we reproduce an article written by John Katto, the former General Manager, for the City Beat magazine in 2003, recollecting the minutes when Radio Sanyu came on air:
December 15, 1993
The long wait is over at last. Four big cartons are delivered from the US, containing the transmitter and all the other stuff. The Israeli engineers who are going to install it have been on standby in Nairobi, just waiting for a phone call. Time is of the essence and we cannot lose a single hour, the consignment for Capital FM is on the way from the same suppliers and we must install before them.
December 16, 1993
The engineers arrive and head straight for the transmitter site. They look in disbelief at the lousy surroundings of the site. No road access, a tiny building with no ventilation, a short antenna, electricity that looks very unstable, no air conditioning.
"How the hell are we meant to install a 5-kilowatt tube transmitter on such a lousy site?" asks Pinky, the main engineer.
"That's the best we can give you," answers Mr Thomas Katto.
The engineer insists on the air-con, so Mr T Katto buys one in a hurry and gets it installed in record time. The engineer applauds the commitment and agrees to install.
December 17, 1993
The engineers are collected from the hotel before daybreak before they even have breakfast. Nobody is interested in sleeping. You can almost touch the anxiety. Meanwhile, Chris Ireland and Alex Ndawula are training on running the studio. Martin Semakula and Irene Nambi (RIP) are busy learning what production is with a couple of great guys from South Africa. The engineers are really trying to get all the pieces together. It's quite a task because the transmitter is far away down a steep hill from the studios and the main building. Our technician, Sande, and Mr T Katto must have run up and down the hill about 20 times to collect whatever the engineers wanted! The evening comes and nearly everything is together but the engineers are tired and decide to start early the next morning so that no mistakes are made due to fatigue.
December 18, 1993
7.00 am: A large group of us is on the top of Naguru hill, watching the Israelis do their thing this Saturday morning. Check, cross-check and then double-check every connection, every wire, everything.
8:00 am: Station-to-studio link is established!! Whistles all around and some tension is relieved. Still, the engineers continue working in this hot and stuffy little room.
10.00 am: Pinky, the magician in our eyes, says he is ready to switch on the transmitter. Nobody is breathing at that moment, all eyes are glued on Pinky, his hand is on the switch. A twist on the hand and... nothing, nothing at all. Many of us die that instant. Mr T Katto sits on the ground and holds his head. I take a little walk.
The engineers start looking around. "What did we not do right?" They try to ignore us all but we are inquisitive, not helpful at all.
"Where the hell is the manual?" shouts Pinky.
"Everybody get lost," shouts Ron Oved, the boss, "we need space to work".
I become the policeman and shoo everybody away. Nerves are getting rawer as the time goes on. The official technical language changes from English to Israeli.
12.00 noon: All imaginable connections are made and it's time to try again. This time, no anticipation, no fanfare, the switch is just flipped and suddenly, lights go on, and the machine starts singing. Everything else stops. We all, for some reason, have our mouths open waiting for something to happen, like waiting for a bomb to explode. 5…10…20…seconds and nothing but the sweet humming of a large transmitter. Suddenly, everybody is jumping wildly, the shouting, the release of tension, sheer happiness.
12.15 pm: After all the tests are performed, it's now time to run a signal from the studios. We look for Alex or Chris but they are nowhere to be found. The South Africans take over and put on a jazz song. Yes!!!!!! It is out on the monitor at the transmitter, but is it on the radio? I run to my car and tune to 88.2 FM and wow, the sweetest sound I ever heard: Kenny G is on air! The feelings are just impossible to explain, too deep.
One of the South Africans and I jump into the car and start driving around, checking the quality of the signal. It is too good to be true. All over town, it is so strong and clear, a signal like none ever heard before in Uganda. We go as far as Lugazi and the signal is good. At the market, I find a lady playing a tape from one of those stereo sets and ask her if I can tune it. She looks at me like I am a mad man but accepts. I find 88.2 FM and the sound is incredible.
2:00 pm: The first bottle of champagne is opened in Mr T Katto's lounge and the celebrations start. The first private FM station in Uganda is born!