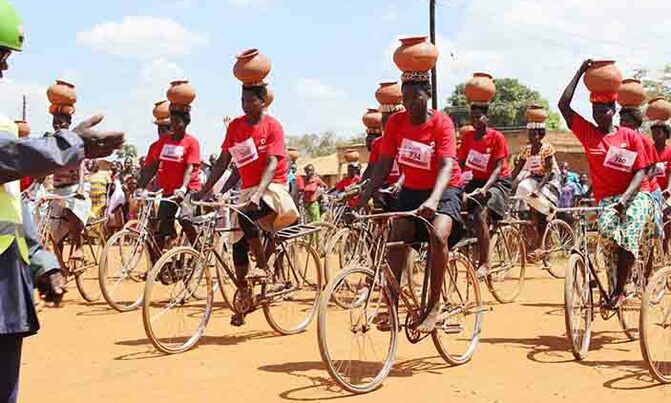 Play Africa is an indigenous charity community organization formed by some of the professionals to promote sports talent among the youth.
Uganda's Paralympic 1500 meters double champion David Emong has started a charity organization play Africa that will be tapping sports talent at grass root level.
Emong who hails from Amolatar district in Northern Uganda organized a sports gala that was used to raise awareness about climatic change and to promote talent in the district.
Different dignitaries of Amolatar district were present.
Executive Director of Play Africa Robert Gwom said this kind of event will be held every year to have the youth engaged in talent promotion and identification in sports.
"As we engage in sports, we want our people to have a second benefit in their social life.
The sports gala we have had this year was to raise awareness on climatic change and also raise funds for supporting the community sports", Gwom said.
Play Africa is an indigenous charity community organization formed by some of the professionals to promote sports talent among the youth.
During the sports gala held in Amolatar district, different activities were held and these included bicycle racing (women) while carrying pots on their heads, 'tug of war' where women and men competed and a football match between Amolatar select and Lango province team.
The LC5 of Amolatar district said he believes in sports since it pulld the crowd.
"Whenever we organize public functions, we do not get such a big number of people. It is indeed true that sports is one of the areas that should be invested in", he said.
Much as Emong was not present during the sports gala function due to the training he was engaged in, Gwom said the move that they have was to tap and promote talent in different sports fields.
A memorandum of understating has already been signed with Amolatar district local government to see how sports talented youth will be identified and promoted.
The LC3 of Amolatar town council Emmy Awongo said he had seen how sports was a unifying factor.
"If sports can bring this kind of unity among us, then we can do so many good great things in Lango sub region", Awongo said.
The chairperson of the organizing committee Ambrose Concord Okwir said the hunt for sports talent will be having will be inclusive.
"We shall have both women and men and different sports disciplines will be promoted. This is because every youth has a talent somewhere which can be taped and put to better use", Okwir said
Need for a stadium
The LC5 of Amolatar district, Simon Peter Ongom said they now need a stadium in their district.
He said they were going to ask the president of the republics of Uganda to build for them the stadium and name it after Obua since he was a FUFA president and hailed from Amolatar district.
"If the president wants votes from us, we want him to build for us Obua stadium. We shall give him the votes without him campaigning in our district", Ongom said.
In the match had, Lango province managed to beat Amolatar select 2:0 at Amolatar Boma Grounds.
Voices:
Apili Loyce from Amolatar said she was very excited to see the community of Amolatar gathered to enjoy sports. She said this is what should always be done on public holidays.
Judith Oluka from Nabweyo said it the need of having an enclosed stadium was good as it would make it easy to collect some little money to support sports.
Okot Felix who participated in a bicycle race said it was fun though the message of planting trees was also important.