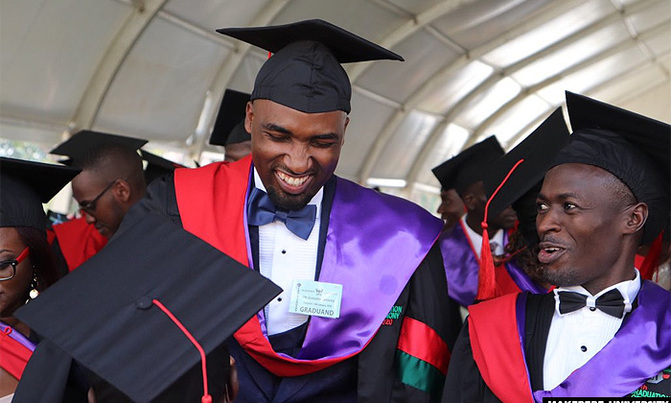 Musician Rema Namakula's husband, Hamza Ssebunya, is among those who have graduated on the first day of Makerere University's week-long 70th graduation ceremony.
ROLLING NEWS THROUGHOUT THE DAY


Presented by Joseph Kizza

@joekizza

(Scroll down page for earlier updates)

_____________________________


2:48pm | Urgent global health challenges for 2020-2030



Here is the World Health Organisation's list of urgent global health challenges for the new decade:

• Climate
• Conflict
• Inequality
• Access to medicine
• Infectious diseases
• Epidemics
• Harmful products
• Health workers
• Adolescent health
• Public trust
• New technologies
• Antibiotic resistance
• Clean health care

_____________________________


2:35pm | There is Premier League action today

It is a packed evening in the Ugandan Premier League, with four matches on the day.
#StartimesUPL match day 17. pic.twitter.com/6PDjVH4aIn

— FUFA (@OfficialFUFA) January 14, 2020


_____________________________


2:10pm | 'It's time to celebrate success!

You have worked hard to get here.

Groove away and bask under your newly-gained triumph!


"Congratulations , you got a reason to celebrate 🎶 🎶 " A musical interlude and performance by students from the department of Performing Arts and Film. #Mak70thGrad pic.twitter.com/ILN9aiaBgq

— Makerere University (@MakerereU) January 14, 2020

_____________________________


1:45pm | 'Report crooked (corrupt) officials with evidence'

"Corruption by any government officials is a great betrayal to Ugandans who are desperately yearning for service delivery. I implore the general public to embrace this fight and report the crooked officials with evidence, as opposed to rumours and we will take action."

This is what President Yoweri Museveni said as he witnessed new ministers taking oath of office on Monday at State House Entebbe.

"I call upon all ministers and public servants to desist from engaging in any form of corruption," tweeted the President.



_____________________________


1:20pm | Your post-graduation plans?

When I graduated nine years ago, my mind was pregnant with ideas of what I planned to do.

Some I have achieved, many I have not.

And from the many I have not (yet) achieved, I have thankfully picked up valuable lessons.


#Mak70thGrad
Are you among the graduands today?
Share with us your plans after graduation. #VisionUpdates #NewVisionTV pic.twitter.com/m8vOUYJFiV

— New Vision UGANDA (@newvisionwire) January 14, 2020

_____________________________


12:37pm | The question on OTT

By Maria Wamala at Parliament:

The Uganda Revenue Authority (URA) has urged Parliament to amend the law on rental income so as to get maximum benefit from the rental income tax.

The URA team, led by executive director Doris Akol, appeared before the committee of finance at Parliament today.

She also said the OTT is not performing well. Kalungu West MP Joseph Ssewungu charged that people are being taxed by telecommunication companies yet they are not remitting the tax to URA.

Members of the committee tasked Akol with explaining her suggestion to scrap off the tax, but no sooner had she started to explain than the chairperson of the finance committee, Henry Musasizi (Rubanda East), cut her short, saying she is not the finance minister to propose policy ammendments.

Musasizi said she will be reappearing on that matter but with the finance minister, Matia Kasaija



_____________________________


12:05pm | Cabinet resolutions

On Monday, Cabinet sat at State House Entebbe and approved the appointment of the chairperson and board members of National Identification and Registration Authority (NIRA).

In the same meeting, Cabinet also approved the appointment of members of the Board of Directors for the National Animal Genetic Resources Center (NAGRC) and Data Bank.

Earlier this morning, Government spokesperson Ofwono Opondo addressed a press conference at Uganda Media Centre regarding the Cabinet resolutions.



Joseph Biribonwa is the new chairperson on NIRA, with Ruth Nvunetta Kavuma the vice-chairperson.

Meanwhile, Dr. Johnson Nkuuhe, a livestock specialist and consultant, is the new chairperson of NAGRC and Data Bank.



_____________________________


12:05pm | A smile of triumph

When the fruits of your academic labour offer you every reason to flash your pearly whites.

Hamza Ssebunya knows what I am talking about here.

(Oh, and somewhere not far away, his sweetheart, Rema Namakula, must be equally happy for her hubby)


_____________________________


11:50am | Proposal at a graduation?

That someone has proposed at Makerere during the graduation ceremony?

Interesting! Now that's a story there!

(Sorry, I was trying to extract that tweet, then my computer froze for a second there....only to return when that interesting tweet has been swallowed up by a wave of other tweets on the TM.)


_____________________________


11:27am | Rema's husband graduates today

He is Hamza Ssebunya.

He is singer Rema Namakula's husband.

And he is graduating today.


Artiste Rema Namakula's husband Hamza Sebunya is among the graduands at Makerere University.
Send your congratulatory message to doctor.
📸 By @bamulanzeki #Mak70thGrad pic.twitter.com/TWViKvM1Xw

— New Vision UGANDA (@newvisionwire) January 14, 2020

_____________________________


11:18am | 'Thank you for the opportunity'

After three-and-a-half years at the helm of the ICT & National Guidance ministry, Frank Tumwebaze has handed over office to his successor Judith Nabakooba.

He has welcomed the new team and also thanked God for seeing him through his tenure. He has also thanked President Yoweri Museveni for "giving me the opportunity to serve our country".


... #Handover...Welcome Hon @JudithNabakoob1 & Hon @OgwangOgwang to the @MoICT_Ug . Once again i thank God for having enabled me to do my part of work in the last three & half yrs . I thank H.E @KagutaMuseveni for giving me the opportunity to serve our country. pic.twitter.com/29o8RO0Ts8

— Frank K Tumwebaze,MP : Psalms 124 : 1-8 (@FrankTumwebazek) January 14, 2020

_____________________________


10:58am | Ssekikubo granted bail

News coming in is that Lwemiyaga County (in Sembabule district) MP Theodore Ssekikubo has been granted bail.

According to New Vision's Dismus Buregyeya, this comes after the State failing to adduce court records regarding Ssekikubo's jumping of bail in 2010.


JUST IN: Theodore Ssekikubo the Lwemiyaga County Member of Parliament has been granted bail after the State failed to adduce court records regarding his alleged skipping of bail in 2010. He was arrested on Friday and remanded. #VisionUpdates pic.twitter.com/4q89iJitSm

— New Vision UGANDA (@newvisionwire) January 14, 2020

_____________________________


10:44am | Change of guard at ICT ministry

Out with the old, in with the new.

Departing ICT and national guidance minister Frank Tumwebaze has handed over the ministerial office to his successor Judith Nabakooba and Peter Ogwang (State minister).

This has been at the Ministry of ICT & National Guidance offices in Kampala.




_____________________________


10:30am | Woman found dead in Bundibugyo


A woman only identified as Vumiliya Namandi has been found murdered in Kisenyi cell, Bundibugyo town council in Bundibugyo district.

Police have already taken the body to Bundibugyo Hospital for autopsy. Some suspects have been arrested as Police investigations continue.

"It is a terrible morning here. We are shocked!" said a resident.



The scene of crime was sealed off to allow the Police forensics team to do their work.

Some residents wailed, others buried their faces in their hands, gripped with shock and fear.




_____________________________


10:30am | MUK graduation - the stats

This week, as many as 13,509 students are graduating. Interestingly, this statistic has more female than male (a ratio of 50.5%:49.5%).




_____________________________


10:17am | 70th graduation ceremony gets under way

Makerere University is soaking in the gloriously warmth of Mother Nature.

It seems the sun is not letting up any time soon. It is a good 23°C at the famous hill. You gotta feel for the graduands wearing the dark gowns over their outfits, but who cares? I am sure their minds are busy crammed with doses of excitement - and relief - for wrapping up a landmark academic journey.




A little while ago, the univesity hierarchy and key guests arrived at Freedom Square, the venue of the graduation ceremony, to a reception of music and dance.




Education and sports minister Janet Museveni, who is also the First Lady, is the chief guest of today's opening event.

Prime Minister Dr. Ruhakana Rugunda was also part of the procession.

Leading in the picture below is Vice-Chancellor Prof. Barnabas Nawangwe.




University chancellor Prof. Ezra Suruma looked majestic as he walked down the red carpet.




A sweltering day, it is!




_____________________________


9:53am | Some background on MUK

Here is a little bit of a historical background on Makerere University.

(Source: HERE)


Established in 1922 as a humble technical school, Makerere University is one of the oldest and most prestigious English Universities in Africa. In January of that year, the school, which was later renamed Uganda Technical College, opened its doors to 14 day students who began studying Carpentry, Building and Mechanics.

The College soon began offering various other courses in Medical Care, Agriculture, Veterinary Sciences and Teacher Training. It expanded over the years to become a Center for Higher Education in East Africa in 1935. In 1937, the College started developing into an institution of higher education, offering post-school certificate courses.

In 1949, it became a University College affiliated to the University College of London, offering courses leading to the general degrees of its then mother institution.

With the establishment of the University of East Africa in June 29, 1963, the special relationship with the University of London came to a close and degrees of the University of East Africa were instituted.

On July 1, 1970, Makerere became an independent national university of the Republic of Uganda, offering undergraduate and postgraduate courses leading to its own awards. Makerere University offers not only day but also evening and external study programmes to a student body of about 35,000 undergraduates and 3,000 postgraduates (both Ugandan and foreign). It is also a very active centre for research.

The University transitioned from the Faculty-based to the collegiate system on 1st July 2011 and as of Friday 30th December 2011, Makerere University officially transformed into a Collegiate University with 9 Constituent Colleges and as at 1st July 2014, 10 Constituent Colleges including the School of Law, all operating as semi-autonomous units of the University.


_____________________________


9:33am | He has 'did it'!

Congratulations are in order, ssebo.


Gratitude is a must. 🙏🏽

👨🏾‍🎓🎓? I'm done 'did it' - #Classof2020! #Mak70thGrad pic.twitter.com/RQejGNIgjw

— DO𝐍 ÄTUИG𝐈S𝐀 (@don_atngz) January 14, 2020


_____________________________


9:28am | Are you graduating today?

Or are you accompanying someone to their graduation? We would love to check out your pix of joy and celebration.

#Mak70thGrad is the hashtag to use on Twitter.




_____________________________


9:15am | All set at MUK

Application of the final touches to the entire look.

Pretty much, all is set for the graduation ceremony to get under way. Remember the event is running until Friday.

Busy days, these!




Just in time for a selfie moment. Such are the moments to be frozen for keeps!




_____________________________


9:00am | Got your graduation gown yet?

In the runup to this week's graduation, there has been plenty of talk on the delayed delivery of graduation gowns. Some students have been worried, anxious and unsure.

The university's vice-chancellor, Prof. Barnabas Nawangwe, has come out to calm their fears. In a letter released on the eve of the start of the graduation, Nawangwe is assuring students that all graduands will receive their gowns.

"All graduands for January 14 (Tuesday) and 15 (Wednesday) should by now have collected their graduation gowns, invitation letters and graduation booklets," he writes.

"Students graduating on January 16 (Thursday) - Makerere Business School (MUBS) - may collect their graduation gowns from MUBS (in Nakawa) starting Tuesday afternoon," adds the vice-chancellor.

The university is also running round the clock to ensure that graduation gowns for all students graduating on the last day (Friday) can be picked on Wednesday at 2pm from their respective college registrars.

Transcripts for all courses are ready for collection.

Here is the letter the university posted on their official Twitter page:




_____________________________


8:48am | Time to enjoy the fruits of your academic labour


Welcome to the 70th Graduation of Makerere. This is day 1 and we look forward to a great week of celebration and joy to the Graduands, parents and guardians. The figure 50.5%:49.5% Female to Male graduands is a major score in this University's history. #Mak70thGrad

— Makerere University (@MakerereU) January 14, 2020

_____________________________


8:40am | Today's motivational quotes

"The strength of the team is each individual member. The strength of each member is the team."

Phil Jackson (former NBA basketball player, coach, and executive)

***********

"Coming together is a beginning. Keeping together is progress. Working together is success."

Henry Ford (founder of the Ford Motor Company)




_____________________________


8:33am | Good morning everyone!

It is a warm Tuesday morning here in Uganda's capital Kampala. All roads are leading up one hill: Makerere.

"Why", I hear you ask?

We have the 70th graduation ceremony getting underway today at the main campus.

(That's why there is every reason for you to be excited if you are among those set to receive honours this week.)

But before we get into the thick and thin of that, how about a dose morning motivation, yes?


_____________________________


8:30am | There is every reason to be happy . . .

. . . if you are graduating today.