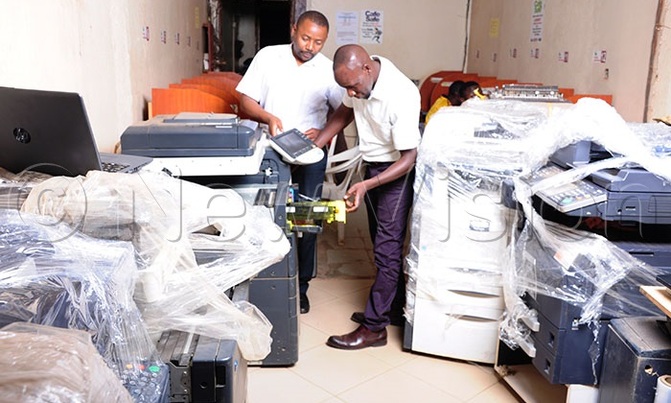 When he first opened the stationary, Twimukye employed about 10 youth, but many kept sending him applications for jobs he did not have.
UNEMPLOYMENT

With the high unemployment rate in the country, many youth are graduating but few are getting employed.
This is why Mark Twimukye, an employer, came up with a solution to train in running stationery shops.

How he started
Fifteen years ago, Twimukye started a stationery company, Automation Limited, which later grew into a photocopier selling company.

When he first opened the stationary, Twimukye employed about 10 youth, but many kept sending him applications for jobs he did not have.
However, since he had photocopier machines for sale that few people could operate, he recruited jobless youth and taught them how to use them. Upon completion of the training, Twimukye would give the photocopier to the youth to do business.

"I would train them for free and during the training, I would get to know them more, which would build my trust in them. Upon completion of the training, those interested would be helped to start stationery shops. I would go ahead and entrust a photocopier machine to them to help them do their stationary work," he says.

James Mubezi, one of the youths that have been helped by Twimukye, says he does not regret making such a decision.

Mubezi says he studied information technology at Makerere University, but failed to get a job after graduation.

He says when he went looking for a job at Twimukye's stationery, he found a number of youth being trained in how to operate machines in a stationary shop. He was asked if he was interested and upon acceptance, he was registered and trained in how to operate a stationery shop and run a photocopier. He was ready for work in a month.

Upon completion of the training, Mubezi says he looked for a busy place where he could station his stationery shop and work towards changing their financial status.

"I was given a photocopier on lease and charged per photocopy I made. This helped me work and also train other jobless youth," he adds.

How he does it
Twimukye says after training youth, he sensitises them about the need to work and be independent.

He also leases photocopier and printing machines to his trainees, charging them per photocopy made, which the trainees find fair.
"I lease the machine for five years. At the end of this period, I believe the machine has worked enough and needs replacement, so I withdraw it in exchange for another one to enable the person to work well," Twimukye says.

"Upon signing the machine lease form, I also install the machine and do all the repairs, coupled with adding different accessories to it," he adds.

However, Twimukye says some youth opt to buy the machines and others take and pay them in installments.

He says those who buy the machines are given a five-year guarantee. In case a machine gets a problem, his engineers are on the ground to do all the repairs.

"Those with a negative attitude towards work definitely see this kind of work as a waste of time, but youth with a positive attitude towards work are always willing to learn and work," Twimukye says.

He notes that while dealing with youths, he is careful to ensure that he gives them good machines that will make their work easy.

Twimukye deals in the Kyocera and Risographs digital duplications, which he also leases and sells to schools.

He has skilled over 50 youth in Seeta, Mukono district. He also has his services extended to different parts of the country, including Kabale district.

Twimukye also sells his machines to south Sudan and Rwanda, among others.