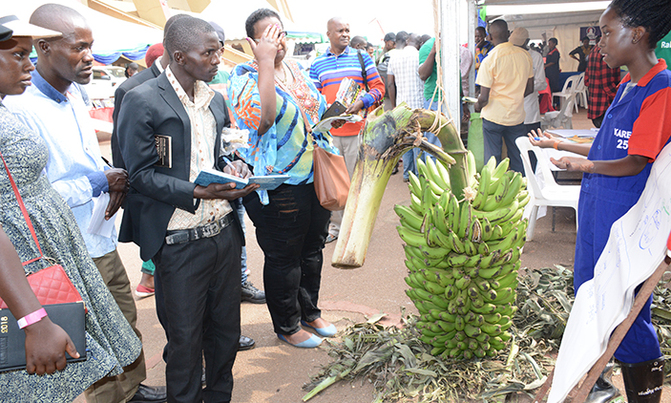 This will be the biggest gathering of farming experts and service providers from Uganda and around the world
The year 2020 marks the beginning of a new decade and if you are a farmer there is no any better way to start it than being part of the Harvest Money Expo that will be held next month.
According to the Vision Group chief executive officer, Robert Kabushenga, the expo will be held from February 14-16 at Mandela National Stadium, Namboole in Wakiso district.
Themed Farming as a Business, this will be the biggest gathering of farming experts and service providers from Uganda and around the world, Kabushenga said during a press briefing held at Vision Group head in Kampala office on Wednesday.
"The focus this time will be on farming activities as a business. At the expo, you will find exhibitors and experts that will help you with what you require to do your farming as a business. There will be trainers to guide you on this," Kabushenga said.
This is the fourth edition of the expo, and like in the previous expos, there will be training for farmers and match-making for businesses.
"The event has improved and it is going to be better this year. Come learn from the experts and purchase authentic agricultural utilities, come see how to improve the quality of your products among others," Kabushenga said.
Different from the past editions, this time there will be special training on access to foreign markets and value addition. This will be in addition to training on avocado, piggery, coffee, banana and poultry.
"Experts will be available to show the requirements you need to sell your produce like maize, poultry and coffee to foreign countries. Come and get to know the most selling products. All you need is to attend," he said.
Scientists from the National Agricultural Research Organisation and other entities will also be available to showcase the different innovations to make farming better.
Kabushenga was thankful to the Expo sponsors who include the Netherlands Embassy in Uganda, ENGSOL, TAFE, aBi Trust, and Champrisa International Ltd.
He commended the sponsors and the exhibitors for being part of the Harvest Money Expo which is transforming lives and the agricultural sector.
"Together with the sponsors we hold this expo at the beginning of the year to enable farmers plan well ahead of the year," Kabushenga said.
Entrance to the expo has remained the same like in the previous expos at sh20,000 per day for those interested in the exhibition and trainings and sh10,000 for those who want to access Namboole for the exhibitions only.
For exhibitors who are interested in being part of the expo, they can contact the Vision Group events manager Jacqueline Taweeka on 0772354940 and jtaweeka@newvision.co.ug or visit Vision Group offices.