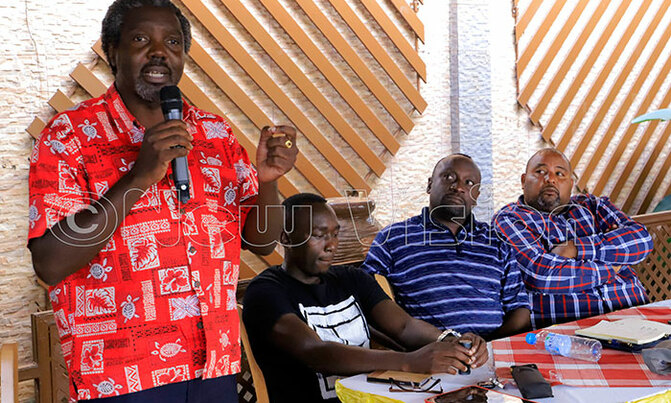 Team captain Maxime Van pee also agreed that the future of motocross can only be bright when it is independent.
MOTOCROSS
A stakeholders meeting held at Kati-Kati restaurant on Saturday resolved that motocross should start a road map to its independence from the Federation of Motorsport Clubs of Uganda (FMU).

Three motocross club SMOC, Enduro and UMX officials, agreed that they should start the process of separating from FMU.

The members who attended the meeting cited lack of funding and Transparency from the Federation on top of being marginalised yet their discipline flies the national flag most on the international scene.

They also cited that on the calendar, they are not given priority and all the holidays like Easter, Boxing Day, Iddi and Independence are given to rally.

Outgoing Deputy Vice president (DVP) in charge of Motocross Barak Orland said that separation of Motocross from rallying will help the sport to get its funding and take its direction of growth and development without the current obstacles.

"We want to be independent and plan for motocross," Orland said, citing an occurrence of when they got sh20m from the government to take the team for an international event and the FMU general secretary only delivered sh10m saying that sh10m balance was going to the federation.

Some members suggested that effective this year, motocross clubs should form their own federation and run independently, but UMX club president Jimmy Akena advised that it is a process that takes some time.

"There is a lot of legal implications and we risk making some lawyers rich, but let us do consultations, so that we decide at the right time and in the right way," Akena stated.

"What we can do now is to lobby for more presence and recognition on the committee and our activities to be respected by the federation," Akena said.

Team captain Maxime Van pee also agreed that the future of motocross can only be bright when it is independent.

Former national motocross team captain Arthur Blick Jr when contacted supported the idea but only if FMU does not step up its administration by taking decisions that favour both disciplines.

"Way back during my father's time motocross was independent under Uganda Motorcycling Sports Association (UMSA) until AAU came and took over," Blick said.

"Every decision FMU takes is in favour of rallying and if it is not ready to change, to be honest, I support the breakaway bit, but not at this moment when we are hosting FIM Africa," Blick noted.

The members also agreed to write a petition to FMU demanding that they should be allowed to forward their own DVP who is Barak Orland instead of those that are voted for by all clubs including rallying clubs.

Three candidates, Joseph Mwangala, Kisitu Mayanja and George Ssemakula are standing for the post of DVP Motorcycling in the election due on February, 1.

There are 15 clubs that vote for the Federation leaders but only three are motocross clubs.