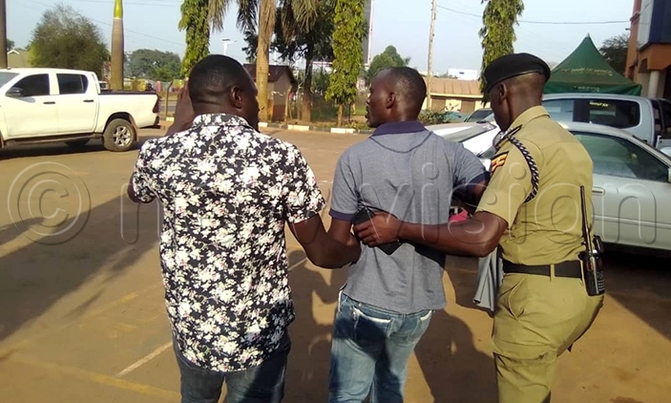 Every day we bring you a selection of photo highlights and here is what we have for today
Rwandan nationals set free
Seven Rwandans have been set free at Makindye General Court Martial on Tuesday morning. The suspects who were arrested back in 2018 had been accused of unlawful possession of firearms. Lt Gen. Andrew Gutti the chairman of the court granted the group their freedom after the prosecution dropped the charges.
Nansana councillors clash with Police
Nansana Municipality councillors on Tuesday morning attempted to force the Town Clerk Ambrose Atwooki out of office. Police reacted to the fracas and engaged in running battles with the councillors who eventually camped outside Atwooki's office waiting for him to emerge.
Energy ministry handover
Representatives from energy and mineral sector agencies gathered at the Ministry of Energy offices on Amber House in Kampala prepare to witness the handover ceremony for ministers. Eng. Irene Muloni handed over to Dr Mary Gorreti Kitutu as full energy and minerals minister, whereas Peter Lokeris handed over to Sarah Opendi who becomes the state minister for mineral development.
Amongi hands over to Kamya
The outgoing Minister of Lands, Housing & Urban Development, Betty Amongi Akena, also handed over office to Betty Kamya, the outgoing Minister for Kampala. Amongi and Kamya were appointed to their former roles in June 2016.
Police blocks People Power meeting
Police in Gulu on Tuesday blocked a scheduled meeting of members of the People Power political pressure group. The group was set to meet at Da Covenant Bar and Lodge in Gulu but the Police barred the members access to the venue. People Power frontman MP Robert Kyagulanyi on Monday failed to kickoff consultations ahead of the 2021 general elections after the Police halted the meeting in Gayaza.
AMISOM hospital receives equipment
The United Nations Support Office in Somalia (UNSOS) has handed over medical equipment to a health facility operated by the African Union Mission in Somalia (AMISOM) in Mogadishu. The health facility located within the AMISOM Halane Base provides medical services to African Union troops and Somali Security Forces involved in joint operations to fight terrorists, as well as to Somali civilians.
Students gear up for Makerere graduation
Graduands started collecting the invitation cards and gowns ahead of Makerere University's 70th graduation ceremony where a total of 13,509 students are set to graduate with doctorates, masters, bachelors and diplomas in various courses. 420 will graduate with first class degrees after obtaining a cumulative grade point average (CGPA) above 4.40. Unlike the previous years, this year Makerere delayed to release the graduation list, throwing prospecting students into panic. It is still unclear whether with just eight days to graduation, those with issues or who are missing on the list will be able to clear in time to graduate.