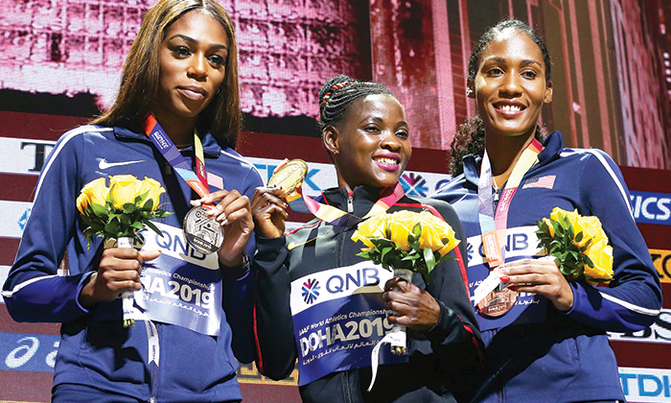 Uganda's Olympics-bound contingent will look to in-form athletics stars Joshua Cheptegei and Halima Nakaayi for inspiration in Tokyo
Uganda Athletics Federation (UAF) is focused to see that the country reaps honours at the 2020 Tokyo Olympics Games in July.
With 16 athletes having qualified for the games already, UAF president Dominic Otuchet believes that the stage is set for Uganda to shine.
"We don't want to count numbers only. Preparations are already on. We want to ensure that athletes are in top form for the games," Otuchet vowed yesterday.
World Champions Joshua Cheptegei (10000m) and Halima Nakaayi (800m) are among the elite athletes in the early preparations starting in earnest next month.
Joshua Chebet (5000m and 10,000) who has returned strongly from injury, Juliet Chekwel (10000m), Winnie Nanyondo (800m), Esther Chebet (800m), Albet Chemutai (3000m steeplechase) and Jacob Kiplimo (10000m) are expected to be the backbone of Team Uganda in Tokyo.
"We are going to sit with all managers of athletes and come up with programme. We are interested to see that athletes are not over-worked. They have to compete for the nation and inspire young people in local races," said Otucet.
Regarding the resources required to prepare athletes, Otuchet said; "I am not worried. We have government support, I think our athletes shall be adequately prepared for Tokyo," he said.
"The previous season was excellent but we have put that behind we now want to focus for better things this year," he added.
Joseph Kiplimo and Juliet Chekwel who finished second in a road race in Brazil on Friday in among the new crop of athletes expected to step up gear for Tokyo this year.
Altogether, Uganda athletes reaped 50 medals including two gold and a bronze from Joshua Cheptegei (10000m) and Halima Nakai (800m) at the World Championship.