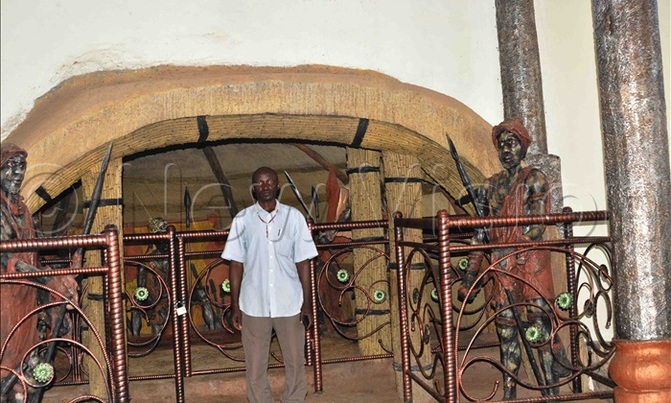 The 36-year-old has been a talented and enthusiastic artist who also created the 'Ebika bya Buganda monuments'.
Some of the artifacts Lubwama made at The Uganda Martyrs museum, Namugongo. Photos by Juliet Lukwago
OBITUARY

KAMPALA - Fred Kigozi Lubwama the man behind the Uganda Martyrs artifacts at Nakiyanja Protestant Martyr's museum has died in a gruesome motor accident.

The 36-year-old was a talented and enthusiastic artist, who also created the 'Ebika bya Buganda monuments'. These are aligned along Kabakanjagala Road, Mmengo Kampala.

The monuments represent the clans that make up the Buganda Kingdom.
Pope Francis praying at the museum

According to the late's uncle Benon Lutaaya, the accident happened on December 31st, a few hours to the New Year.

Lubwama was riding a motorcycle heading back to his home in Namubiru village in Mukono Municipality. He decided to take Namugongo route.
Unfortunately, on reaching Nakiyanja, a speeding vehicle rammed into him. His head was cut off in the accident.

The Buganda Kingdom eulogized Lubwama as a hardworking and talented family man.

The kingdom's spokesperson, Noah Kiyimba, also acknowledged his efforts towards the development of Buganda saying, "Lubwama was tasked with creating and installing the monuments and he did a wonderful job."
David Kyewalabye Male, the Kingdom's minister for culture was with Lubwama's family to console them.

Lutaaya said Lubwama has many works to his name all over the country such as one at the Commercial Court in Kampala.

He was laid to rest on Thursday at his home in Namubiru. Lubwama is survived by three children and a widow, Christine Ojambo.