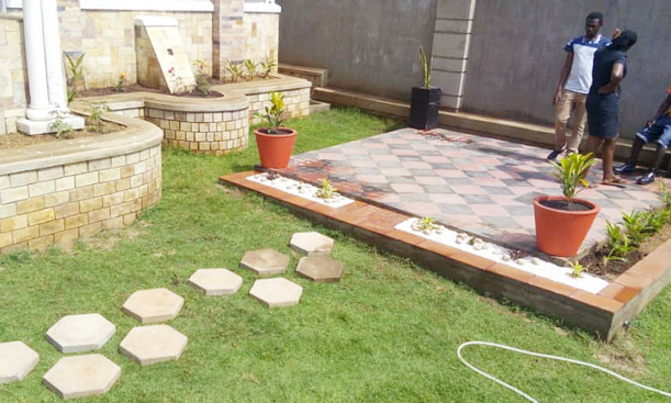 Outdoor lighting has been one of the fastest-growing trends in homes' decoration. It has created beautiful neighbourhoods and safer homes throughout 2019.
Septic tank top transformed into a seating area
This year has been a great year for the real estate industry. It has seen amazing innovations in construction technology as well as stunning trends in interior designs.

These have elevated the beauty of many homes and changed the face of the real estate industry. Below are some of the trends that have dominated in 2019;

3D EPOXY TECHNOLOGY
Gone are the days when floors would only be finished with either wood, tiles, terrazzo or cement. This year, homeowners have embraced 3D epoxy technology. It contains images and designs that make a home look like paradise.

These incorporate angled images along with multiple translucent layers to achieve an incredible 3D effect. If you ever walked into someone's home or business, and on the floor you see images popping up, then it's what they call an epoxy floor.
Some of these images include; plants, animals, fish, coral, and waves among others. Login salon along Kireka - Namugongo road is one with such.

OUTDOOR SEATING PLACES
Outdoor seating Spaces have been a thing for modern homes over the years

However, the most dominant ones were the gazebo, pergola, and arbor among others.

These are usually created in any corner of the compound. This year, landscapers have created seating places over spaces one can least think of, including over the septic tank.

Joshua Twinomurinzi, a landscaper at Divine Landscapes in Bweyogerere, on the outskirts of Kampala, says that a septic tank slab can be beautified to add a unique flair to any compound. He advises to use different materials for the slab flooring such as ceramic tiles, clay floor tiles or light concrete tiles (1 inch) and these come in different colours.
Also, put into consideration, the shape of the septic tank vis-a-vis, the design of the final scenery you want to achieve. For example, if the slab is rectangular or square then draw a seating area design around that shape.

FLOATING SHELVES
There are a variety of shelves among them, floating shelves. These have been around for some time now and they have continued to find their way into people's homes, offices and businesses.

According to Karim Kyaligonza, an interior designer with Décor Kings, floating shelves are those attached to the wall with no visible support. It can be a plank of wood or plywood molded into different shapes and sizes, with the support hidden within the shelf board.

Floating shelves are preferred because they fit anywhere in the house; from stairways, bathrooms and corridors. They are also easy to put to different uses. For example, you can install them over or beside the television set to distract the eye from the TV once in a while. On them, you can add decorative pieces for a lively look. The shelves can also be used for kitchen displays as well.

OUTDOOR LIGHTING
Outdoor lighting has been one of the fastest-growing trends in homes' decoration. It has created beautiful neighbourhoods and safer homes throughout 2019.

Outdoor lighting compliments nature. It transforms outdoor living spaces into more beautiful and functional areas. Besides, security lighting discourages intruders from targeting a home as it would be hard for them to break in unnoticed.

However, a well-thought-out lighting system is one that strikes a balance between artificial and natural lighting.

Gloria Kawuma, an Interior designer, says outdoor lighting includes path lights, pool lights, security lights, and architectural lighting. Many homeowners have also opted for garden lights to make gardens more enticing.
These include paver lights in the driveways and walkways that create a lighted border. For dark small corners, bulkhead security lights are the best since they are usually waterproof, easy to maintain and mostly use basic bulbs for lighting.

PALLETS FURNITURE
Designers have also gone ahead to recycle pallets. Kyomuhendo says pallets can be repurposed for any home improvement project because of their low cost. You can design your project

CEILINGS
Gypsum or suspended ceilings have continued to beautify homes and commercial projects like hotels. These ceilings are preferred for being easy to fix on any existing ceiling design. They can also easily transform a space since they come in different designs and can be painted in colors of one's choice.

MIRRORS
Mirrors have also taken over the interior design industry. Designers have been using them to elevate the appearance of interior spaces such as the living rooms and corridors.
Besides, mirrors, add colour to the room for as long as they are placed at strategic angles from where they can reflect objects. Also, homeowners have embraced wall galleries with mirrors. The most preferred include; round, frameless, large wall and floor mirrors.

STONE ROOFING
About five years ago, houses with stone roofs were hard to come by. However, 2019 has seen the trend dominate different projects in the real estate industry. The stones are in residential and commercial projects.

Erisa Kiwana Nkoyooyo, the managing director of Stone Roofing Uganda, says any house can easily be roofed with stones provided it has a firm foundation, firm walls, ring beam, and columns.

He adds that people have continued to shift away from iron sheets and tiles to roofing their houses with stones. The roofing is also durable, does not wear out and is environmentally friendly.

RECLINING CHAIRS
These days, upmarket furniture stores are stocking more reclining sofas because they are preferred by many modern homeowners. They are comfortable and support the whole body as one stretches out the back and legs.

Recliners are essentially separate from each other in a sense that if the person next to you moves about, it does not affect your seat. While using them, you simply need to pull the lever for the leg rest to come out. Then the legs can rest.
Also, the back of the sofa moves a little when the leg rest is out, but not enough to tip you backward. When using a footstool, your legs tend to be straight out, which can result in painful knees if you sit for a long time, but with the reclining sofa, you can have your legs at the angle of choice.

Reclining couches come in different sizes, colours, and materials. While some are made of leather, others are upholstered with fabric. You can also choose between electric and manual recliners.

FURNITURE DRESSERS
Furniture dressers have been used to give sofas, couches and dining chairs a fresh look.

Berly Moraa Sevume, an interior designer with Samara Beddings and interiors in Kampala says that many homeowners have embraced the slipcovers. They are not only functional but also fashionable and take only minutes to slip on.
They can instantly transform a space, update ugly furniture and protect it from pets, kids and stains. These dressers help one save money by not spending on new furniture, and they are easy to clean. They are tailored to fit all models of sofas and dining chairs. Simply choose the type of fabric, pattern and colour.

CONDOMINIUM
This year, Ugandans have become the condominium-style of living. It has become one of the commonest ways of owning a home in urban areas. There are many households living in limited spaces, mostly in apartments. Peace Kabunga, the Executive director of Housing Finance Bank, defines a condominium also called a 'condo' as a group of housing units where homeowners own individual unit space. All the dwellings share ownership of common areas.
You can also call it 'buying a plot in the air' although one's ownership stops at their doorstep. All compounds, parking space, stairs, shades or flowers are communally owned. The landlords on the ground floor cannot claim sole ownership of compounds.
The main difference between condos and traditional single homes is that there is no individual ownership of a plot of land. All the land in the condominium set up is owned by all the homeowners.
Some of the condos around Kampala include; Bugolobi flats, Bukoto white, and brown flats, Sunset apartments in Kiwatule among many others that have been developed by different investors.
This concept was introduced by National Housing & Construction Company (NHCC). It involves the issuance of a certificate of title and follows the Condominium Property Act, 2001.