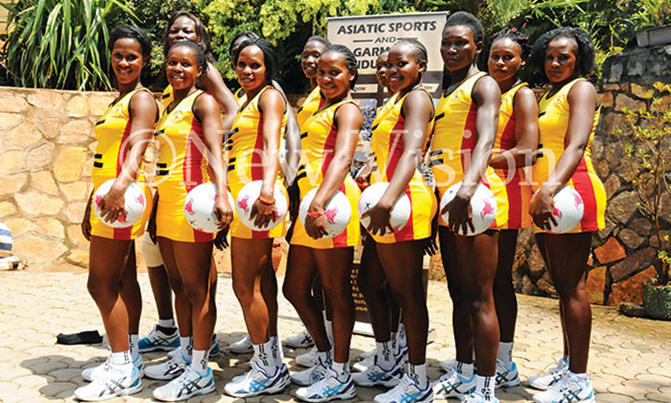 Throughout the past decade, Ugandan netball has witnessed special talent for both club and country. New Vision Sports rates the top ten players that have impressed. Find out which player makes our Number 1.
Netball has been the most successful team sport in Uganda in the last decade, bringing home two African titles, a world university crown and, above all, two World Cup appearances.
It has been the golden decade for netball and there has been no shortage of contributors. Only 10 can, however, make this list of this leading players in this epic era for Ugandan netball, who have been ranked from 10th to first.
10. Mary Nuba
She may be considered the future of Ugandan netball but such is the talent of Mary Nuba that her contributions in the past two years warrant her presence in this special category. The star of Uganda's World University netball championship winning team, Nuba was also part of the 2018 She Cranes Africa Cup winning squad and the 2019 World Cup contingent. Her transfer to England's elite powerhouse Loughborough University in 2018 at her tender age says everything about Nuba's ability.
9. Hadija Nakabuye
The Prisons legend may have missed on both the 2015 and 2019 World Cup but there is no denying her place in the top netball players over in the last decade. She was part of the Ugandan team that won the 2018 African Championship in Zambia but her biggest body of work was the multiple national and East African netball titles she won with Prisons.
8. Harriet Apako (RIP)

Never mind her limited media profile, Harriet Apako was the leader of the She Cranes golden generation that made the 2015 World Cup breakthrough. The wing attack was in her 40s at the time and hers was the premier voice of reason in a dressing room full of strong characters. She did not enjoy much club success with Police but the status of the is beyond doubt.
7. Lillian Ajio
The goal defender has claimed a bevy of titles with Prisons but her stellar contributions at the 2015 and 2019 netball World Cups for the She Cranes undoubtedly stand out. Her toughness was a critical ingredient in Uganda's African Cup successes in the last decade not to mention the Common Wealth Games semi-final run.
6. Betty Namukasa
Betty Namukasa enjoyed countless years of club success with NIC before making her international debut at the 2009 Inter Nations Cup in Tanzania, which the She Cranes won. Her career highlight was no doubt the 2015 World Cup, which was the perfect conclusion to her international career.
5. Florence Amono
She was in her 40s when she represented Uganda at the historical 2015 netball World Cup. The goal attacker was a key player for giants Prisons for over two decades and after making her She Cranes debut in 2005 went on to win gold at the 2011 All Africa Games as well as the 2014 Africa Cup World Cup qualifiers.
4. Halima Nakachwa
The Prisons legend may have ended her She Cranes career on a slightly quizzical note but there is no arguing with her talent or achievements in the past decade, at club or international level. A World Cup finalist, Common Wealth Games start, two-time African champion, multiple East African and national champion, Nakachwa enjoyed an abundant career.
3. Ruth Meeme
One of the mainstays of the She Cranes golden decade, Ruth Meeme's place in Ugandan netball is self-explanatory. She has been part of all the She Cranes major achievements on the continent and the world stage, led by the two World Cups, but Meeme's specialness also lies in her creativity and playmaking prowess. It has allowed the highly-decorated NIC legend to more than compensate for a lack of size and athleticism.
2. Rachael Nanyonga
If only she was a few inches taller! Amazed observers always remark about Rachael Nanyonga. The point is that if the goal attack is so good at five feet, what would happen if she were bigger. Truth is, Nanyonga's brilliance, which saw her score 136 goals at the 2015 World Cup, is precisely enhanced by her small frame. She is the She Cranes second biggest star after you know who. Meanwhile her transfer to Prisons from NIC led to a shift in the balance of power in the national league.
1. Peace Proscovia
Where to start? And where to stop? Peace Proscovia's resume is so long and renown it is not really necessary to recount. This, after all, is one of the world's top netball players, the 2019 World Cup ambassador. In the past 10 years, Proscovia sealed her place as the greatest netballer in Uganda's history by a wide margin, winning everything in Africa, dominating the English League, being fifth top-scorer at the 2015 world cup and securing a lucrative deal with Sunshine Coast of the world-leading netball league. And there is more.