"Being appointed presidential advisor by President Yoweri Museveni has been one of my biggest achievements this year," Catherine Kusasira
YEAR ENDER MUSIC POLITICS


Florence Sempebwa
Managing director Motorcare Uganda Limited

Because I am the managing director of Motorcare, we work as a team and achieve as a team.

Therefore, this year, we are proud to reclaim second position in the most lucrative segment of sales on the world market through the newly introduced Nissan Navara pick-up. Our plan is to steadily grow the leasing arm of the business as we consolidate our outright purchase portfolio. Hopefully, this will improve our market share
Catherine Kusasira
Musician and presidential advisor

Being appointed presidential advisor by President Yoweri Museveni has been one of my biggest achievements this year. Another has been my concert, "Tears of a Woman," at Kampala Serena Hotel.




Next year, I hope to put more emphasis on helping the youth and widows start income-generating activities. I also hope to look for votes for President Museveni. I will be among the artistes who will be composing a song so that voters elect, him come 2021.
Eng. Kenneth Kaijuka
Chief executive office National Housing and Construction Company

Appointing and confirming me CEO of the National Housing and Construction Company (NHCC) Limited has been a great success for me this year.

I was also appointed board member of the entire construction sector in Uganda at the Private Sector Foundation.

This year, NHCC Rolled out condominium housing units at Rwizi View Mbarara district, Jasmine Apartments in Naalya and Impala Estate at Namungoona Wakiso district.

In 2020, NHCC will roll out condominium projects in Bukoto and Naalya, both Kampala suburbs.


It will also continue to provide commercial space at Crested Towers building and leasing out of Earth Moving Equipment.
Mohammad Reza Ghezel Sofla
New Cultural Consul of the Embassy of Iran

I have made one year in Uganda and established a good relationship with media houses and institutions, such as churches, mosques, and universities.

I have encouraged students to study hard and to be active, as well as to love their country.

I have contributed towards many seminars such as the Gulu International Film Festival. We have held art, book and cultural exhibitions. In 2020, I am going to participate in the Uganda festivals, art, books, and hand crafts.

We are also planning to teach the Persian language, teach students to write teasers and introduce Iran's cultural folklore.

I hope to organise Quran recitation, Student Camps and collaborate with the Inter-Religious Council of Uganda.

I hope to participate in the Uganda Book Week and singing competitions about unity and patriotism.
David Katumwa
CEO Katumwa Sports Centre

My company has promoted football talents of youth in Nansana Municipality by sponsoring them with football kits.

I chose Nansana Municipality because it has the biggest population of youth.

Over 200,000 youth are jobless in the area, yet they can reap from their football talent.

We are planning to upgrade the village clubs, especially in communities around Kampala, by fencing off the pitches, constructing pavilions for both the regular and VIP fans and putting up safe water sources.

All this is geared towards generating income for the clubs.

Edwine Musiime
Chief executive Crest Group Limited

Moving into my own house from a rented property has been my greatest achievement this year. I started a construction company, Crest Group Limited, that designs and remoulds homes. It has so far worked on seven houses.

I have also written a book, entitled Joseph Economic Transformation, which talks about how one can be successful from working hard.

I got the idea from the book of Genesis, which talks about how Egyptians gained economic power from hardwork. In 2020, I plan on launching another book, Be Glad at What You Do.

It encourages everybody to do their best at their places of work in order to achieve success.

I will also be working on 50 projects next year, which include remoulding over 20 homes and coming up with several construction plans.

Judith Nabakooba
Former Police spokesperson, Mityna Woman MP, minister for Information and Communication Technology

This year, the Government has tarmacked some roads in my Mityana district.

From my own initiatives, we have managed to put up income-generating activities for families.
These include rearing of goats, cows, pigs and chicken. There are over 600 groups that are rearing these animals and can improve their household incomes. I am also grateful this year for being appointed Cabinet minister for ICT.

Of course, I must go through vetting, but at least it is an achievement. Next year, I hope to learn more about the ministry and carry my activities effi ciently.
Paul Akamba
Member of Parliament, Busiki County, Namutamba district

This year, I have endeavored to keep a closer relationship with God by going to church and reading the Bible.

I hope to continue growing my faith by being more diligent, come next year
Josephine Kasaato
President Mothers Union Namirembe diocese

This year, I met the Speaker of Parliament, Rebecca Kadaga, and the Vice-President, Edward Sekandi, who have supported the construction of the Mother's Union House at Namirembe.

I have also organised seminars for married women across the country, aimed at strengthening the family unit.

Next year, I will focus on dealing with parents who send away their children to rent as soon as they graduate, claiming they are a burden.
Kesande Grace Bataringaya
Rubirizi district Woman Representative

This year, I have been training orphans and widows about cake making and tailoring. My plans next year include giving them sewing machines and items that will help them in their baking business








Kato Lubwama
Rubaga South MP

This year, I have worked on the production of three movies and opened my own television station.



Next year, I will galvanise my area to vote in the upcoming 2021 general elections.
Wilson Bugembe
Pastor Light the World Ministries

I am grateful to God because we were able to hold our annual worship night in our premises, where over 300,000 people gathered.



I also thank God for the Tuzimbe (concert) which was a success.

In 2020, I hope to complete the church.
Fr Deogratius Kiibi
Rev. Fr Deogratius Kiibi Kateregga, Mpigi Catholic Parish

I am planning to launch my motivation book, called Desirable rules to a self-driven life:

To the epitome of success in 2020 and to also continue doing the work of God.










Frank Tumwebaze
Outgoing ICT and incoming gender and labour minister

I am happy we are ending the year on a good note in the ICT sector. I am also happy that with the support of the Government, the manufacturing sector has grown and Ugandans can now consumer locally-made goods.



You heard President Yoweri Museveni say at the ICT Expo that this was the renaissance and birth of knowledge. To me, that was the happiest moment.

The year 2020 comes with new challenges, such as the 2021 general elections. We need to ensure that public service does not suffer at the hands of politicking

Fashion Designer
This year has been good. My biggest highlight was winning the East African fashion designer of the year award at Swahili Fashion Week.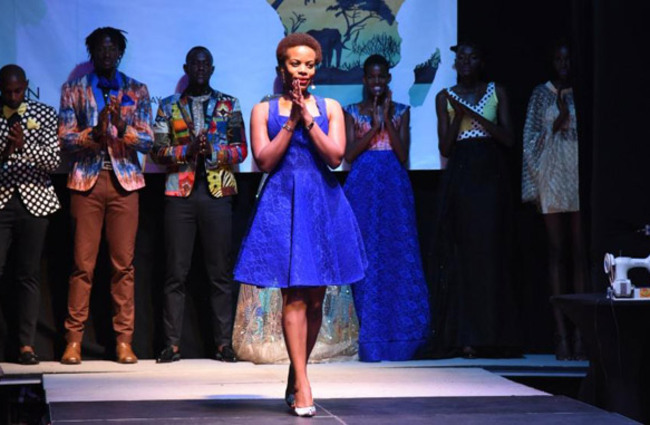 Anita Beryl

I also used to have a challenge with my schedule, finding time for my family, but this year, I was able to work and also find time for my family and myself. I am hopeful for 2020, I have plans, but God makes his own, too. I pray for success.
Patricia Apolot
Kickboxer

This year, I won the World Kickboxing Federation Championship and I was also able to meet with President Yoweri Museveni.

In 2020, I hope to see my teammates go to Egypt for the World Kickboxing Federation Championship.

I also pray and hope for a better stand for sports since we have a new minister.
Rwoland Kaiza 'Big Trill'
Musician

My songs have hit the number one songs in countries like Kenya, Malawi and Nigeria.

This has given me a brand and an international fan base.

The fact that I have made a substantial contribution to Uganda's music industry is an achievement.

Ugandan music has made big strides this year