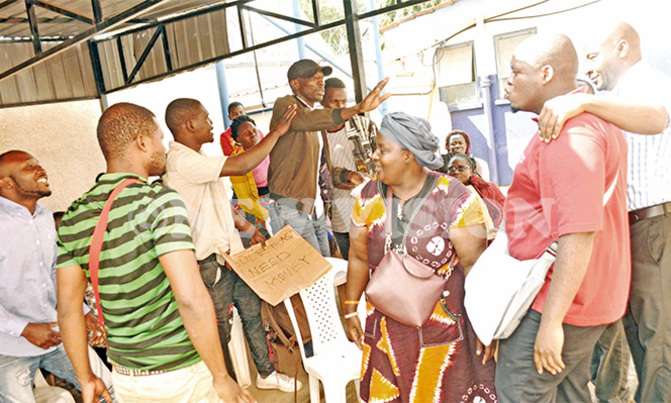 In July, the Mukono Woman MP Betty Namboze, requested the Government to suspend labour export companies which do not bring back girls who can no longer cope with the working conditions in the Middle East.
YEAR ENDER LABOUR

KAMPALA - The year 2019 has been bitter for labour recruitment companies which companies specialise in exporting migrant workers to the Middle East.

Wherever they are, they must be cursing the year because of what they went through.

Some of the directors have been arraigned in courts of law and others have slept in detention centres as a result of violence, harassment and abandoning migrant workers, whom they sent in the Middle East.

The tension has been brought by some members of Parliament and the State House Anti-corruption Unit boss, Lt. Col. Edith Nakalema, who stormed companies after hearing complaints from victims and their relatives over mistreatment by their employers in the Middle East.

Over the years, many people have been complaining about some companies, which defraud people promising of getting them jobs in the Middle East.

When the companies receive money from applicants, they keep quiet and threaten applicants in a bid to stop them from lodging complaints.

Uganda currently has 187 recruitment firms licensed by the labour ministry.

A few have been accused of neglecting and, mistreating migrant workers and in some cases, the ministry has come under fire for not doing enough to protect Ugandans.

The only known cases of abuse of rights are those that come out in the media by victims recording audios and videos asking for help.

Other companies have survived because some of the victims have no means of accessing social media.

Steven Kuremu was remanded to Maluku Prison in Mbale for allegedly trafficking one Nambereke to Oman, where she died under unclear circumstances.

He allegedly took her through Lwakhakha, a border route frequented by traffickers to Kenya.

The Director of Public Prosecutions, Mike Chibita, said when both parties sit and the trafficker agrees to refund the money to the victim, the case stops there. That is why there are few cases where traffickers are prosecuted.

Main labour destinations

Returning back to mainly UAE, Jordan, Oman and Saudi Arabia, which recruit domestic workers, the situation is at times hard for some girls.

Although Uganda signed a bilateral agreement with both countries, the contact seem not be helping the girls.

Because Uganda has an embassy in the Saudi capital, Riyadh, Jordan uses the same, which is becoming hard to monitor all domestic workers in their respective homes.

Some victims have managed to return safe, while others have died abroad.

There are about 4,000 Ugandans working in Oman, according to Andrew Kameraho, the chairperson of Uganda Association of External Recruitment Agencies (UAERA).

He says Uganda is looking forward to signing an agreement with Oman to make sure the girls are helped. Lack of training Saturday Vision has discovered that the girls are not taken through proper training by recruitment companies.

Furthermore, companies have failed to monitor the houses where the domestic workers are taken and they hardly know the environment of their work.

Saturday Vision has also discovered that Arab companies sub-contract Ugandan companies, which makes monitoring difficult.

Girls have come out to complain about overworking, poor meals and violence by their bosses. Although some of the complaints are true, others have been discovered to be false.

Saturday Vision has learnt that some of the audios recorded and shared on social media are not genuine. Some girls claim to be sick, sexually harassed and demand to be returned.

On reaching Entebbe airport, they dodge medical examination. As a rule, each victim from the Middle East must undergo medical tests. In other instances, once the girls are returned, they find a way to either return to the same country or choose another using the same recruitment agency.

It has been a blame game between the gender ministry and UAERA on who should return migrant workers from the Middle East.

Difficult to investigate

In May, audio and video clips were circulated by a group of girls, wh o claimed they were being mistreated= in both Jordan and Saudi Arabia, each of them mentioning companies that ferried them.

They had different stories, but found each other at a deportation Centre in Riyadh. They were finally deported.

A source from the Police Antihuman trafficking desk explains that why such cases are not successful is because Police cannot investigate up to the countries where offences have been committed.

Not every person that is ferried by companies is trafficked, because each person who pays to be taken for work abroad consents.

In August this year, Nakalema, together with the Police, arrested two senior official of Middle East

Consultants Limited for allegedly defrauding sh51b after promising

people jobs in the Middle East. One of them was charged with trafficking of girls.

For a long time, complaints had been raised about the company defrauding people but no action had been taken. By the time the two were arrested, many people had given up.

In September, the State House Unit fought for the return of three dead bodies of Ugandans who reportedly drowned in the Gulf Sea in Kuwait.

They were allegedly taken by Spotlight International Recruitment Agency Limited, based in Kireka, Wakiso district. The deceased parents cried to the company for help in vain.

They were later connected to the State House Anti-Corruption Unit, which intervened.

Upon the repatriation of the dead bodies, two company directors were arrested but later released on Police bond.

In July, the Mukono Woman MP Betty Namboze, requested the Government to suspend labour export companies which do not bring back girls who can no longer cope with the working conditions in the Middle East.



She said this in relations to the story of Doreen Magezi, who was taken to Jordan by Marphie International Recruitment Agency's Ruth Karungi.

Nambooze tasked Karungi with returning Magezi home. However, on arrival in Uganda, was denied medical checkup at Entebbe airport. Karungi claims Nambooze's complaint was political.

Directors complain of high charges

Company directors have also complained about how the Uganda Association of External Recruitment Agencies (UAERA) is getting a lot of money from them.

Each migrant worker is paid $70 and this money is paid to UAERA.

In response, the association executive director, Enid Nambuya, said the money is used to maintain reception centres at Entebbe airport and Riyadh, as well as paying workers' salaries.

In response to the complaints recently, UAERA organised an expo at Kololo Ceremonial Grounds to educate the public about its work.

Saturday Vision has learnt that a number of recruitment agencies boycotted the event.

It is said there is a misunderstanding between some of the company owners' who have allegedly formed their own association, just as UAERA.

According to the secretary-general, Noah Mayambala, there are about 140 companies under UAERA, out of the 187 registered agencies.

"Each company was asked to pay sh3.5m to attend and showcase in the expo, but the turn-up was not good," Mayambala said.

Ugandans have been trafficked and exploited to other countries, such as Thailand, Turkey, China, Oman, Malaysia, and Philippines.

According to the report released by the US State Department, the US, Mexico, and Philippines topped in human trafficking in 2018.