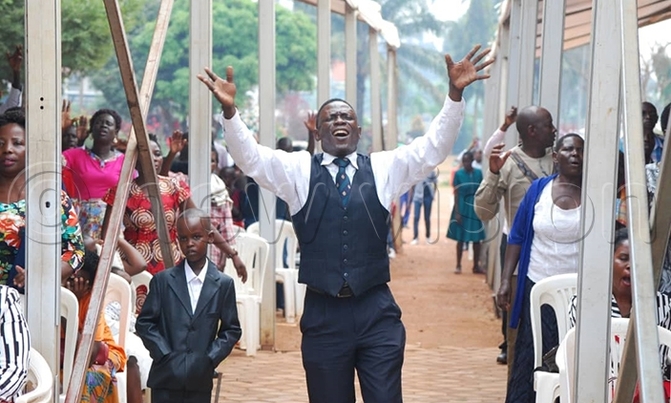 Christians all over the country thronged places of worship at commemorate one of the most important Christian holidays; the birth of Jesus Christ
At All Saints Cathedral, Nakasero
At Miracle Centre Cathedral, Rubaga
Pastor Robert Kayanja urged Christians to take part in the daily business of the country to make it want they want it to be. He said as born agains, they are to inject themselves into the country system to contribute more to its development.
"We are to be vigilant, we will look out for the corrupt and report them to both God and Edith Nakalema of the State House Anti-Corruption Unit," he said.
He further urged Christians to charge vices they don't in their communities like alcohol abuse and drug addiction by preaching to the victims the word of God.
At Hospitals
At St. Mary's Church, Kagadi
Rev. Fr Jude Ahebwa Thaddeus the parish priest of St. Mary's Church in Kagadi in his Christmas message called upon Christians to denounce laziness, human rights violations and gender-based violence but proclaim the gospel of hard work, reconciliation, forgiveness and respect for one another in a bid to follow Jesus' example on Earth.
"The birth of Jesus Christ is a clear testimony for us Christians to remain faithful, promote love for each other, forgiveness and shunning all sorts of prejudices, like battering women, child abuse, misuse of drugs, murder, kidnap, land grabbing, insults which perpetuate social disharmony and underdevelopment," he said.
He called on Christians to spread the message of hard work, education of children, protection of the environment and holy matrimony.
At St Paul Kabuga Catholic Church, Kibaale
Christians were urged to reflect on past experiences and to trust in God with total commitment to and zeal so as to change their lifestyle in social, economic and spiritual development. The call was made by Vincent Habasa who heads the sub-parish, who also advised the youth to desist from living recklessly.
At St Nicholas Orthodox Church, Namungoona
At Rubaga Cathedral
The Archbishop of Kampala, Dr Cyprian Kizito Lwanga during his Christmas sermon urged Christians to front truth, love and conservation of the environment. He also called upon couples to maintain peace in their homes.
At St James Cathedral, Ruharo
At Namirembe Cathedral
The Bishop of Namirembe Cathedral Kityo Luwalira was the main celebrant at Christmas prayers held at Namirembe Cathedral. Luwalira said the Church of Uganda is dedicating the year 2020 as the year for children.
Several prominent people attended the service including Deputy Katikkiro Robert Nsibirwa, former Chief Justice Wako Wambuzi former and Deputy Chief Justice Steven Kavuma.
At St Boniface Catholic Church, Mulagi
Fr Pius Oketch, the parish priest of the church in Butaleja district, cautioned Christians to not to consume large amounts of alcohol saying that that the aftermath is dangerous.
"People have saved a lot of money not for the offertory, not for charity, but to celebrate by drinking alcohol. People here drink a lot of alcohol. Some become happy but some go back to their families and fight with their wives and the children. Others spend everything forgetting about school fees for the next term," he said.
At Victory Christian Centre, Ndeeba
Pastor Joseph Sserwadda called upon the various political actors in the country to exercise tolerance as the country engages in political activities for the next general elections in remarks made during his Christmas sermon at his Ndeeba-based Victory Christian Centre.
"Elections are approaching. Various politicians and political groups will start gatherings. In the past, some people have been tortured and others killed because of politics. If someone doesn't support you, it should not cause you to persecute them. It is their right not to support you," Sserwadda stated.
He advised that if one political camp makes inroads in releasing popular political songs, the competitors can also counter with music or do better than them in other things.