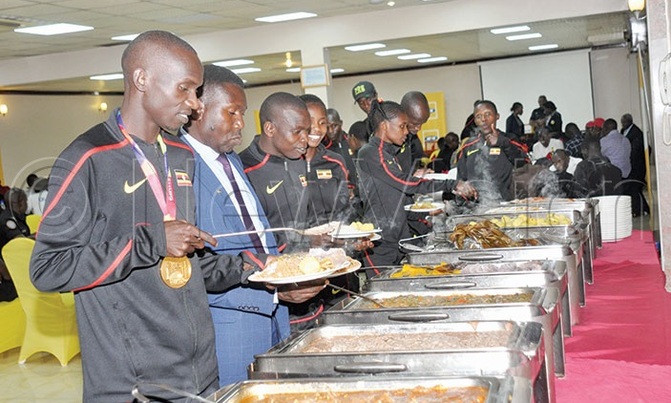 Christmas is an annual festival commemorating the birth of Jesus Christ, observed primarily on December 25 as a religious and cultural celebration among billions of people around the world. Many people celebrate it in a different way. New Vision had a chat with some of the sports personalities on how they will celebrate their Christmas and they said the following.
Christmas day started with the most common yet still most powerful family occasion - the birth of a new born.
Over 2000 years later Christmas remains the preeminent family day, as our star sportsmen prove.
"I'm spending this Christmas upcountry with my family," revealed Uganda motocross captain Maxime Van Pee.
"You know during the year it is hard for me and my siblings and parents to be together but this Christmas we have the chance to do that and we want to make the most of the opportunity. We are spending Christmas at Nile Lodge Resort and I will also take a couple of days touring the country and then return to Kampala in the New Year to resume training."
The demands of an elite sports career are very high and Van Pee's difficulties to being with family as much as he would prefer are obviously shared and in some cases surpassed by his colleagues in other disciplines.
Take national athletics star Winnie Nanyondo, who returned home to Kampala from high altitude training on Monday and will get back to work on Boxing Day. Nanyondo is preparing for the World Indoor Games due in January and her schedule is understandable.
Still, she will make the most of her Christmas holiday.
"Sure. I will celebrate Christmas with my family; my parents and siblings. It will be fun."
Unlike Nanyondo golf star Joseph Cwinya'ai travelled early to his home district of Fort Portal for Christmas and he is not returning early.
"I went last week and I will be off golf for a month before returning to train for a major golf tournament in March."
Flavia Oketcho insisted "I'm not the village kind - I'm spending my family in Kampala" but not unlike Cwinya'ai, the ladies basketball legend sees Christmas a big family celebration.
"It is all about being with family; celebrating life, having fun and eating till we drop," Oketcho revealed.
Charles Lukwago (KCCA FC goalkeeper and Captain) says: "My mine will be a simple one since I will just drive from home on Christmas day then go to my village in Lugazi with my family so that we celebrate it with other relatives. Then in the evening, I return home. Christmas is a special day that you can't miss out on to be with my relatives since at times we take long to meet them."
Christmas means much more for Irene Nakalembe (Golfer).
"Christmas is special since it's the day of honoring the birth of Jesus Christ. We shall go for an outing with my family to celebrate it. It's a special day in our lives so we have to celebrate it in a good way. I believe we shall have fun on this day with family."
Footballer Bright Anukani (Proline FC player) will join his parents. "I will celebrate my Christmas with my mother and grandmother in Kakira. This is the day where you have to celebrate with your loved ones since, at times, we take long without seeing them or meeting. Off our busy schedules, this is the day you can show that you care about your relatives by celebrating with them."