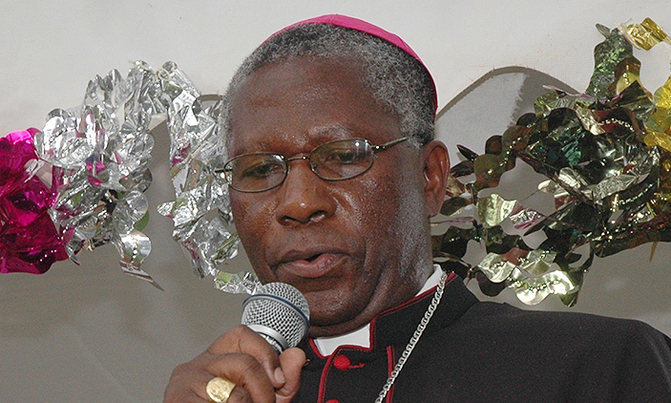 The bishops urge young people and parents to be alert and not to be lured by attractive job promises abroad.
RELIGION

Catholic bishops have condemned corruption, crime and pornography, terming them major issues that contradict the rule of love and neighbour.

A statement signed by the Rt Rev. Joseph Antony Zziwa, the chairman of Uganda Episcopal Conference and also the Bishop of Kiyinda-Mityana Diocese said they had chosen for the Christmas reflection the theme, 'Be Each Other's Neighbour'.

"There is increasing poverty in society despite significant economic gains in the last decade. Government's own statistics reveal glaring disparities in the distribution of wealth across the population," the statement said.

"We reject injustice that characterises accumulation of wealth by some individuals through corrupt means and various criminal and sinful activities such as human sacrifice, money laundering, drug dealing and cheating," added the statement.

The bishops also urged young people and parents to be alert and not to be lured by attractive job promises abroad, "which often exploit migrant workers and result in human trafficking and sexual slavery".

The clerics also noted with concern the increasing constraints on freedom of assembly through the use of excessive force by security agencies targeted at unarmed civilians.

"We are puzzled by the fact that all this is happening while our national Constitution guarantees freedom of assembly and multiparty dispensation. We urge the Government to review the law regulating public assemblies," they said.

Instability of the family institution

The bishops observed that there was growing instability of the family institution as a result of domestic violence, moral degradation, individualism, consumerism and some misguided feminist philosophies that attack the family.

"Yet, the family should serve as the first school where the rule of love and neighbour is learned and experienced. We encourage the Government and all institutions in the country to safeguard the family through appropriate interventions," the statement noted.

Moral decay

"Our society is, unfortunately, undergoing moral decay which we generally attribute to exposure of our youth to so-called sexuality education and exposure of both the youth and adults to pornographic materials and to breakdown in our customary value systems," the religious leaders said.

Crime

The bishops also preached against rising crime, especially homicide, robbery, rape and defilement which has created untold insecurity and fear among our people.

"All religions abhor these acts as contrary to God's plan for humankind. We appeal to persons involved in such heinous acts to change their ways and turn to God, and Government to provide security to all."

Land conflicts

The clerics also took time to talk about land conflicts, noting that "It is very sad to note that land conflicts are still rampant in the country, and of grave concern to us are unlawful evictions by powerful individuals despite safeguards in the Land Amendment Act, 2010."

"This kind of greed contradicts the rule of love and neighbour espoused by scriptures as well as our customs. We urge the government to protect vulnerable people and communities from such selfish and greedy persons."

Discrimination

Certain categories of people, the bishops noted, such as persons with disabilities (PWD), albinos and women, continue to be discriminated in "our communities contrary to scriptures that urge us to embrace everyone regardless of their physical attributes."

"Our national Constitution also guarantees the rights of all persons. Many PWDs, in particular, are abandoned and neglected, and as a result, cannot access the basic necessaries of life such as food, shelter and clothing.

Environment

"Degradation of our environment, largely by industrial pollution, indiscriminate cutting of trees and destruction of wetlands is still going on unabated. This is a sign that we have forgotten the mandate given to us by God at the time of creation, namely, to till the earth and care for it (Genesis chapters 1 & 2).

"Our deviation from this mission has resulted in unprecedented natural disasters such as landslides, floods and prolonged drought, and with these, loss of life, livelihoods and displacement in many areas of our country."

They called upon Government agencies responsible for the protection of the environment to enforce environmental laws "without fear or favour".

"We also remind all persons to shun the use of plastic carrier bags popularly known as kavera," the leaders said.

2021 general elections

The bishops also noted that there was anxiety hovering over the 2021 general elections.

"As we enter the electioneering period (2020-2021), many Ugandans are afraid that there will be more violence and suppression of dissenting views, thus, ruining prospects and hopes for peaceful, free and fair elections.

"We note with concern the slow pace at which reform of electoral laws is moving and the despondency and restlessness this is causing among a significant portion of the electorate. It is important that the government listens to these calls for reforms since the existence of free and fair elections is the cornerstone for civilized competition for power.

"Finally, we know and believe the Child Jesus was born to bring peace to the world. If we all work together with one mind and spirit and embrace each other as neighbour we can overcome all the challenges bedevilling our country today. Wishing you a blessed Christmas and a happy New Year," the bishops concluded.