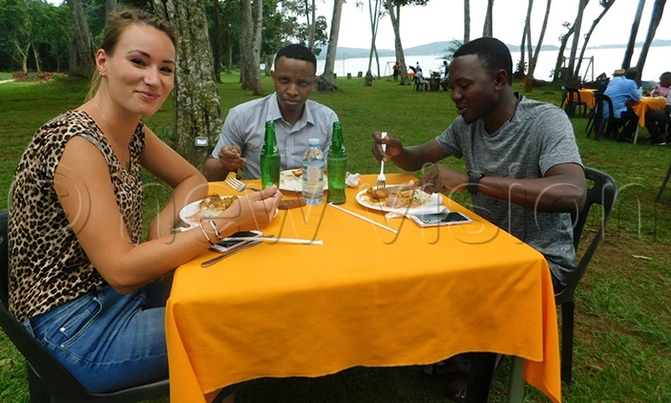 Tell you what, I have no regrets about every second I spent there.
It is that season of the year when your travel taste buds are itching for a serene destination away from the pesky urban crowds.
In Uganda, one place that stands out is Ssese Islands which is 1-3 hours away by boat ride from Entebbe.
Other than being serene what makes it tick? One has reason to wonder before booking a place for accommodation. If you dream of going there, then read on and find out why I feel like boarding any boat destined there at any time.
Time check 8:00 am, me and 50 other passengers are at Waterfront opposite the Uganda Wildlife Education Centre in Entebbe boarding the MV Vanessa speed boat.
After getting comfortable in our seats, the attendant politely asks us to wear our life jackets. The screen is switched on and it displays a wide variety of tourist attractions that Uganda is endowed with.
I gasp for breath after seeing a mini King Kong reminder as images of gorilla tracking, then eye-catching images of Kidepo Valley National Park which is blessed with elegant wild animals, birds and the stunning panoramic landscape.
After one hour on the water, the boat grinds to a halt and we set foot on Kalangala island destined for our pocket-friendly tents priced at sh20,000, budget hotels of sh30,000-sh60,000 and for me, the cosy sh300,000 a night room at Brovad White Sands.
The food was fabulous. One large deep-fried fish and chips go for sh30,000. The steam matooke on the side is so well done that one probably swallows it without chewing.
Tell you what, I have no regrets about every second I spent there.
The night was punctuated with owl hoots and the monotony of gentle waves slapping the shores.
Monkeys joined as the night climaxed with tweets and cocks crowing to serve as alarms.