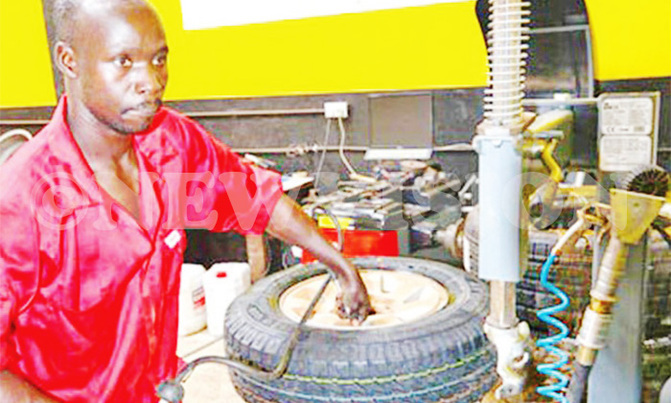 "Pay attention to your tyres because they are responsible for maintaining the steering and are the heart of the car. They carry the car's weight and if they are not in good condition...
TRAVEL TIPS FESTIVE SEASON

KAMPALA - When Alinda Mugoya bought a car, the last thing on her mind were the tyres. She had no idea that a tyre had to be balanced, the wheels aligned and that occasionally one should rotate them.

After a while, she began to notice that the car felt wobbly or pulled to one side whenever she got behind the wheels. It was only then that her mechanic told her that her tyres were worn out unevenly and needed to be replaced. She bought a new set of tyres, had them balanced and the wheels aligned.

Experts warn that motorists who ignore their car tyres are at risk of getting in trouble while on the road.

"Pay attention to your tyres because they are responsible for maintaining the steering and are the heart of the car. They carry the car's weight and if they are not in good condition, you might not reach your destination," Saleem Meerasa, the sales manager at Tyre Express, says.

Meerasa says good tyres give a grip for braking and also help when it comes to acceleration while on the road. He adds that tyres play a great role in helping motorists get the best fuel mileage and save on fuel consumption.

Faulty tyres leave car owners spending a lot on fuel.

Experts advise that one should ensure that their tyres are in good working condition.


Right tyre pressure

Meerasa says once a tyre is inflated well, its performance will not be compromised, hence giving car owners good fuel mileage.

He adds that the right tyre pressure is always labelled on the tyre. If you cannot read it well, simply contact your mechanic to have the right tyre pressure inflated in your tyres.

Meerasa says motorists should check their tyre pressure regularly so that they are sure to have the right pressure.

He says right tyre pressure prevents tyre burst and also makes driving easy, which guarantees safety while on the road. Also, check the depth of tyre treads as they wear down. Use the right tyres

"Much as checking tyre pressure is one way to ensure the type of tyres also matter a lot," Naira Namudu, who also deals in tyres, says.

She adds that low-rolling-resistance tyres are usually recommended for motorists if they are to save fuel. Besides that, there are other ways through which motorists can save fuel.

Namudu adds that motorists should develop a habit of changing tyres at the right time and not necessarily waiting for them to burst.

Buy from trusted dealers

"It is important that motorists develop a habit of dealing with people they can trust. Once you buy tyres from a trusted dealer, you are sure that what you are being given is quality," Namudu says.

She says when one notices that they have not been given the right tyre, it is easy to return it to the dealer in exchange for another one.

"Professional tyre dealers usually know which tyre fits a particular car and will advise the car owner how to care for it," she says.

Avoid overloading a car

Moses Kayiira, a Kampala based mechanic, says whenever a car is overloaded, the engine gets overworked and in the end, car tyres wear out fast.

He advises motorists to read the labels on their tyres before loading the cars. Each car tyre comes with a weight index. Reading tyre labels informs one of how much weight their car tyre should carry.

"The more weight you add onto your car, the more fuel you use as it runs on the road, so the more you spend on tyres," he says.

Kayiira adds that motorists should rotate the tyres to prevent uneven wear and always endeavour to replace them if they develop cracks or bulges.

He says wheel alignment is another way of keeping tyres safe. This should be done regularly.

Kayiira urges motorists to always get tips on tyre replacement. This helps one learn to fix their own tyres.

"Do not expose your tyres to sunlight. Tyres are made using rubber and once exposed to sunlight and heat, they lose elasticity, which affects their performance," Meeresa says.


Tips on extending a car's tyre life

Do not brake or accelerate suddenly

Avoid hitting pavements or potholes at high speed

Align the tyres and balance the wheels.

Do not load vehicle above the tyre specifications

Maintain the right tyre pressure

Do not expose your tyres to sun heat

Use the right tyre for the right weather and road terrain.

Motorists should check the tyre pressure of the car regularly so that they are sure of having the right pressure.