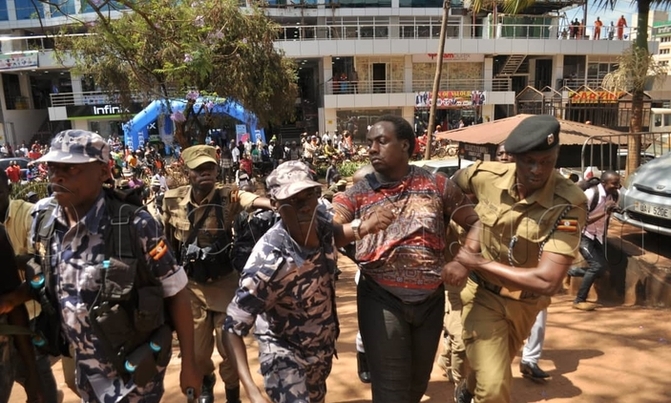 Aine had pleaded guilty, together with one of his co-accused, Daniel Byansi, who has also denied the charges.
CRIME COURT PROCEEDINGS

In a twist of events, Christopher Aine, the former aide to ex-prime minister Amama Mbabazi has changed his plea on charges of obstructing traffic Police officers from carrying out their statutory duty and denied the offence.

Aine had pleaded guilty, together with one of his co-accused, Daniel Byansi, who has also denied the charges.

However, on Monday he changed his statement, saying he did not understand the charges before.

After changing his position, Buganda Road Court's Senior Grade One Magistrate Stella Amabilis declined to hear his bail application.

She remanded Aine and Byansi to Luzira Prisons until December 23, when they will re-appear in court for the hearing of their bail application.

Aine's other co-accused, who denied the charges, include Ken Sserunjongi, 28, Tonny Segawa, 22, Christopher Nyombi, 28 and Sam Lugemwa, 24.

Last week, Aine, represented by lawyer John Paul Rubagumya, denied charges of malicious damage to property, assault, occasioning actual bodily harm and appearing in public armed.

On conviction, the offence of appearing in public armed and malicious damage to property can fetch one a five-year prison sentence, assault two years and obstructing officers from carrying out their statutory duty, one-year.

State Prosecutor Mariam Njuki informed the court that investigations in the matter are complete.

Allegations
Prosecution alleges that all six men and others still at large on November 27, at Kampala Road obstructed traffic officers, who were charged with the regulation of traffic.

The prosecution also alleges that Aine, on the same date and month, damaged Police constable Peter Eyotre's shirt, which was the property of the Uganda Police and cut Denis Kambugo's arm with a knife.

It is further alleged that Aine carried an offensive weapon (knife) in public without lawful permission in a manner that causes terror to anyone.

Arrest
Three weeks back, the Police arrested Aine and two others in Kampala for staging an armed protest.

Aine caused commotion in Kampala city centre as he walked along Kampala Road brandishing a long knife and shouting at the top of his voice. In the company of two men, he demanded that the Government finds him a job, claiming that he is unable to cater for himself and his family.

Heavily built Aine was leading a protest against what he termed as "bad leadership by the current regime", which he accused of aiding gross unemployment and corruption.

He attracted crowds on Kampala Road near the Constitutional Square as he brandished the machete.

The crowds became bigger, consequently blocking traffic. His escorts also joined his outburst demanding a change of government.

"The President should step aside because he has failed to tackle fundamental issues and the problems of the country," Aine reportedly shouted.

Aine accused the President of "wasting taxpayers' money on useless people".
In an attempt to quell the demonstration, the Police grabbed Aine, but he fought back. For about five minutes, he wrestled the several armed Police officers who crossed his path until he was overpowered.

Aine's two colleagues accused the Government of corruption, saying President Yoweri Museveni is surrounded by the mafia.

Who is Aine?
Born in 1982 to Maj. Julius Aine (deceased), who was a member of the National Resistance Army, Aine (Junior) came into the limelight in September 2015 as the head of the then presidential candidate, Amama Mbabazi's security detail.

He came into the spotlight when he fought with Police commanders who had tried to arrest him in Jinja at the peak of Mbabazi's campaigns. He was also involved in the clashes between the supporters of President Museveni and Mbabazi in Ntungamo on December 13, 2015, which triggered the Police to hunt for him. He afterwards went into hiding.

The Police put out an sh25m reward for whoever provided information that would lead to his arrest. Days later, social media reports indicated that he had been killed by security operatives and buried.

On April 7, 2016, after five months in "hiding", Aine surfaced in the company of Gen. Salim Saleh, the senior presidential advisor on defence and security.

In a televised interview, Aine said he had gone into hiding in Tanzania fearing for his life.