Love transformed my life - Levixone Levixone left home to live on the streets when he was nine years old.
ENTERTAINMENT GOSPEL MUSIC

KAMPALA -Looking at the success gospel star, Levixone is enjoying today, it is hard to believe what the 27-year-old had to endure in his difficult childhood. The big smile he carries today is a smile of an overcomer. Very few survive the kind of hardships he went through to become not just the national but global icon he is.

Born in Nakasongola on December 07, 1992, Levixone (real name Lucas Lubyogo) grew up under the care of his mum, Winnie Mutamba and a stepdad. According to him, he only got to know the truth about his birth in 2012.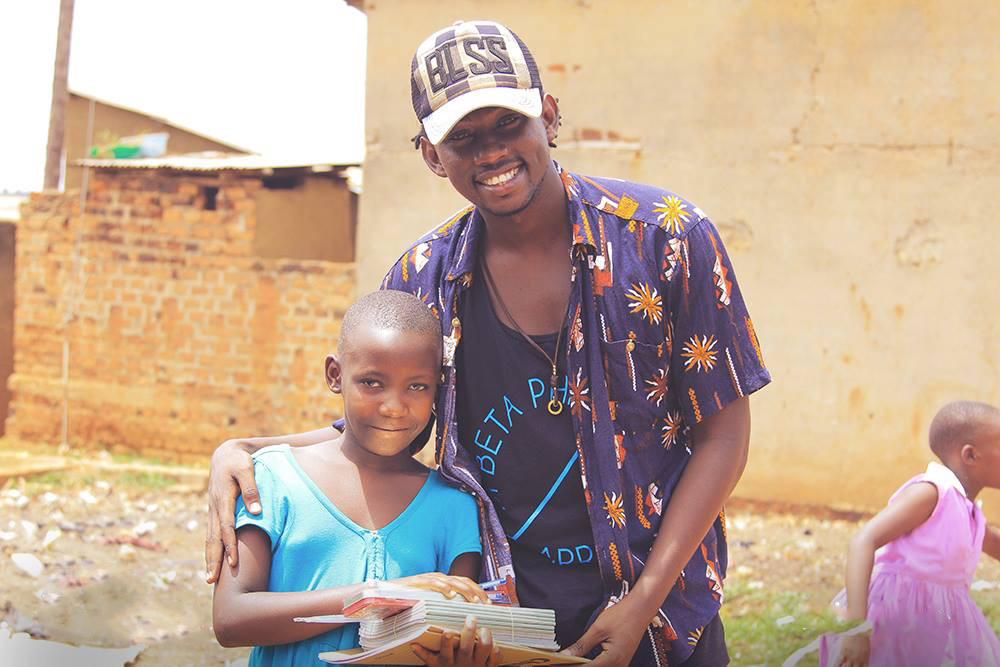 Levixone hands over books to a school child

"I didn't know that the person I called my father was not my biological dad. I had never felt that I wasn't his son until I was of school going age. I'd see him buy gifts and clothes for my sisters but not me. Most of my age-mates were in school but there seemed no plan for me," he recollects.

At the time, the family had relocated to the city. They lived in Kosovo, a slum in the Kampala suburb of Lungujja. "As a young boy, I liked playing with the kids in the neighbourhood and this often got me punished. But whenever dad would be punishing me, he would utter statements intimating that I wasn't his son. But I never understood this until later," he narrates.

Running away from home

Levixone left home to live on the streets when he was nine years old. "One day, I went to fetch water. The previous night, I had had a thorough beating. The beating was because I had followed a certain group from our church that had gone for baptism. Excited to see what was happening, I got myself baptized twice and my sister reported me. When I went to fetch water the next morning, I delayed at the well. On returning, my sister told me I was in trouble. She said dad had vowed to kill me that day," he narrates.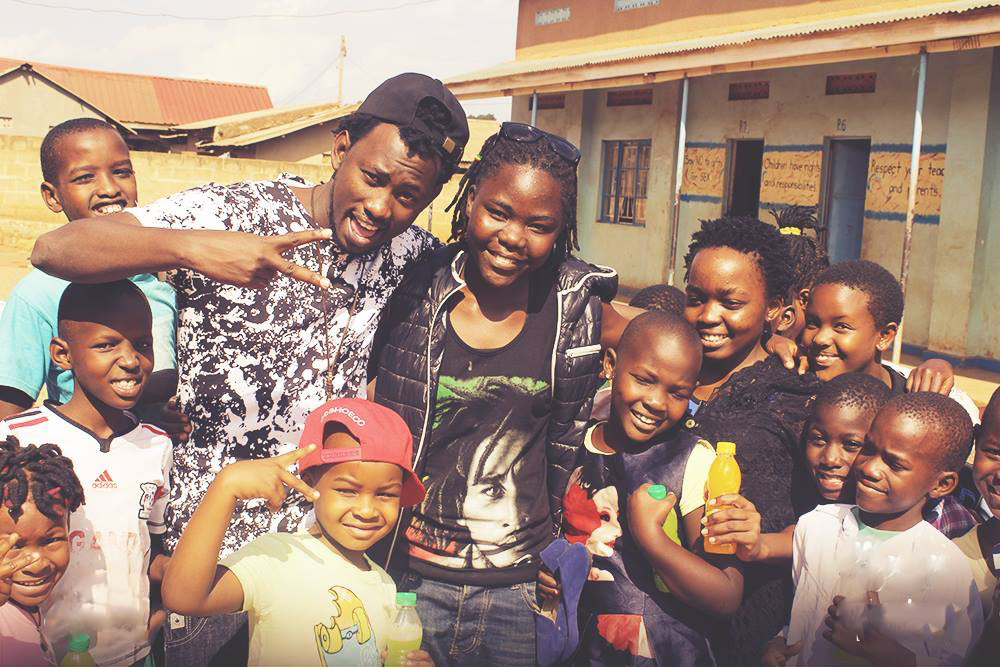 Levixone has grown from a young boy that tormented his community to a role model.

To avoid another corporal beating, he just put the water on the verandah and left. "I started living on the streets in Kosovo. I started doing several odd jobs to get food. That is how I met a man called Teffe. Unfortunately, he has since passed on. He always gave me marijuana for sale and paid me sh100 daily," Levixone recollects.

He later abandoned this and went to the city centre. "A friend had told me that I would get a job to hawk water in buveera. On my first day at the job, I slid and fell and all the water poured. When I told the boss what had happened, he slapped me and told me I was going to sell without pay for quite a while," Levixone narrates.

"I would move through all the taxi and bus parks selling this water, most often on an empty stomach. I would sometimes beg people in taxis to share with me whatever they were eating. That was the only way I got my food. After about a month, the friend with whom I was selling water advised me to sell all the water and disappear with the money. That day, I told my boss to give me more water because my client base had grown and I often would find myself 'out of stock'," he adds.


The young Levixone

It is later that day that he boarded a taxi back to Kosovo and made sure his boss never saw him again.

Running amok in Kosovo

Jobless and homeless, Levixone had to find another way to survive. "I found an incomplete building and started staying there. At the time, there were some gyms in Kosovo and kids often converged there to do boxing. I started going there to practice. Soon, I was unbeatable and this got me many fans. The challenge was that we had to wait for special days like Christmas, Easter, and Eid to make money," he says.

He was later introduced to selling avocado and honey. "I would hawk these and be paid a commission. To get food, I would wake up early to carry rubbish from the ghetto restaurants. This later became unsustainable as some fellows would wake up earlier than me and take the rubbish," he narrates.

All this time in Kosovo, he hid from his family or anyone that knew them. "One day, mum landed on me unawares and pleaded with me to return home. I told her I couldn't. I always came and stood at someplace near home, and after seeing that she was fine, I would head back to my hideout in the ghetto," he reveals.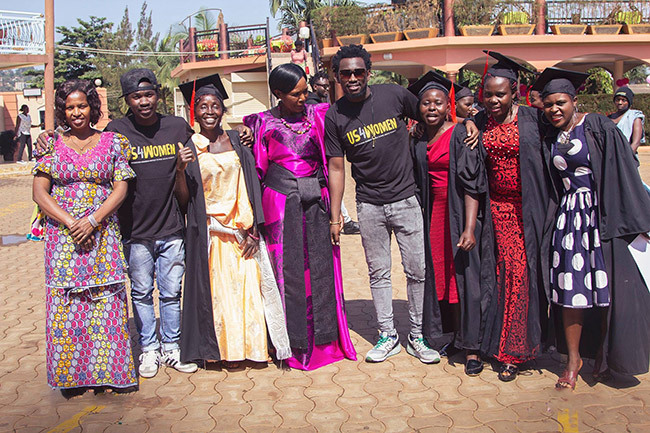 Levixone and Trinity pose with the women after their graduation through the US4WOMEN programme

He later abandoned hawking and started roasting meat. "There was a guy who would give us meat to roast on his behalf. We, however, had no idea that he was stealing people's animals. The business was thriving until this man was caught stealing a goat and the community tied it around his neck and made him walk around with it."

Levixone then resorted to punching people and snatching their belongings. "This I did together with my peers on the streets. This is when the community turned against me. Some parents started hiding their children whenever they'd see me passing by. It is during this time that I started using drugs to counter the cold nights. One day, I was too hungry and decided to go steal food. I got to a house where they were preparing matooke and g-nuts katogo and stole the food off the charcoal stove and run away with it. At the time, stealing had become a part of me because it was my only way of survival. I had even got a gang with whom I would steal food and other items," he recollects.

Turning my back on crime

He only changed when a friend on the streets was murdered as he watched.

"I remember there was a gathering in Lusaze and together with my gang-mates, we decided to go there. On arrival, we saw many people including a group of South Sudanese. They were having fun and we didn't bother them. But shortly after, one of them claimed to have been robbed and accused my friend Godie of doing it. Up to now, I believe Godie was innocent. He was attacked by a mob and killed," Levixone narrates the sad memory.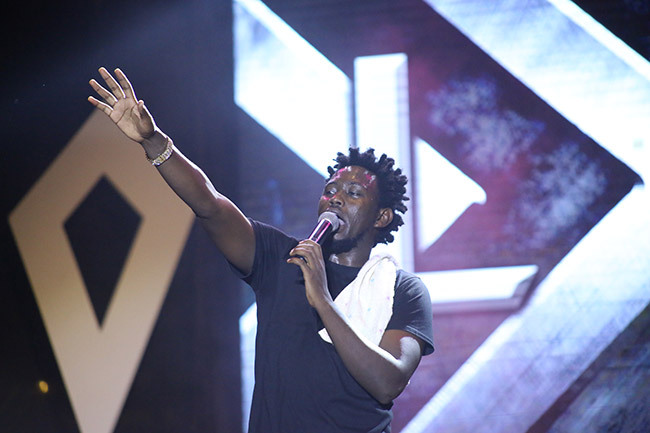 Levixone has grown into a global gospel music icon despite a tough childhood experience

A certain woman in the crowd pointed at the young Levixone and said, "Do you see how your friend has died? You will be next if you don't change your ways." The Turn the Replay singer says this is what made him swear never to steal again.

"After burying Godie, the woman's words kept replaying in my mind. Life became a lot harder. I would spend almost all my time in this abandoned building; scared of going out to steal. I later sought a job as a pool table attendant in the neighborhood. No one knew how to play pool around the area so I lied to the guys that I knew how to. I got the job," Levixone narrates.

This job sustained him for a while until one morning when the pool table owner fired him after finding the table wet. "The pool table was built in a way that I could sleep underneath it at night. One night, it rained so heavily and due to coldness, I pulled the cover off it and rolled myself in it. In the morning, the owner found me deep asleep in the pool table cover. Little did I know that the rain had wetted the pool table," he recollects.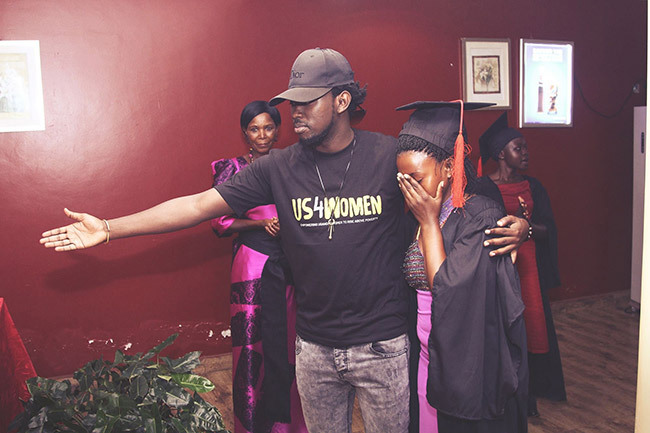 Through-skilling-women-and-girls, Levixone is showing his community a way out of poverty

He returned to the streets but this time, there were very many more street kids in Kosovo. "I was now scared of stealing and resorted to carrying rubbish from restaurants to get food. But I would often find all the rubbish already taken and go without food," he says.

Returning to church; finding music

"One lucky day, I went to Kifuddu, Mengo where Pr. Imelda Namutebi's church once was. They usually invited artistes to perform. I saw this as an opportunity to dance and get money. I gathered courage and asked the Emcee to allow me to dance on stage," he recalls.

"He told me to sing instead. He said there were very many dancers. He could only give me a chance if I wanted to sing. At the time, I didn't know any gospel song but because I was desperate, I just forged lyrics and sang. He liked what I had done and promised to give me an opportunity. But before I could get on stage, his colleague called me back and asked me to sing again. I couldn't remember what I had sung for the guy so I forged other lyrics for her. She was also impressed and they gave me an opportunity to sing on stage. I sang and people gave me a lot of money," he adds.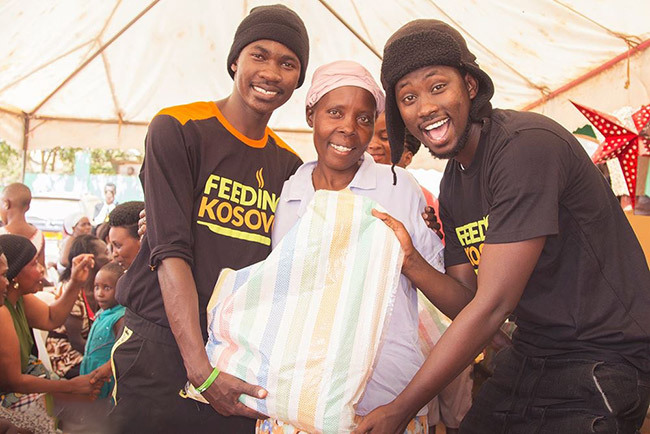 The Chikibombe singer and his childhood friend, Trinity handing over food items to a beneficiary of the Feeding Kosovo Christmas programme

He was later called aside by two men who he later learnt were Crystal Fabulous and Tikitah. "I thought they had stopped me to give me more money. They asked where I stayed and I told them I lived in the ghetto. I was shocked when they told me to carry timber for them. I ridiculed them and told them I could not be exploited. They replied that they would beat me up and I had no option but to carry the timber. I later found out they were going to use it and some sponges to soundproof a music recording studio," he says.

On arrival at their destination, Fabulous took the young man aside and probed him on where he stayed. He asked, "Why are you looking this shabby? Do you really have parents?" On hearing his story, the two artistes allowed Levixone to start sleeping in their studio.

"Fabulous bought me a small mattress and every morning, I would wake up and mop the studio. I lived there for quite some time.

Joining school

Levixone's dream of going to school came alive after a football match he had been hired to take part in. "I was at the studio and someone from a school in Kosovo came looking for me. The school (Treasured Kids) had a soccer match and this man said I would be paid for each goal I scored. We played and by God's grace I managed to score twice," he narrates.

Among the spectators were whites from an organisation called Fields of Life. They were sponsoring some kids at the school. A man called Neil Fox got interested in Levixone and asked a teacher who the young man was because he had never seen him at the school.

On learning that Levixone was a street kid, Fox was deeply touched and started paying Levixone's school fees. He also bought him two pairs of shorts; one of which he offered to a friend called Trinity.

"I joined primary three because I was too old for the primary one. Around that time, Trinity and I decided to start a dance group called Children of the Light. Because we had identical shorts, we would go to churches and dance. Gradually, I also harnessed my singing abilities. We recruited more kids and with time, many churches started inviting us and people loved us. That kind of love changed my life because all through my struggles, I was looking for someone to love me," he says.

Levixone also later joined Grace High School in Gayaza and it is there that his musical prowess was nurtured.

Recording his first song

"Many producers including the late Mac Elvis and Legend-P used to come around the studio. Mac was young but very talented. Fabulous would also come around and most times, I saw him read the bible before he recorded music. Many people wonder why I got endeared to gospel music yet I was exposed to secular artistes like Kid Fox, Peter Miles, and Bebe Cool. The truth is that I listened to them all but Mac Elvis was different. Mac's voice and lyrics were exceptionally touching," he says.

Levixone recorded his first song, Usinipite at the time Akon was conquering the world. At the time, he was 13 years old. Usinipite was followed by his breakthrough song, Nonya Omu when he was in his primary seven vacation.

Unfortunately after senior one, Levixone's sponsor ran broke. He had to drop out of school. But Nonya omu was gaining popularity. One day, he was invited to sing the national anthem at a certain event. It is at this event that Steve Jean noticed him.

"He asked whether I had my own songs but because I didn't know who he was, I told him I didn't have any songs. But in 2010, I received a call from him calling me to his studio. My mum had given me a Kabiriti phone then. Thinking it was a con attempt, I approached Peter Miles, showed him the number and asked whether it was Steve Jean's," Levixone recollects.

"When Miles saw it, he simply told me to call back. I went to Steve's studio and he asked that he reproduces Nonya Omu. After the reproduction, I was amazed at how fresh the song sounded. It became a hit and I had to do a video for it; making the song and myself even more popular," he adds.

Giving back

Levixone; together with Trinity started a charity foundation called 92-Hands. The charity is engaged in activities like providing food, education, shelter, and skills to underprivileged children and their parents in the ghetto communities especially Kosovo.

"My story is the reason I got into charity. Growing up, I promised God I would give back to Him - only that I didn't know-how. But knowing Christ more has taught me that the best way to give back to God is to love His people," he says.

Levixone dedicates a big portion of his earnings from music to helping needy people. Trinity on the other hand also contributes a portion earned by his company, Era92 Media.

"I have seen people make wealth, die and leave it all here. My brother Mac Elvis died after winning a prestigious award. He treasured it so much but left it here when he went to be with the Lord. That has taught me that these things are vanity and sharing them with the people of God is the best thing to do. Together with Trinity, we are working to be the change we wanted to see," Levixone says.

92-Hands is running several campaigns including; Feeding Kosovo. The first well-organized campaign fed about 114 families in Kosovo. "Recently, together with Bobi Wine, we fed over 3,000 people," Levixone says.

More so, 92-Hands has built a team of youths that move through Kosovo interacting with the community. "In Katanga, we have Us4Women, a campaign that teaches women vocational skills. Our other campaigns are One Child (sponsoring needy children in school), Wise Builder (building homes for needy women and their children) and Elevate (which focuses on skilling youths)," he explains.

Through the campaigns including a soccer academy in Kosovo, many children that once engaging in theft and drugs; have been transformed.

"For the future, we are looking at a project called New Africa where we are going to elevate youths and ensure they are solution creators and not 'beggars' as it is today. Through this, I have established a label called Levixone Music. So far, we have six young gospel artistes including one girl and we hope to change the world together," Levixone concludes.