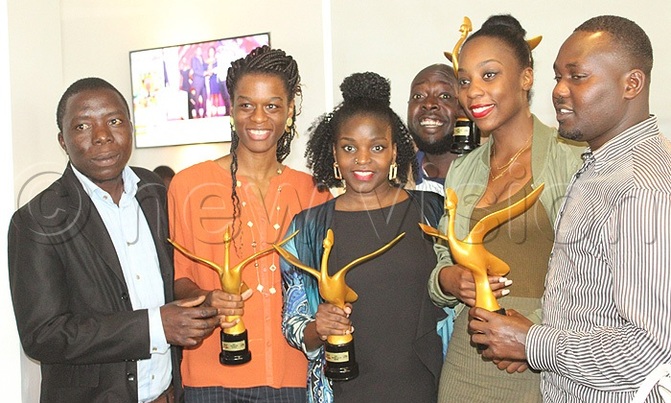 Ugandan filmmakers are also advised to tap into local content to sell the image of Uganda.
ENTERTAINMENT | FILM INDUSTRY

KAMPALA - Uganda Communications Commission (UCC) has honoured Ugandan filmmakers for their efforts in film production in Uganda.

UCC executive director Godfrey Mutabazi told a meeting recently that the local film industry is growing at a fast rate with an equally growing viewership.

"You see the world needs the right content which will change it and this can be done through the power of media and technology which the film industry needs to send their messages globally," he said.

Mutabazi said UCC ensures that the film industry has the potential to create employment and revenue as well as preserve culture by producing local content.

He urged Ugandan filmmakers to tap into local content to sell the image of Uganda.


Government support

Mutabazi also urged filmmakers to stay focused and also think broadly about what kind of content to put out there, before thinking about support from government.

"You see, the international filmmakers we admire produce content from their home countries using their resources at hand before government comes in to support. This should be the same with you," he said.

For now, the UCC boss feels the Ugandan film industry must work hard to build its family in order to attract government's attention for support.

"Once the film industry develops to a certain level, the government has no reason for not supporting it."

This year, UCC spearheaded the Uganda Film Festival, aimed at stimulating the industry so as to enable it achieve its full potential as a source of employment, revenue creation and preserving culture through local content.

Julianne Mweheire, who is in charge of fares and content at UCC, said the film industry needs more sponsors to command more space in the media.

"There is no way the industry can grow without the sponsors to support your content on airwaves. And because of improved Ugandan film productions, more sponsors have come on board to support the industry," she said.


Mweheire revealed that apart from external sponsors, UCC does not have direct funding to support the work of over 5,000 registered filmmakers.

As many as 70 filmmakers have been sponsored to train South Africa. They are to be skilled in managing their business better to reap more revenue.

"These will be able to watch production from end to end as part of their training, and at the end of it all, they will come out as professionals in the world of production," said Mweheire.

South Africa has a long history of film production and is therefore among the oldest film industries in the world. Over the past ten years, the industry has produced an array of award winning films, television series, documentaries and commercials.

Meanwhile, one of Uganda's top filmmakers and directors, Philip Luswata, attended the meeting, and said the industry is more fertile than it was two decades ago.

"The industry today relies on trained personnel, which was not the case many years ago when we had just joined it. Therefore, this has given us an opportunity to love this profession beyond just getting money out of it," he said.

Luswata has written severally for television, radio and stage with popular works he has featured in.

He has contributed to TV dramas such as Center 4 (a Ugandan medical drama series), Makutano Junction (a popular Kenyan TV series), Kigenya-Agenya (a popular Luganda TV series) and Child of a Delegate (TV series).