Specialists urged pregnant mothers to always use authorised health facilities but not traditional attendants.
PRODUCTIVE HEALTH

Over 600 residents of Busana Landing site, Nyenga Sub County in Buikwe district have received free medical treatment.

They received services like antenatal care, family planning, HIV testing, dental care among other general medical services.
The health camp was organised by St John Uganda specifically to offer medical services to the needy people in Busana Landing Site who cannont afford private health services.
With their programme dubbed 'Mama na Mwana' project, literary meaning mother and child, women were provided wih quality community home based care that left farmilies in a more healthier state.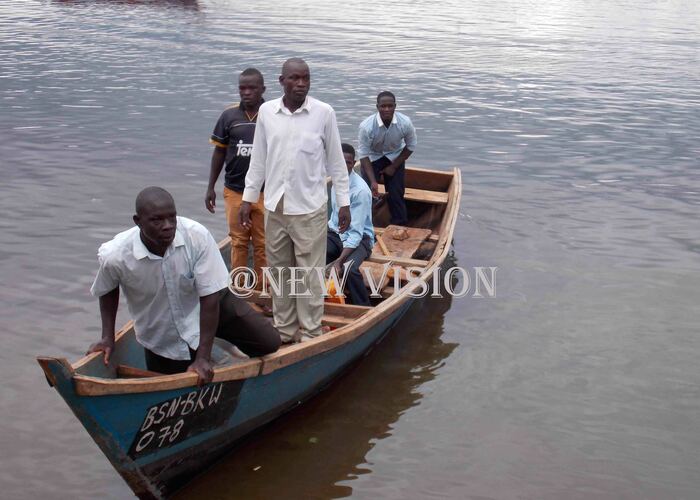 Fishermen arriving at the landing site for the health check up

Speaking to The New Vision, Dr. Joseph Kasirye said that the aim is to improve maternal, newborn and child health, support pregnant women and new mothers with advice and information.

"Our core aim is to reduce maternal, neonatal and postnatal mortality in this area, conduct HIV test, and create awareness on how to get treatment if positive.

Remember this is a landing site of which most of the pregnant mothers go to traditional birth attendants due to the inadequate funds, so we are trying to sensitize them, offer free antenatal materials that they always go to health facilities," Kasirye said.

Most of the patients were pregnant women, the old and children.

Kasirye added that patients with complicated illnesses are given first aid and later forwarded to various authentic hospitals.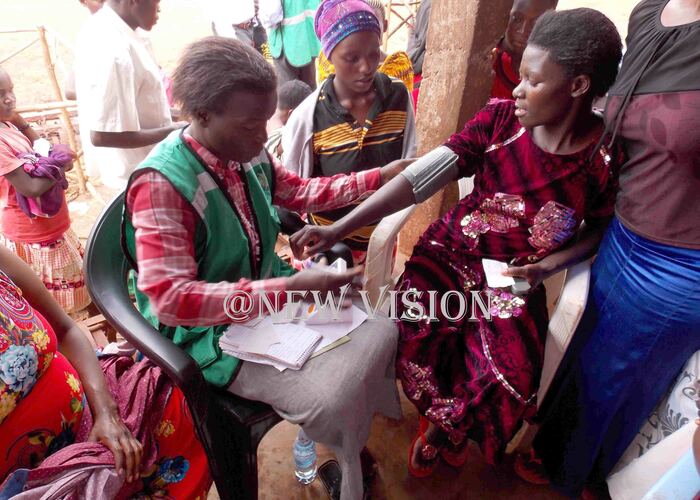 A woman going through blood pressure check up at Busana Landing Site

"We forward those with complicated illnesses to renowned facilities and we also reach out to involve men in family preparedness and new born care," he said.

Nakintu Justine, a midwife, revealed that part of their staff educates families through home visits raising awareness of danger signs in pregnancy post-natal care and basic hygiene for new born.

"We ensure that every eight months pregnant mother gets a free 'mama kit' and is fully prepared till she delivers. We don't end at camps, but our field voluntary staff keeps monitoring our patients.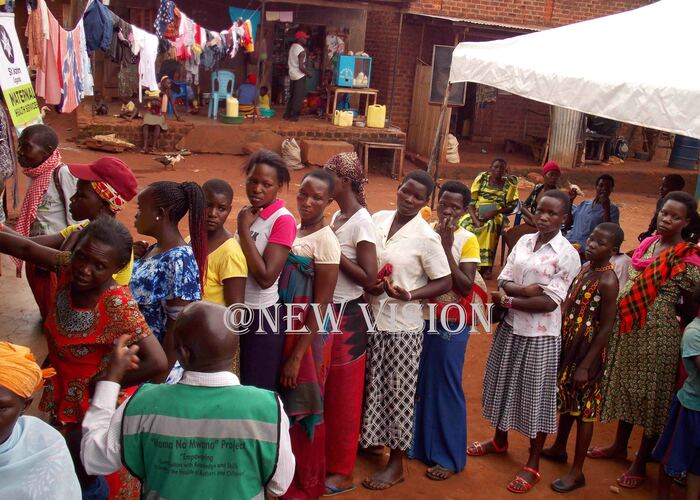 Residents of Busana Landing site in Buikwe district lining up the medical check up.
We do all this to ensure that expectant mothers don't go to traditional attendants, an act that risks their life. Nakintu said.

Ahamadu Warudulu, 72, thanked the organisation for treatment they always render to him.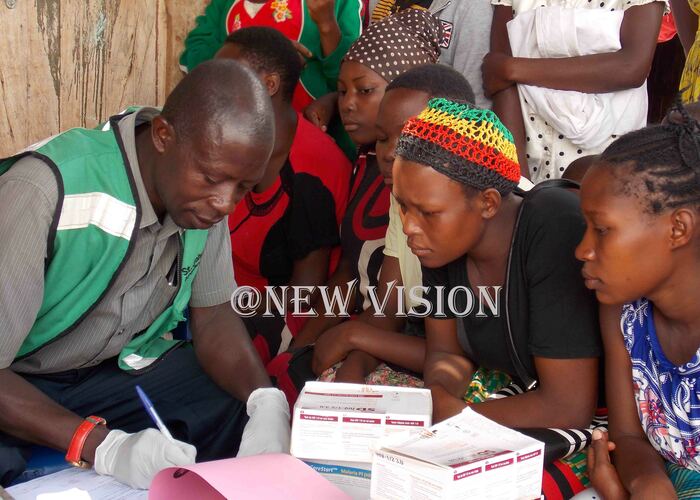 "I warmly thank these people for I no longer walk a 15km journey to Tongoro Health Centre II, which is the only nearby health facility in our locality," Warudulu revealed.