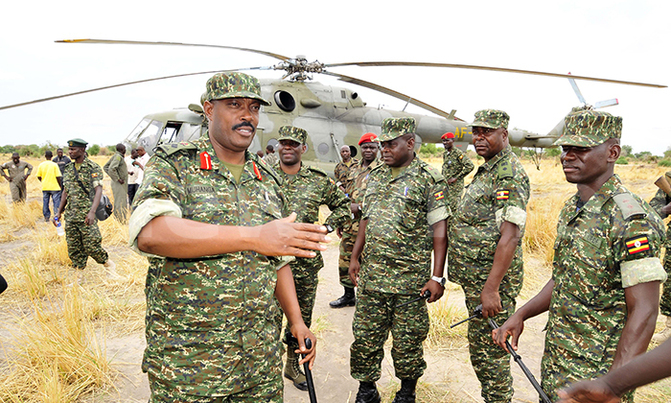 In addition, around 2,000 Ugandan soldiers, along with troops from CAR, DRC and South Sudan, were part of a Regional Task Force (RTF)
Uganda is a leading troop contributor to the African Union peace operations. Uganda was the first country to deploy troops to Somalia as part of the African Union Mission (AMISOM) in 2007. Although other states later joined AMISOM, Uganda remains the largest contributor, providing over 6,000 troops and police officers, mostly in Sector 1 around Mogadishu, Sector 3 around Baidoa and in the Multinational Force Headquarters also in Mogadishu. Five of the AMISOM Force Commanders were Ugandan.
Uganda was sucked into the South Sudan war sending in troops under then Col Kayanja Muhanga on January 14, 2014. Uganda's then army chief of staff Brigadier Leopold Kyanda said the mission involving 2,000 soldiers would likely last just a few days. A heavily-armed Ugandan military convoy crossed into South Sudan to evacuate citizens trapped in the capital Juba, amid fears that fierce fighting could flare up again despite a ceasefire.
Following four days of intense battles in Juba that left hundreds dead and forced around 40,000 to flee, a tense ceasefire was put in place but the UN had warned that violence could erupt again. The convoy of around 50 Ugandan trucks escorted by machine gun-mounted armoured vehicles crossed the border to open up a secure corridor for refugees on the 200 kilometre (120 mile) Juba-Nimule road.
In addition, around 2,000 Ugandan soldiers, along with troops from CAR, DRC and South Sudan, were part of a Regional Task Force (RTF) targeting the Lord's Resistance Army (LRA) before the mission closed in 2017.
Uganda is also instrumental in the development of the Eastern Africa Standby Force (EASF) and other AU-affiliated conflict management initiatives. Uganda has provided the director for EASFCOM, participated in several joint multinational military exercises in the region and has developed a Rapid Deployment Capability (RDC) for future AU/EASF missions.
Uganda has been at the forefront of developing AU capabilities, reflecting a commitment on the part of the leadership to implementing African-led initiatives.
In May 2000, Ugandan and Rwandan troops clashed in Kisangani, Congo and at least 10 civilians were killed and 100 wounded.
2009: Mar 15, Uganda began withdrawing troops hunting brutal Lord's Resistance Army rebels in neighboring Congo. Felix Kulaigye, the then military spokesman, said the operation had been a success, with around 100 rebels killed and more than 200 abductees rescued, and that Congo would continue the hunt.