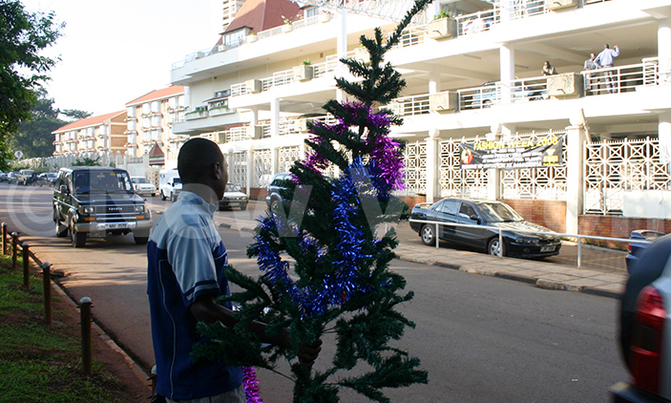 A section of Ugandans born in the 90s who used to feel the Christmas excitement have struggled to relive it today since some of the special things they once regarded have become the usual things today.
FESTIVE SEASON
Christmas season is always known as the big festive season or as some say 'the best time of the year.' It always comes timely, towards the end of the year and in the last month of the year.
However, this is not the first time we are celebrating this festive season, it has been there over the years. Just as it was then, it still remains Christmas now and tomorrow, but the trends of celebrating it have changed with time.
From cutting down Christmas trees to artificial Christmas trees, from studio photos to selfies with the smartphone.
A section of Ugandans born in the 90s who used to feel the Christmas excitement have struggled to relive it today since some of the special things they once regarded have become the usual things today. Things like meals today, what they used to be so excited about those days is what people eat on a daily basis.
However, with the changing trends in Christmas these days, some practices have continued among some Ugandans, like there are people who still save money to spend big during the Christmas season like food and entertainment events that line up during the Christmas season.
Traveling to the village for Christmas celebrations is now the norm among most Ugandans. It's also in this season that transport fares are hiked since many people travel to the village for Christmas.
Attending Christmas day church service still remains the most common and important activity on the list of the morning of Christmas.
Aida Kanalo says that she misses that excitement of Christmas since today it can't compare to the good old days.
"We have grown up and I don't feel the good old Christmas excitement anymore, no shopping for clothes, celebrations last only up to the 25th yet while you are upcountry, gathered with the rest of your relatives at the ancestral home, Christmas celebrations go for a whole week, some last till 2nd January," she says.
She adds that she misses the Christmas photoshoots after the Christmas service when photographers with cameras would be waiting for people after the church service so that they can take a Christmas photo. "I miss the Christmas photoshoots since we would get a family Christmas photo framed every year," she added.
Now days churches too put up big Christmas productions like the Christmas Cantata at Watoto Church
Events have become so popular on Christmas day. After family time, some families catch up on a Christmas show in the evening to crown up their Christmas day. Such days have become busy days for musicians who set out to entertain
According to Martin Seku, a renown gospel artist, the Christmas shows back then were few and there were also few artists. Today the shows are now expensive.
"What is happening now is that there are a few artists who can afford to organize events which are professional, so, most of them have backed out and they are depending on the people who organize, but if they are less, then there will be fewer events for artists to perform on, but still I believe there are churches organizing evening Christmas festivals and a lot of artists will be invited to different churches," he says.
Seku recalls that those days they would just go to Namirembe Guest house and put a few speakers, put a stage without the kind of high gear stage lights we see today and people would come and have fun. But these days such a thing can't be done.
"It has to be professional, it has to be on stage, it has to be sound, you have to be on TV, you have to be on the radio," he added.
Shopping is being given a new way towards Christmas as people can shop online other than stepping out into the market to get something.
Dorothy Ajwang, a resident in Mutungo, says that certain things made it feel like Christmas, but today, it's not until she is going to church that she realises it's Christmas day.
Upcountry trips are still the norm here in Uganda. People still travel to celebrate Christmas with family
"We would come together as a family, eat lots of different food and enjoy each other's company. I had a new dress every Christmas, but now I don't even realise it's Christmas except when we go to church to pray," she says.
Gladys Kemitare, a lecturer at Makerere University Business School (MUBS), recalls how Christmas used to be when they gathered together as a big family when they were still kids.
"We would all go to my grandparent's place, all the twelve kids and we would eat together and even sleep in tents because we were a big number for the whole week. It was about being together as a family, playing, eating too much and climbing the hills and trees. We used to exchange gifts as well, however, today each family eats alone, I miss the togetherness," she recounts.
As time keeps ticking, some of the big seasons like Christmas will keep on being celebrated, but changes will still keep on happening in the way people choose to make their Christmas happen since Christmas will still be here till the next decade and more.
Related story
How to prepare for a Ugandan broke Christmas