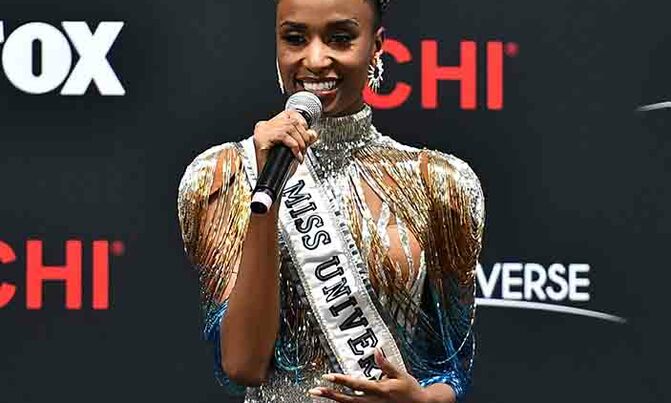 The new week is here! Are you wondering what is happening on social media today? Here are the top trending topics in Uganda.
Monday, December 9

Presented by Hannington Mutabazi

@Mutabazi01

The new week is here! Are you wondering what is happening on social media today? Here are the top trending topics in Uganda.
_____________________________________________________
1.Miss Universe 2019
Miss South Africa Zozibini Tunzi was crowned Miss Universe on Sunday in Atlanta after a lavish ceremony filled with glitter and heartfelt speeches about female empowerment.
Tonight a door was opened and I could not be more grateful to have been the one to have walked through it.
May every little girl who witnessed this moment forever believe in the power of her dreams and may they see their faces reflected in mine.
I am #MissUniverse2019. pic.twitter.com/gMkjmVCabo

— Zozibini Tunzi (@zozitunzi) December 9, 2019
Congratulations @ZoziTunzi! Your natural beauty has shone through to every South African. The universe is your oyster.

You are an inspiration to all of our young leaders and we look forward to watching you shine on. #MissUniverse2019 pic.twitter.com/uHeKXvli3v

— Servest_SA (@Servest_SA) December 9, 2019
Tunzi beat more than 90 contestants from around the globe in the 68th installment of Miss Universe, which was held in Atlanta's Tyler Perry Studios.
Congratulations @ZoziTunzi on winning the #MissUniverse2019 beauty pagent. I hope @NanhiKali's across the world will see their faces reflected in yours & be inspired to believe in the power of their dreams. pic.twitter.com/C55l5b9k7A

— V. S. Parthasarathy (@parthavs) December 9, 2019
Congratulations to @zozitunzi who was crowned Miss universe 2019. She is beauty personified, I wonder how beautiful she would look in a #ProteaWatch? #experiencetimeyourway #missuniverse2019 pic.twitter.com/ceNZNavMle

— Echo Zulu Watches (@EchoZuluWatches) December 9, 2019
What message do you have for the Miss Universe? Well join the conversation Here

2. Uganda Decides2021

Uganda decides is trending as early as now! Yes, am also surprised just like you are. Ugandans seem not to be joking with election things this time around. It is just 2019.

Only two days left for eligible voters to update their voter's registration status.
Let's go now. Only 2 days left to the end of the Update of the National Voters' register. Check for your name today.#Ugandadecides2021 pic.twitter.com/SQJFei5FK2

— The voice consults Ltd (@TheVoiceConsult) December 9, 2019
For all students who were registered under the Learners Project in 2017 and are now 18 years of age, their details are also being updated & thus being assigned a polling station within their parish of residence or origin.

cc: @UgandaEc
#UgandaDecides2021 pic.twitter.com/sEx1kW9RSM

— Pirate™ (@PirateMulwana) December 9, 2019

Ugandan tweeps are voicing their opinions Here
If people that are called by name shall humble themselves and seek my face. I shall here from heaven and heal their land.
May the Lord heal our land#ugandadecides2021 #PrayerConference19 pic.twitter.com/3oeZdRmC81

— Kyakyo Rossette (@princessrosseti) December 9, 2019

3. Save Murchison Falls
The save Murchison falls campaign is still on and still growing strong. Ugandans are not willing to listen to anything until they are promised that Murchison falls is safe. Petitions have been signed and many more things still going on.
NOTICE!!!

As a continuation of our campaign to save Murchison Falls, together with partners, friends of Uganda & several stakeholders, we will hold a press conference tomorrow (10th Dec 2019) at the top of the falls in Murchison Falls National Park at 13h00. #SaveMurchisonFalls pic.twitter.com/lUIPqZrHG1

— AUTO #TourismUganda (@TouroperatorsUG) December 9, 2019
We either #SaveMurchisonFalls or #SaveMurchisonFalls, We can't sit and watch our natural heritage,natural habitat and source of people's livelihoods die like that.

Tomorrow all roads will lead to the top of Murchison falls for multi-stakeholders press conference. pic.twitter.com/uzVGU2OCt6

— #SaveMurchisonFalls (@brendah_ape) December 9, 2019
Ugandan tweeps treasure their God-given mother nature. Uganda is the pearl of Africa. I guess they have a valid reason to raise their outcry. What do you have to say about the current trends? Join in Here
Let's think this through; It's inconceivable that while other countries are building artificial tourism sites we @GovUganda seek to destroy ours, more so when there are other alternatives for hydropower dams #SaveMurchisonFalls @OfwonoOpondo @Odrek_Rwabwogo @ntvuganda @nbstv pic.twitter.com/qGHVWEWKiO

— Prince Obed (@twijukyeobed) December 9, 2019
Assured ....let's first #SaveMurchisonFalls .
But first wait ....this ki #tag has been trendy for a while ...but I don't see no competition .
Something like #IwantMuchison pic.twitter.com/XRLfGGNLkB

— Mukiibi Emmanuel (@MukiibiEmma2) December 9, 2019
For the love of sustainable tourism development, let's protect the falls #WW84 #SaveMurchisonFalls #ImACeleb pic.twitter.com/ra7c9NOzEa

— Nakamanya Lynett🇺🇬 (@tugendeafric) December 9, 2019