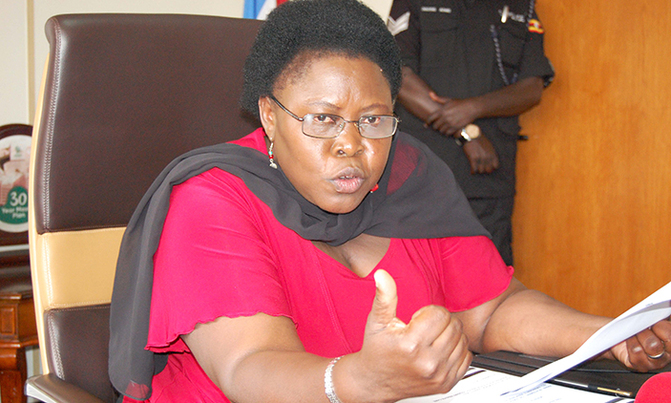 Joyce Moriku Kaducu, the state minister for primary healthcare, says the ministry has been understaffed
The Government is set to recruit 523 health workers to fill vacant positions at various regional referral hospitals and the health ministry.
The health facilities expecting new staff include the Uganda Virus Research Institute and regional referral hospitals of Moroto, Hoima, Kabale and Mubende, as well as the ministry headquarters.
The Health Service Commission has placed adverts inviting applicants to fill the vacant positions.
The applicants are required to submit their applications online at www.hscers.ug to the secretary of the Health Service Commission, not later than January 3.
The commission said it is seeking to recruit senior consultants (general surgery and internal medicine) and consultants (obstetrics, gynaecology, ENT and ophthalmology), among others.
At the health ministry headquarters, the commission has advertised 132 positions for commissioners, assistant commissioners, directors, senior research officers, senior nutritionists, principal health economist, clinical officers and engineers, among others.
In 2017, the Government started redeploying retired senior health specialists in various government-aided health facilities, in a move to boost health service delivery.
Joyce Moriku Kaducu, the state minister for primary healthcare, said the ministry has been understaffed.
She said the move to recruit senior health workers will enable the ministry to fill staffing gaps, especially at consultancy level.
"We need consultants and senior doctors to supervise our young doctors, especially the interns. Most of our consultants left because of the poor pay. So, it is these gaps that the health service commission is trying to fill," Kaducu told New Vision in a phone interview, on Sunday.
About the pay, Kaducu said salaries for senior health workers, among others, had been increased.
At the start of this financial year, the Government increased pay for health workers, including district health officers, assistant district health officers, specialised medical officers, dental surgeons, pharmacists, consultants, senior consultants, directors referral hospitals, assistant commissioners, commissioners, directors and the director-general of health services.