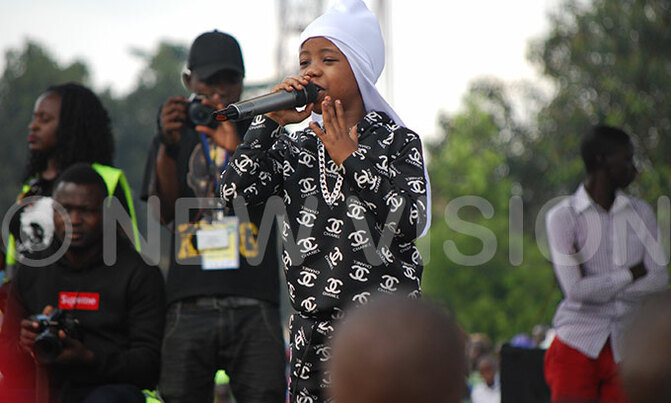 A colorful event with plenty of engaging activities and entertainment from the likes of Fresh Kid.
TOTO CHRISTMAS FESTIVAL 2019
______________________
6:15 pm | EAGT Winners on stage
EAGT winners Esther and Ezekiel excite the crowd with their great talent
5: 00 pm | Fresh Kid on stage
Fresh Kid thrills the crowds as he does what he does best
Child stars Fresh Kid and Felicita in the house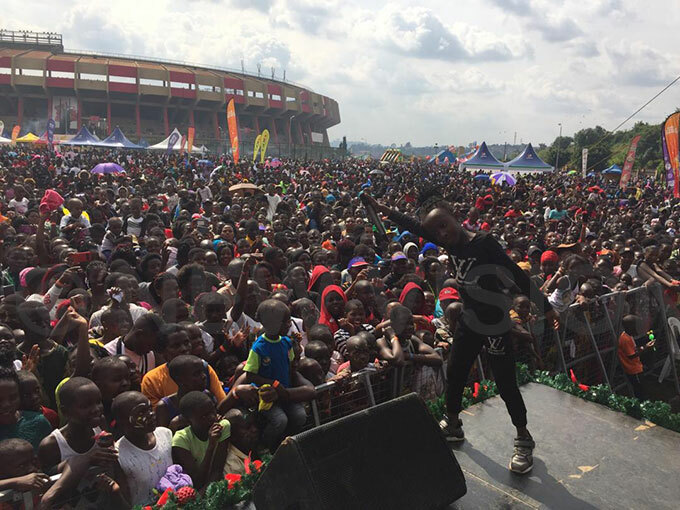 _____________________________
Popsicles and ice cream in plenty here ...
The Toto talent search is on...
By Sylvia Katushabe
2:22 pm | Have you got your birth certificate?
Come to the Toto Christmas Festival and let NIRA help you get one


12:15pm | Total fun at Toto Christmas Festival

'Tis the season to be bubbly . . .


From face painting to having a thrilling bounce in the bounce castle, it's an aura of thrill at Namboole.


This of this as a convention of kiddie fun.


There is no short of engaging activities at the venue. Unlimited choices.

_____________________________


11:25am | Safety begins with you

While security is ramped up at Namboole Stadium to ensure that everything goes on without incident, some parents are adding an extra layer of security to their presence at the event.

One such parent is this one in the picture below, who has written her contact on her child's wrist band in case of an emergency. Smart!
_____________________________


11:07am | Do you have your dancing shoes on?

Participants have been warming up for the dance competition.

Who will shake those bones to impress the judges?

_____________________________


10:35am | It is a full house

Namboole Stadium is filling by the minute as kids, accompanied by their elders, walk through the gates of the venue.


_____________________________


10:25am | Character on show

For such events, it's all about showing up in your style. And the young ones who have made appearance at Namboole have not disappointed. Many have applied a bit of character to their faces, thanks to the face painters at the venue while others have added props to their looks gel in the mood of the day.

Way to go, kids!

(Sylvia Katushabe has captured some of this)




_____________________________


10:05am | Camel rides

Some kids do not have acrophobia - fear of heights, if you like. So they will fancy a chance to view the world of the little ones from a couple of storeys up, on the hump of a camel.

These rides are available today at Namboole.


_____________________________


9:48am | Huge turnout at Namboole

The adults have led their little ones to the venue of the kids festival: Namboole Stadium. Remember that the fun is going on all the way until 6pm.

_____________________________


9:30am | There's plenty to eat

There are plenty of food stalls at the venue. So if your gut speaks to you, take care of it.


Rolex . . . anyone?



_____________________________


9:25am | Fresh Kid, EAGT winners to grace event

Well, from the arrivals at the moment, it is clear the weather has nothing on the spirits and determination of the little ones, who want nothing more than just have a little fun.

And with the promise of East Africa's Got Talent winners Esther & Ezekiel performing live at the event, it can only get better and better.

Musician Fresh Kid will also be there.




_____________________________


9:00am | Good morning

All the happy, little feet are destined for Namboole today and there is only one event on their minds: Toto Christmas Festival.

Hurry! The gates are now open.

(Mpalanyi Ssentongo has frozen the early birds with his camera)