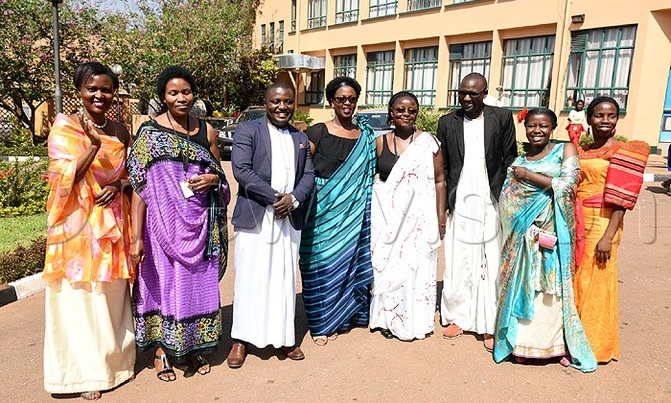 Ugandans love to look good and view every day as an occasion to dress up. That's an indisputable fact. So, how about we celebrate their ageless sense of adventure?
CELEBRATING UGANDAN STYLE



In a constantly changing and increasingly global world, many traditions are thrown by the wayside as culture evolves. What remains unchanging is the need to belong, often expressed in what we wear, when and how.

It was a cool afternoon in early November, when we began the argument over what cultural dress is better than the other. It got so heated, we decided to check out different photos of Ugandans in cultural wear.

Before long, we were humming and exclaiming: "Woow! Ooh, that's hot!"

Our argument ended with smiles on all our faces as we realised that there is indeed much to celebrate about the unique cultural dresses from the different corners of The Pearl.

Ugandans love to look good and view every day as an occasion to dress up. That's an indisputable fact. We have such an intimate relationship with our outfits that the eye of a first-time visitor to Uganda will not fail to catch the display of colour and style on our streets.

It does not matter whether they are heading to work, hanging out, or at a family function, most people will make an effort.

What you wear can say a lot about who you are, or where you are from. And nothing does that better than our cultural dress.




When there is a special occasion, we pull out all the stops to look magnificent. With December being notorious for parties, weddings and other happy occasions, we felt this was the perfect time to revisit the richness of our culture and remind ourselves why our outfits are so special. And when we say culture, we mean everything from the traditional to the religious.

It doesn't matter whether you are young or old, there are functions that require you to wear a cultural outfit.

And while one might think that traditional means old fashioned, young Ugandans are reinventing cultural dress with new trends that make it fun and fashionable.

We invite you to join us on a journey of rediscovery of Ugandan fabric, outfits, accessories; basically, Ugandan style. From the gomesi, to the mwenda, the sari and mushanana to the hijab, kanzu and more, we celebrate the attire that reminds us who we are.

Feel free to join our discussions on trends, purchase and tailoring. And if you have trouble donning these outfits, worry not. We have how-to videos, with step-by-step instructions on how to remain smart and comfortable throughout the day, even in the bulkiest of cultural wear.

We launch this adventure with the gomesi, so look out for this in the next story of our series.

For now, here is a sample of how Ugandans get in touch with their culture through what they wear.