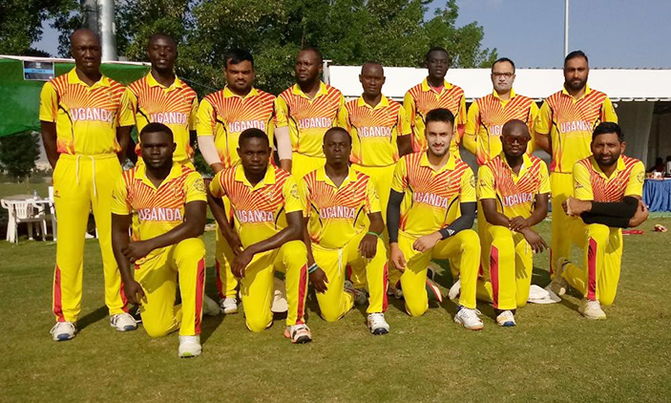 Uganda lost opener Roger Mukasa very early in the encounter for a measly 20 runs in 5.2 overs
ICC CWC Challenge League Group B
Kenya 253/7 (50 overs)
Uganda 254/7 (49.2 Overs) Uganda wins by 3 wickets
Uganda pulled off a famous three-wicket victory over Kenya at the ICC CWC Challenge League Group B in Oman on Thursday.
The Cricket Cranes chased down Kenya's earlier total of 253/7 overs to win by 254/7 49.2 overs and record the country's first-ever victory over bitter rivals in an ICC competition.
Ronak Patel's 86 runs not only showcased Uganda's batting strength as his third-wicket partnership with Shahzad Ukani brought forth 125 runs but also stabilised the innings.
Uganda lost opener Roger Mukasa very early in the encounter for a measly 20 runs in 5.2 overs and his opening partner Arnold Otwani was not very far behind with only four runs on the board an over later.
Everything changed for Steve Tikolo's side with Ukani and Patel's arrival on the crease as the two built an eye-catching partnership.
They were not rushed as they took their time to size up the opponents and took their shots when the time was right.
Ukani faced 84 balls and scored 60 runs only to be outdone by Kenyan bowler Rakep Patel for an lbw.
Dinesh Nakrani came in and scored 32 runs that kept Uganda in the contest but was out just as quickly. Riazat Ali Shah was good enough for a duck but the real inspiration came from new captain Brian Masaba.
He put up a captain's knock after Patel was caught for 86 Runs. His 22 runs in the company of a veteran Frank Nsubuga was what Kenyan great Steve Tikolo ordered as they anchored the Cricket Cranes to a famous win.
On Friday, they have Bermuda to deal with and fortunately for them, the win keeps them ahead of the pack.
At the moment, the Cricket Cranes are brimming with confidence and only a top-notch performance from Bermuda will halt them.