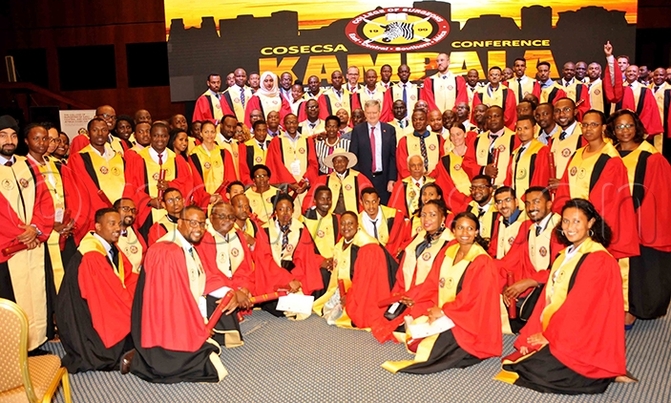 The President noted that improving health should follow a holistic approach that starts with providing proper antenatal care, delivery and immunisation
President Yoweri Museveni has asked medics to focus on key prevention strategies to guarantee that the country has a healthy population and workforce.
He was speaking at a graduation ceremony of the College of Surgeons of East, Central and Southern Africa (COSECSA), held at Serena Hotel in Kampala on Wednesday.
COSECSA is an independent body that offers postgraduate education in surgery and provides surgical training throughout the region of East, Central and Southern Africa.
The college operates across 14 African countries of Botswana, Sudan, Zimbabwe, Mozambique, Kenya, Malawi, Namibia, Rwanda, South Sudan, Burundi, Ethiopia Tanzania, Uganda, Zambia.
Addressing a large audience of mainly medics, the president encouraged the health experts to champion preventive health with a focus on taming maternal and child mortality rates way before a child is born.
He noted that improving health should follow a holistic approach that starts with providing proper antenatal care, delivery and immunization.
Citing the example of Uganda, he said the country has significantly brought down infant mortality and eliminated some illnesses by immunizing against 13 diseases, up from six.
He also noted that through hygiene, access to safe water, nutrition, vector control and sensitization, the country can eliminate most of the illnesses that plague health systems.
"People were wondering how I managed to walk so fast. One of the reasons is that I don't eat European or Asian food. I eat only African food," he told the experts.
Museveni said the continent was endowed with nutritious food that can help stave off many diseases, citing millet which has protein, carbohydrates and iron.
The president voiced concern about the growing challenge of obesity, which he said was linked to 40% of deaths from non-communicable diseases in Uganda and cancer.
He said Uganda was tackling brain drain by training and recruiting specialists to handle complex health cases that often require people to seek the services abroad.
"There is a lot of haemorrhage of resources from Africa to other countries on account of medical tourism. We are trying to struggle against that by developing all the specialities here," he stated.
Health minister Dr Jane Ruth Aceng said Uganda needs a number of specialists including in surgery to operate in the new specialized health facilities established by the government.
"We have eight neurosurgeons serving a population of 40 million and only two urologists. We will soon open a new paediatric surgery hospital but we have only five specialists," she said.
A total of 102 surgeons from 13 countries graduated from COSECSA after sitting their medical exams at Mulago Hospital and 18 of the graduands were Ugandans.
The graduands were from seven specialities of surgery including general surgery, orthopaedic, paediatric orthopaedic, plastic surgery, neurosurgery and urology.
Renowned surgeons, Prof Ignatius Kakande and Dr Fredrick Mutyaba were awarded honorary fellowships by COSECSA in recognition of their outstanding work across Africa.
Museveni honoured
President Museveni was awarded an honorary fellowship from COSECSA in recognition of his efforts to promote health training in Uganda.
According to a citation read by the deputy vice-chancellor of COSECSA, Dr Jane Fualal Odubu, Museveni has supported the growth of medical schools in Uganda, currently numbering ten.
He was also recognized for his efforts to build a pool of specialists to take care of the country's growing population and legacy of patriotic Pan-Africanism and leadership of liberation struggles.