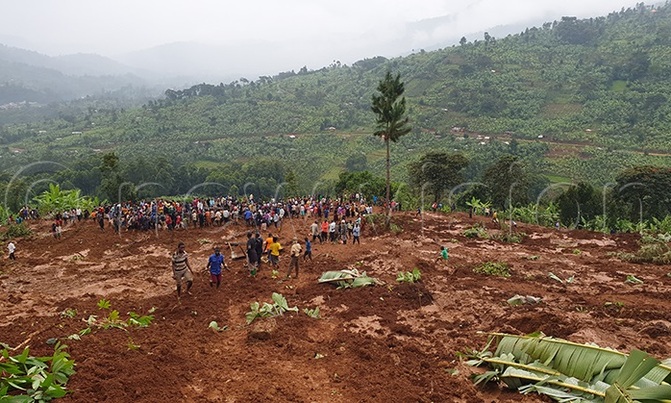 "I lost two sons, eight other children that my neighbours had brought to my house for refuge and I don't know where my husband is"
Six bodies have been recovered and 47 people are still missing after heavy rains constantly pounded Bushika sub-county for more than 10 hours in Bududa district, triggering Tuesday afternoon's landslides.
According to the locals who witnessed the events, the area started received large amounts of rainfall at around 3:00 am on Monday until midday which triggered multiple landslides in different parts of the sub-county.
Samson Natsabwa, the Bududa district assistant chief administrative officer, confirmed that six bodies have been recovered.
He said up to 25 villages were affected and up to 350 homesteads in Bushika and Nakatsi sub-counties have been left homeless due to landslides.
"So far six bodies have been recovered and 47 are missing. The bodies were of two adult males, two children and two adult women," Natsabwa said, adding that the search of the missing bodies is still ongoing in the affected parishes of Bufutsa, Bunabutiti and Namakuto among others.
Other sub-counties that have experienced landslides include Nakatsi and Bushiyi while flash floods hit areas of Bulucheke and Nalwaza.
Natsabwa said there are over 10 sub-counties that are prone to landslides.
Morris Kusolo one the residents from Namasa said residents were returning home for lunch when the landslides hit.
"The rain started at 3:00 am and at 11:00 am, the first landslide struck on the side of Namposhi. Most of the elderly people left to see what had happened and on returning to prepare lunch, they were buried by the landslide and only a few escaped," Kusolo said.
Gerald Fungo from Namasa village said they are still searching for the bodies of those who they think they are missing.
He added that currently, people are being hosted in nearby trading centres and that others are sheltered in a church that is on top of the hill.
He noted that since the incident happened, people have not eaten much as they lost a lot of their food in the landslides.
Kusolo also said that the signs of the landslide were there following the constant rains that soaked the soil to the extent that water was seeping into people's homes.
"We expected the landslide to happen as most of the houses on that hill had water seeping out of the ground and people had resorted on to creating openings on the sides of the houses to let the water flow out," Kusolo added.
Grace Nabutuwa one of the residents who lost two sons in the tragedy said the landslides occurred when she was in a neighbouring village where a landslide had just occurred.
She said that on returning home, she met one of her sons carrying his sister who survived, wrapped in a polythene bag and another daughter caked in mud.
"I lost two sons, eight other children that my neighbours had brought to my house for refuge and I don't know where my husband is. Now all the property I'm left with is the clothes I have on my body," she said.
Wilson Watila, the Bududa district chairperson, urged the government to expedite the process of resettlement so that more people do not die as a result of landslides. He appealed to the government through the Office of the Prime Minister to consider paying people to relocate out of the risky areas.
"Government should consider these other options to see that people are relocated out of the risky areas as it has done on other projects such as roads, forests and game parks," said Watila.