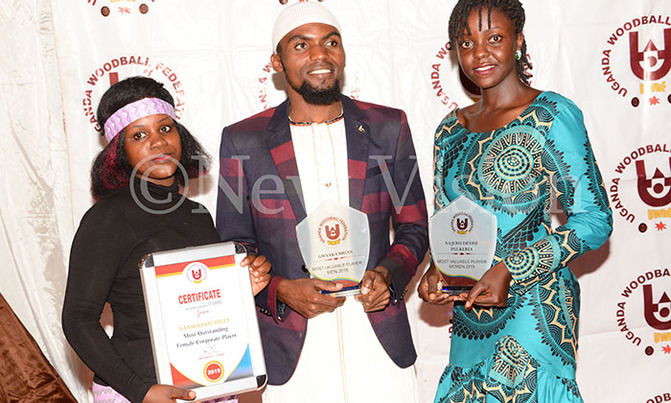 "I was persistent and I love the sport. I'm always engaged with the sport on the weekend...
WOODBALL



Brian Gwaaka and Denise Nanjeru's dedication to the sport and outstanding performance saw them top the annual Woodball awards held at Kati Kati restaurant on Friday.

The two alongside Corporate Woodball Circuit-Buganda Land Board's Milly Nasereko were crowned the 2019 Most Valuable Players of the season.

The three attributed their outstanding performance to regular practice and dedication to the sport.

"I started the year wanting to defend the title and I strategized, trained harder and made sure that in case I don't win at least I make it to the podium. So, throughout the year, I just remained consistent and played to my best," Kyambogo University student, Nanjeru said

"I try to ensure I train daily and at worst three times a week,"

Just like Nanjeru, Gwaaka also believes it was his commitment and training regularly that helped him win the award.

"I really trained hard and I'm grateful that I was nominated and won, I attribute it to my commitment and timely training and adherence to my coach Julius Agaba who has helped me a lot, Gwaaka, a KIU Computer Science post-graduate diploma student said.

"I was persistent and I love the sport. I'm always engaged with the sport on the weekend and I will aim to win more of such accolades," Nansereko stated.

Gwaaka who beat Thomas Kedi and Charles Sensalo to the top award picked 2 gold medals in the 2nd Beach World Cup and another gold in the regional open as well as silver in the Kyambogo Open on top of three bronze in the 3rd Beach, national open and 4th Beach Opens respectively.

Four gold medals from the 2nd Beach, Kyambogo Open, President's Cup, Kenya Open and the Regional Open, as well as two-silver in the 1st Beach Open and 2nd Beach World Cup, ensured Nanjeru was top ahead of Joyce Nalubega and Florence Mukooya.

National Council of Sports Chairman John Bosco Onyik president over the awards alongside NCS General Secretary Patrick Ogwel and his assistant Katende Ssemakula, and the Vice-Chancellor of Ndejje University Prof. Eriabu Lugujjo and secretary Elijah Kiyingi, and UWBF president Mark Kayongo attended the awards dinner.

Onyik hailed the UWBF for always ensuring accountability and for ensuring sanity in the association as well as promoting the country internationally through the sport.