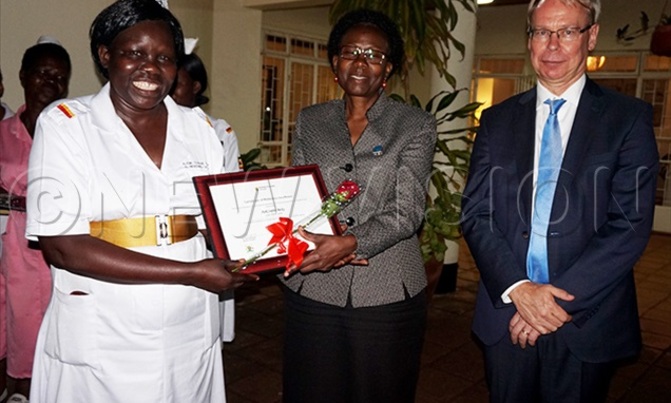 These stood out for their resilience in helping mothers deliver safely amidst challenges including poor pay, lack of necessary equipment, and moving long distances to work.
MATERNAL HEALTH

Fifteen midwives from across the country have been recognized by the Swedish government for their contribution towards the health sector by helping reduce maternal mortality and ensuring mothers deliver safely.

These stood out for their resilience in helping mothers deliver safely amidst challenges including poor pay, lack of necessary equipment, and moving long distances to work.

The fifteen were awarded certificates of excellence at a function that was held at the Swedish Ambassador's residence in Kololo.

Those who were awarded include; Komweru Dianah, Ajok Sophie Becky, Kiconco Babrah, Abwire Prisca, Nandyose Benadine, Kunihira Violet, Nandago Josephine, Acom Florence Rose, and Nagudi Betty.

Others are Owor Alice Oyella, Kiden Lydia, Ndagire Alice, Onen Roselline, Apoo Sarah, and Uwamurera Immaculate.

Since 2015, the Swedish government in partnership with the Ministry of Health, and the United Nations Population Fund (UNFPA) has been awarding midwives for their dedication and commitment.

The Minister for Health Jane Ruth Aceng commended the midwives for the great work but challenged them to help on reducing the high fertility rate among Ugandans.

Uganda's fertility rate stands at 5.6% according to statistics from the ministry of health.

"In some regions like Kigezi, the fertility rate is very high at 8.9%, this is alarming. I call upon midwives to work towards reducing this fertility rate," Aceng said.

She asked midwives to always talk about family planning to reduce this fertility rate.

In a special way, the minister commended midwives from the Kigezi region for their sacrifice in offering services despite operating in hard conditions.

"All midwives in Kigezi deserve an award, they operate in very hard to reach areas, very hilly sometimes have to cross Lake Bunyonyi but they are there working," Aceng said.

Per Lindgarde, the Swedish ambassador to Uganda observed that midwives play a key role in maternal and newborn health since their presence often makes the difference between life and death.

"Despite operating under challenging circumstances with limited resources and understaffing, midwives play a crucial role in improving Uganda's health indicators and reducing maternal and child mortality rates," Lindgarde says.

Lindgarde further observed that the midwives are central in promoting women empowerment which, in the end, contributes to economic prosperity and sustainable development.

Sweden has over the last five years invested in increasing the number of trained and practising midwives in Uganda, with a special focus on making midwifery a career of choice for young people.

Alain Sibenaler, UNFPA representative said a midwife is the main caregiver of mothers to ensure safe delivery of babies, is a key promoter of health in communities and ensuring the provision of family planning services.

Sibenaler called for more midwives to be recruited for better health service delivery.

"The country needs more midwives to fulfill the government of Uganda's own staffing norms let alone internationally recognized standards," Sibenaler said.

According to UNFPA, one midwife in Uganda conducts between 350 to 500 deliveries a year, far higher than the recommended 175 by the World Health Organisation.

"We recommend that the government puts in place measures to improve the midwife to patient ratio and help reduce burn out of the already overburdened workforce and create a conducive working environment for midwives," Sibenaler said.

Midwifery is a key element of reproductive, maternal and newborn healthcare and investments in midwives save lives of mothers and newborn children.

It is recognized as the single most value-for-money intervention in primary healthcare.