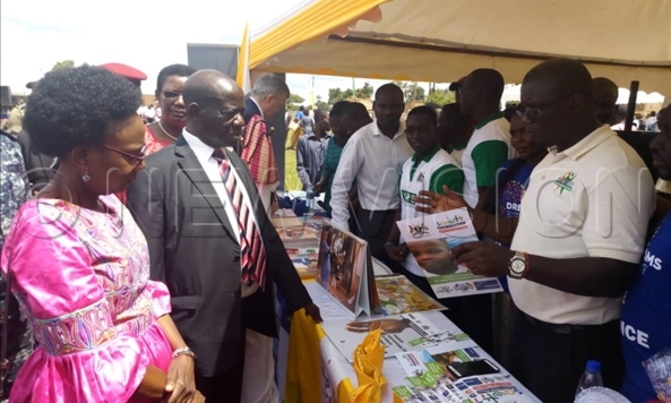 Every day we bring you a selection of photo highlights and here is what we have for today
Uganda celebrates World AIDS Day in Kayunga
Vice President Edward Kiwanuka Ssekandi has led the rest of Ugandans to commemorate World AIDS Day. The national function is being held at the Kayunga district at Busaana sub-county headquarters. The event is graced by Minister for Health Dr. Jane Ruth Acheng, Minister for President Ester Mbayo, members of Parliament, Irish Ambassador, heads of department, district chairpersons, RDCs among other dignitaries. Photos by Henry Nsubuga
Museveni launched Elwelu's church
The commander land forces, Lt Gen. Peter Elwelu has built a worship centre at his home in Anyara sub-county, Kalaki district.
The complex, which he named 'House of the Almighty Father in Heaven Elohim', is attached to his family house. It was commissioned by President Yoweri Museveni on Saturday.
Elwelu is remembered for his leadership role in the 2016 attack on Charles Wesley Mumbere's palace in Kasese district. By Emmanuel Alomu
Katabi Seminary Alumni in a fundraising drive
The Old Boys and friends of Kitabi Seminary, under their umbrella Kitabi Seminary Old Boys Association, gathered at a dinner to fundraise for their old school.
The function, which took place in Kampala, aims at raising sh620m to put up a piggery project and extend clean water to the school. Photo by Ramadhan Abbey