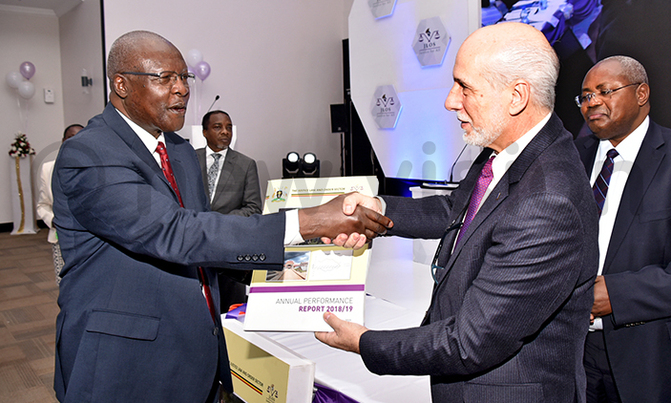 The average time taken by court to clear cases reduced by 11% to 969 days from 1,090
Courts of law disposed of 173,200 cases in 2018, higher than 164,530 cases in the previous year, although inadequate staffing and high case backlog remain daunting challenges.
The Justice Law and Order Sector Annual Performance Report 2018/19 shows gains in case disposal rates and infrastructure for providing justice services to the public.
The average time taken by court to clear cases reduced by 11% to 969 days from 1,090, even although it was still deemed to be quite a long time, the 220-page report shows.
During the period under review, the average remand time for capital offenders due for trial dropped from 19.5 months to 19 months.
The European Union head delegation in Uganda, Attilio Pacifici, lauded the recent appointment of judges to fill vacant posts and the roll-out of the national transitional justice policy.
The EU, however, condemned the 'disproportionate' use of force by security agencies against Makerere university students, journalists and Forum for Democratic Party officials recently.
'Statements like orders have changed' or 'orders from above can never be justified for violation of human rights,' Pacifici stated during at a JLOS review meeting last week.
The development partners also gave credit to the Uganda Human Rights Commission for upholding an A-grade status, implying that it complies with global standards on rights protection.
However, the donors voiced concern about the non-adherence to the 48-hour rule within which suspects should be presented to court, and low staffing levels across the 18 JLOS institutions.
The Attorney General, William Byaruhanga, representing the minister for justice and constitutional affairs, Gen Kahinda Otafire, said the sector has recorded significant gains.
"We have worked hard to get more people to access services and created friendly interfaces to encourage the public to seek justice services and give us feedback on shortcomings, he said.
He said focus for the sector was on improving infrastructure, increasing automation and improving case disposal rates, rehabilitation of offenders and customer care.
The Chief Justice, Bart Katureebe said the top priority of the sector was to improve efficiency and access to justice to women, children, the poor and refugees.
Justice Katureebe that frontline JLOS agencies including police and courts of law were present in one-stop service centres established in at least 67 districts countrywide.
"For the first time in the history of the sector, the Uganda Prisons Services is now holding more convicts than people on remand," he stated.