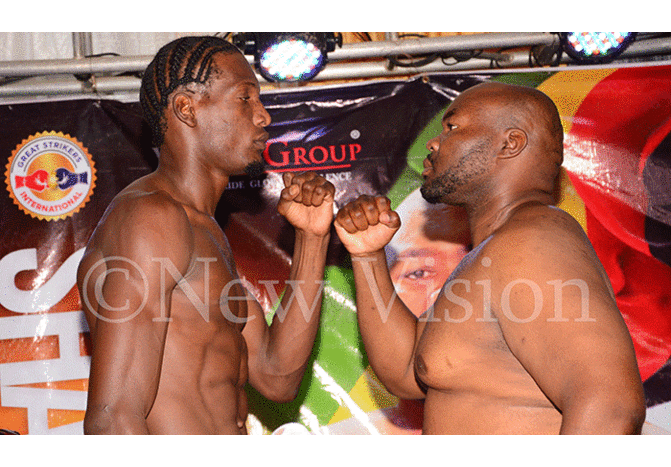 Kiwanuka weighed 102kgs, 13 less than his opponent Dube who is 115kgs.
World Boxing President Howard has advised Shafik Kiwanuka and Thamsanq Dube to put up a clean fight so that whoever wins inspires the youngsters in the respective countries.
Howard was debriefing the fighters together with their trainers on the rules to be used during their African heavyweight boxing title bout due Friday at the IUEA auditorium after the official weigh-in at the university on Thursday.

Kiwanuka weighed 102kgs, 13 less than his opponent Dube who is 115kgs.

"This is a professional sport and I expect both fighters to have a great fight and keep it professional; boxing is a family sport, actually we are all one family and our blood is all the same. It is a big event for Uganda and I hope that whoever wins will carry the belt with pride, and be proud of their country and be a role model for the children of the country. Let them aspire to be champions like you, at the end of the day you're all champions," Howard stated.

He said the winner has got six months in which to defend the title, meaning whoever wins will have to defend it by May 30 next year.

"I would like to urge my fans to come early for the fight because I'm ready and 'the blades are sharp'. I'm ready; I'm motivated and focused so my fans should just keep time so that they don't miss any of the action," Kiwanuka said.

His opponent despite looking a little flabby promised to put on a good show saying: "I'm glad to be here, I invite all of you to come in big numbers and watch us fight but the champion is me. So come and watch me win and thank all of you for your support," Dube said.

Earlier Goldberg advised Kiwanuka promoters not to rash the boxer but build his career with more fights and against even tougher opponents.

"In boxing terms, Shafik is still a young man, he has had only two fights and there is a journey ahead. If he wins this fight we will watch how he wins and we will decide the right way together with his promoters to move him closer eventually to a world title fight. It is not going to be the next fight after; he needs to build a record and get to something like ten fights before. And there is a lot he has to learn because he is still very young, so he needs to gain experience,"

Entertainment will be provided by B2C and a number of upcoming artistes in between the undercard fights.



Friday: starting at 6pm

Main fight

Shafik Kiwanuka v Tyson Mbikayi

Undercards

Junior Welterweight

Latib Muwonge v Jimmy Odong

Featherweight

Sgt. Aldin Muzei v Ben Ssajjabi

Middleweight

Saul Male v Charles Kakande

SuperFly (Ladies)

Mercy Akyayo v Teddy Nakimuli

Heavyweight

Joseph Mpungu v Hudson Muhumuza

Hudson Muhumuza v Isaac Kaggwa

Ignatius Onyango v Chako Saidi

Lambert Fogoum v Joseph Ssentongo