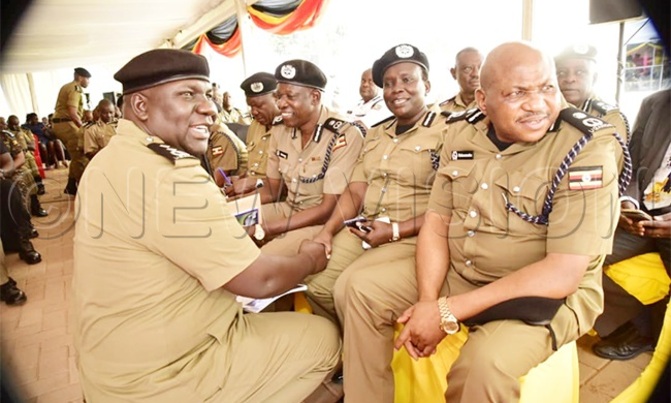 The New Vision brings you a series of pictures taken by our journalists as the news unfolds.
POLICE GENDER-BASED VIOLENCE PARLIAMENT FIRE

Police National CCTV command center launched

President Yoweri Museveni has launced the Police National CCTV command center at Police headquarters in Naguru, Kampala. He has asked police officers who are not ready to fight crime to resign. By Maria Wamala


American singer Mya excited about performing in Uganda
Right from her arrival on Wednesday night at Entebbe International Airport, American singer Mya has not stopped expressing her joy at being in Uganda for the first time. She will be performing here at the Johnnie Walker 30th All Music Safari. By Karim Ssozi

Gender-based violence: Church of Uganda launches 16 days of activism

The church of Uganda has joined the world to commemorate the16 days of activism against gender violence. The believers walked from All Saints Cathedral Kampala to Namirembe Cathedral during what they dubbed as the Thursday black campaign against rape and violence. By Mpalanyi Ssentongo and Betty Amamukirori


While flagging off the walk, Archbishop Stanley Ntagali said, "We condemn in the strongest terms possible actions of rape and violence against women and girls."

He expressed concern about the increasing trends of sexual and gender-based violence in the country and asked the government to fast track the passing of the sexual offenses bill into law.


COSASE quizzes lawyer over Indian property

Deputy Chairperson of the Committee on Commissions, Statutory Authorities and State Enterprises (COSASE), Ibrahim Kasozi asked the Parliament CID office to question and record statements from Dagire Suza, a lawyer and former agent of the custodian board over allegations that he owns some of the property belonging to the Indians. The chairperson took that decision after a witness failed to answer questions even after being subjected to an oath. He amused MP's when he refused to hold any of the holy books with claims that he doesn't belong to any religion and just rose his hand in the process of taking the oath.

The committee also asked John Wubuya, who allegedly illegally re-possessed Indian property on Plot 17 in Mbale, to record statements with the CID. By Miriam Namutebi


Parliament discusses PWDs inclusion in sexual education

"We are sexually active, why discriminate against us when it comes to sexual education?" persons with disabilities (PWDs) representative Safia Nalule Juko queried seeing answers from the government. This was during the debate on the PWDs ahead of the commemoration of the International Day for persons with disabilities scheduled December 03, 2019 in the Iganga district.

Legislators complained that the sh3b PWD fund is not only too little compared to the needs of the PWDs but also does not allow them to get down to the grass-root PWDs to serve its purpose.

PWD representative, Asamo Hellen Grace thanked parliament for employing PWDs, however, she called on public service to employ PWDs. "While there is a policy to include PWDs' participation in government programs, it is not implemented. We don't want programs to be done for us; rather we want to participate in those programs. Don't judge us by the structures of our bodies rather judge us by the quality of our work," she said.




Gov't releases report on GBV

The government released a report on Gender-Based Violence (GBV) Thursday in Kampala. The event was graced by Peace Mutuuzo then Minister of State for Gender and Culture and woman activist Judge David Batema, among others. Batema said they are going to join forces with the Uganda Human Rights High Commission (UHRC) to fight against GBV. By Simon Peter Tumwine



Fire destroys property in Mukono

Fire destroys property worth millions in Mukono as it gutted Soft Supermarket at Wantoni. By Henry Nsubuga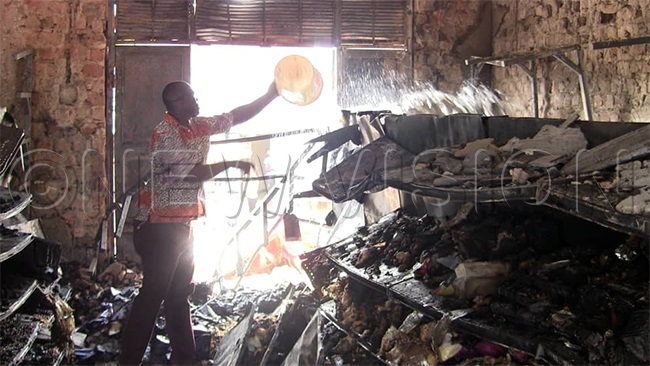 Toto Festival: NIRA to provide birth certificates

By Mary Kansiime

Vision Group has partnered with National Identification and Registration Authority (NIRA) to register births and provide birth certificates within three to four hours at Toto Christmas Festival which will take place on December 08, 2019. Parents and guardians were requested to come with documents that show the children's details of the birth.



This was announced by NIRA officials: Gilbert Kadilo the head of relations and corporate affairs and Arafha Akurut the senior registration officer flanked.