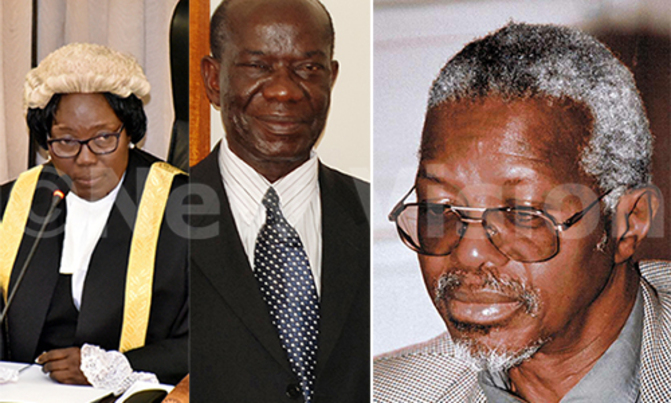 We bring you a list of Uganda's former Speakers of Parliament.
John Bowes Grif­fin (1962 -1963)

He was the first speaker of Uganda's Parliament after independence. He was Uganda's Chief Justice from 1952 to 1958. He was born on 19th April 1903 to Sir Charles James Griffin. In May 1963, he handed over Speaker-ship of the first Parliament to Narendra M. Patel.


Narendra Patel (1963 - January 1971)

He was Uganda's first non-British speaker of Parliament. Narendra M. Patel was born and raised in India in a small town called Pij, in the Kheda district of the Gujarat Province of India.

He studied in India, graduating with a Bachelor of Laws Degree from the University of Bombay in 1947. After graduation, he worked as an advocate of the Bombay High Court for one year, before moving to Uganda to join and work with his father at his law firm in 1948.

In 1963, the British expatriate whom the colonialists had left behind as the Speaker of Parliament, Sir John Bowes Griffin, left the country and Narendra was unanimously elected by fellow parliamentarians as the Speaker.


Prof. Edward Rugumayo 1979-1980

He was the speaker in the 3rd Parliament (National Consultative Council). He took over after the overthrow of the Amin regime. He was born in Mwenge, Kabarole District. He acted as an ambassador and speaker.

When Amin was ousted and the NCC moved to Parliamentary building in Kampala, Rugumayo in effect became the Speaker of Parliament, which in effect made him the first native Speaker of Parliament, although he was referred to as Chairman of the NCC and not speaker. In Museveni's regime, he served as minister in Tourism, Trade and many more.


Francis Butagira (23rd December 1980 - 27th July 1985)

Butagira was born on 22 November 1942 in Bugamba, Mbarara District.

He graduated in law from the University of East Africa in Dar es Salaam, Tanzania. He earned a Master's Degree in Law at Harvard University, one of the premier institutions in the world. Apart from practicing law, Butagira served as Member of Parliament, speaker of Uganda's National Assembly in the 4th Parliament and was an ambassador to Ethiopia before coming to the UN in July 2003.
Yoweri Museveni (1986-1996)

He served as speaker in the 5th Parliament (National Resistance Council) after winning the 1981-1985 guerrilla war. He was born in 1944. Museveni was a speaker for 10 years. He formed a rebel group that helped him to overthrow Amin's government and fought a war against Obote's regime hence coming to power in 1986.

James Wapakhabulo (1996-1998)

He was born on 23rd March 1945. He was a speaker in the 6th Parliament (Parliament of Uganda) 1996-2001. He was the first speaker after removing NRC. He is a lawyer by profession. He was once the chairman of the Constituent Assembly and later promoted to the speakership of Parliament in the Museveni regime. He opposed the lifting of the term limit in 2005. He was later appointed as Deputy Prime Minister of Foreign Affairs in 2001 and he died on 27th March 2004.

Francis Ayume (1998-2001)

He was a lawyer by profession. He was Speaker in the 6th Parliament after taking over the speakership from Hon. Wapakhabulo. He was born on 18th August 1940. He was an MP of Koboko from 1996 until when he died in a road accident in 2004. In 2001 he was appointed as Attorney General in 2001.

Edward Kiwanuka Ssekandi (2001 - 2006)

He was Speaker in the 7th Parliament (Parliament of Uganda) and in the 8th Parliament from 18th May 2006 to 2011.

He was born on 19th January 1943. In 1993 he was appointed as a member to the Constituent Assembly that's when he joined active Parliamentary politics. In 1996, he was elected as Bukoto MP County, Masaka. He is now the Vice President of Uganda since 2011.

Rebecca Alitwala Kadaga (2011- date)

She has been Speaker in the 9th Parliament (Parliament of Uganda) from May 2011and in the 10th Parliament. She is the woman MP for Kamuli District and she was once deputy speaker since 2001. She was the first Woman Speaker of Uganda.

Kadaga was born on 24th May 1956. She holds a Bachelors of Law, a masters of Arts degree in Women's law. She was the Minister of State for Regional Cooperation (Africa and the Middle East) from 1996 to 1998.