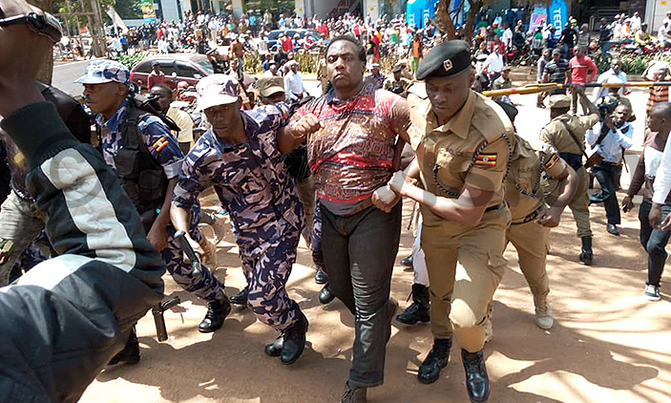 Democratic Party is handing over the Inter-Party Organisation for Dialogue leadership to Forum for Democratic Change
ROLLING NEWS THROUGHOUT THE DAY

(Scroll to bottom of page for updates)
_____________________________
4:05 pm | Good evening!
That brings to a close today's coverage of events around the country and beyond. Let us do this again tomorrow.
_____________________________
3:54 pm | Basketball Playoff Finals here
UCU Canons look to upset reigning champions City Oilers when game one of the FUFA National Basketball League Playoffs tips off this evening.
The match hasn't been without its controversies with FUBA turning down an 11th-hour appeal by the Oilers to postpone the finals as the team prepares for the Basketball Africa League which gets underway on December 17.
"By the time the Oilers played the semi-finals against Warriors they knew when the Finals would start and did not complain," FUBA president Nasser Sserunjogi told New Vision on Tuesday.
For the Oilers, playing the NBL Finals, which could stretch to as far as 9 Dec, would leave them with little time to gel as a team, with five foreign recruits due to be added to their squad.
In the ladies, UCU Lady Canons take on favourites JKL Lady Dolphins in the playoff final.
_____________________________
3:41 pm | Bugiri bans use of govt vehicles at night
The Bugiri resident district commissioner, Martin Mugabi, has banned the use of government vehicles beyond 7:00 pm over what he says is increasing cases of abuse of the vehicles by drivers and district employees.
Mugabi says that on most occasions, government vehicles are always seen parked at bars and pork joints at night, which contravenes the standing orders on the handling of public assets.
"Government vehicles should be strictly for doing official work and thereafter, one can move in his or her personal vehicle for purposes of leisure," Mugabi said.
He said all drivers and government employees have been instructed to always park the vehicles at a Police station or face arrest.
_____________________________
3:30 pm | Champions League tonight
The final matches of Gameweek 5 of the UEFA Champions League happen tonight with qualification for the knockout stages high on the agenda for most teams.
Valencia v Chelsea (8:55 pm)
Zenit St. Petersburg v Lyon
Barcelona v Borussia Dortmund (11:00 pm)
Genk v Red Bull Salzburg
Lille v Ajax
Liverpool v Napoli
RB Leipzig v Benfica
Slavia Prague v Inter Milan
_____________________________
3:12 pm | Whose knife is this?
In arresting the group of men that blocked traffic during a protest against unemployment and corruption in the country, the Police says that they found this machete (?) on one of the men when arresting them on Kampala Road.
_____________________________
2:48 pm | Flood warning system ravaged
The sh780m early flood warning system which was installed on River Manafwa on the Himutu sub-county bridge in Butaleja district has been vandalised.
The facility was installed in 2015 to alert locals in the flood-prone district of Butaleja as part of the efforts to avert disasters in the region. Residents said the system broke down three years ago.
The system was procured by the Uganda Communications Commission (UCC) and the International Telecommunications Union.
It was set up in such a way that once the water levels reach a certain point on the sensor, a signal is activated, alerting the communities to shift to safer places. The alarm from the system would be heard by residents in a radius of 11km.
Last week's heavy downpour ravaged several sub-counties in Butaleja district and destroyed Nabiganda bridge, which connects Budaka, Butaleja and Mbale district.
_____________________________
2:30 pm | Woman dies in mysterious hotel fire
An unidentified woman suspected to be about 20 years old was found to have died from suspected suffocation inside a room at Hotel Roma Lodge in Gulu Municipality following a mysterious fire that engulfed the room.
By press time the woman had not yet been identified and the Police took her body to the Gulu Regional Referral Hospital mortuary for a post-mortem and public viewing to aid in establishing her identity.
A man identified as Patrick Kinyera Dodo was rescued from the same room in which the woman died and is in Police custody to aid in investigations.
_____________________________
1:57 pm | Uganda to host POATE 2020
As Uganda moves to position as a premier tourist destination, the Uganda Tourism Board (UTB) is set to host the 5th annual Pearl of Africa Tourism Expo (POATE 2020); a tourism and travel trade exhibition which brings together regional and international tour operators, travel agents, destination agencies and various players in the tourism trade to network and facilitate tourism business.
State Minister for Tourism Godfrey Kiwanda and UTB executive director Lily Ajarova were on hand to launch the three-day expo will run from February 4-6, 2020, to be held at Speke Resort in Munyonyo.
POATE 2020 will integrate a business-to-business (B2B) and business-to-consumer (B2C) trade event format under the theme 'Inspiring High-Value Engagement to Promote Intra-Africa Travel for Leisure, Business and Adventure', and it is aimed at raising Uganda's profile as a preferred destination in the region and internationally.
_____________________________
1:39 pm | Kampala Road demo
Regarding the protest by a group of men earlier today, (see 12:25) here are more photos of the incident which blocked traffic on Kampala Road.
_____________________________
1:16 pm | IPOD handover
DP has handed over leadership of IPOD to FDC, making FDC both the chair of the IPOD Summit and the IPOD Council.
The summit is composed of leaders of political parties and the council is composed of party secretary generals and other representatives. The government and opposition chief whip are also members of the council.
_____________________________
12:57 pm | Celebrating 55 years of Runyankole-Rukiga Bible
Christians from all over Kigezi have today gathered at Kabale Municipal Stadium for celebrations to mark 55 years of the Runyankole-Rukiga Bible.
The event organised by the Uganda Bible Society is being held under the theme 'Your Word Is a Lamp under My Feet...'
_____________________________
12:41 pm | Kasubi Market nears completion
The sh2bn Kasubi Market is set to be handed over in December to traders.
The market is being constructed by a local contractor, with funding from the government providing over 1200 workspaces to vendors. The market which is the new home to more than 20,000 traders, is on Hoima Road, about a kilometre from the road reserve where traders are currently operating from.
Peter Kaujju the spokesman of KCCA which is constructing the market as well as in Kitintale, and Busega, said the market has modern trading spaces, a daycare centre for mothers with young children and a Police post to ensure law and order are upheld.
_____________________________
12:25 pm | Four arrested on Kampala Road
Police has detained four men who held up traffic on Kampala Road saying they were protesting the lack of jobs in the country.
Led by Christopher Aine, the group also railed against what they called rampant corruption in the country.
_____________________________
12:10 pm | Hoima airport completion extended to 2023
Uganda Civil Aviation Authority (UCAA) has approved the extension to the completion deadline of Hoima International Airport by two years following a site visit by UCAA officials to the airport.
The airport whose first phase of construction started in 2018 and was initially projected to be completed by 2021, was extended to February 2023.
The project is being undertaken by Colas, a French-British firm, together with SBC International an Israel firm at a cost of €300m.
34% of the entire construction work has so far been done and when complete, the runway will be of 4.5 kilometres long and 45 metres wide, with the capacity to accommodate 4 large cargo aircraft with a possibility for expansion in the future to have a 81,500 square metre-parking apron. The 4.5sq km airport has the capacity to handle 2 million passengers a year.
Hoima international airport is expected to facilitate the movement of sensitive equipment for the construction of the Uganda oil refinery which will be established a few kilometres away from the airport and assist in the development of agriculture and tourism in the western region.
_____________________________
11:37 am | World AIDS Day preparations
These are the highlights from Wednesday's press conference addressed by Esther Mbayo, the minister in charge of the presidency, ahead of World AIDS Day.
The national celebrations will be held on Sunday in Kayunga district.
Kayunga was chosen due to high HIV prevalence currently at 7.6%, high presence of most-at-risk populations including the fishing community and migrant workers, as well as high teenage pregnancy currently at 24%.
President Yoweri Museveni is expected to be the chief guest at the event.
The national theme for this year is 'Engaging Young People to Champion the End of New HIV Infections'.
Young people (15-24 years) contribute 34% of new HIV infections annually.
A high-level public lecture in memory of the late Philly Bongole Lutaaya will be held on December 29 to recognise Lutaaya's selfless effort in breaking the stigma and discrimination around HIV/AIDS.
The lecture will be held under the theme 'Sustainability of Uganda's HIV and AIDS Response Beyond 2020' and will provide the opportunity to explore possibilities of increasing domestic financing for Uganda's HIV/AIDS response.
The keynote speaker during the lecture event will be Dr Alex Coutinho who has practised medicine and public health in Africa for the past 35 years.
_____________________________
11:24 am | Today's Rastoon
The Police has put restrictions on all vehicles entering Uganda from South Sudan due to tax concerns by URA.
_____________________________
11:10 am | A call for national unity
Speaking at the IPOD handover ceremony, Justice James Ogola who is the chief guest has said that Uganda needs national harmony and not discord.
"In other countries like the UK there is Brexit and impeachment in the US but here we are having a peaceful handover," Ogola said.
_____________________________
10:58 am | World AIDS Day preparations
Mbayo: His Excellency General President Yoweri Museveni, President of the Republic of Uganda is expected to be the Chief Guest at the event and the national theme for World AIDS Day this year is 'Engaging Young People to champion the end of new HIV infections' #WorldAIDSDay pic.twitter.com/8mvhBWzL1z

— Uganda Media Centre (@UgandaMediaCent) November 27, 2019
_____________________________
10:45 am | Namibia goes to the polls
_____________________________
10:27 am | DP hands over IPOD leadership
The Democratic Party (DP) is today handing over leadership of the Inter-Party Organisation for Dialogue to the Forum of Democratic Change (FDC). Political parties present for the ceremony include FDC, DP, Justice Forum, National Resistance Movement and Uganda People's Congress.
_____________________________
10:12 am | Sudan scraps law abusing women's rights
Sudan's cabinet has scrapped a controversial law that severely curtailed women's rights during the 30-year tenure of deposed autocrat Omar al-Bashir, state media reported.
Thousands of women were flogged, fined and even jailed during Bashir's rule under the archaic public order law.
The cabinet's decision is still to be ratified by the ruling sovereign council, which is an 11-member joint civilian-military body.
Bashir seized power in an Islamist-backed coup in 1989, severely restricting the role of women in Sudan for decades.
During his rule, authorities implemented a strict moral code that activists said primarily targeted women, through harsh interpretations of Islamic sharia law.
_____________________________
9:55 am | Weather
While we are probably experiencing what's left of the rainy season, today's weather forecast promises a sunny day.
_____________________________
9:41 am | Butaleja flood victims get aid
Victims of the recent floods that mostly affected the sub-counties of Himutu and Mazimasa in Butaleja district are receiving much-needed aid.
The consignments for each household include water-treatment tablets, water tanks and tippy-tap containers.
Since 2008, Butaleja district has been suffering from flooding whereby several gardens, as well as houses, get submerged in water.
Three rivers; Namatala, Mpologoma and Manafwa cross through the sub-counties and bring with them huge volumes of water during the rainy season leading to the bursting of banks. In 2008, a deadly cholera outbreak happened as a result and claimed two lives.
_____________________________
9:26 am | Today in History
November 27, 1988 — Mother Teresa announced that she intended to set up a home in Uganda for the destitute and homeless.
She was at a tea party held at the Indian High Commissioner's residence in Kololo. She visited homes of the needy including the slums of Kisenyi.
Mother Teresa was visiting Uganda for the second time after the first in 1981.
_____________________________
9:10 am | Namibia goes to the polls
Namibians head to the polls today for a general election in which resentment stoked by economic hardship and a corruption scandal could challenge the ruling party's majority.
The sparsely populated nation -- where the Namib desert stretches along 1,500 kilometres (930 miles) of Atlantic coastline -- has been ruled by the South West Africa People's Organisation (SWAPO) since independence from South Africa in 1990.
President Hage Geingob is vying for re-election after his first term was marred by a recession that stirred anger against SWAPO, which continues to bask in the legacy of the liberation struggle.
A SWAPO member standing as Namibia's first independent candidate, ex-dentist Panduleni Itula, 62, has garnered support among jobless young people.
While Geingob is widely expected to win, his result is predicted to drop from the 87 percent of votes he garnered in 2014.
_____________________________
8:50 am | Today's New Vision
Have you grabbed your copy of today's New Vision yet? If not, you can also subscribe to our E-Paper and read the paper from anywhere in the world.
_____________________________
8:40 am | Your dose of motivation
Set your sights high, the higher the better. Expect the most wonderful things to happen, not in the future but right now. Realize that nothing is too good. Allow absolutely nothing to hamper you or hold you up in any way.
Eileen Caddy
_____________________________
8:30 am | Good morning!
Glad you could join us on this glorious Wednesday morning as we chart our way through the events of the day.