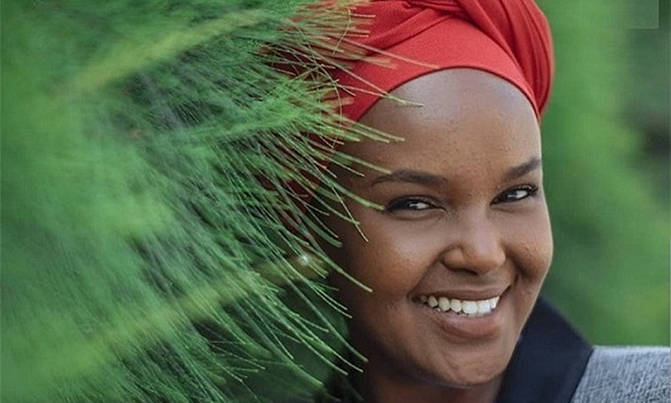 Preliminary investigations indicate that he was hit by a stray bullet, especially as no firearm discharge was reported within the Base camp at the time of the incident
The African Union Mission in Somalia (AMISOM) is investigating the death of Almaas Elman Ali Ahmed, a former Somali diplomat and peace activist who was shot at the Halane Base camp in Mogadishu on Wednesday.
Describing her death as 'heart-wrenching and unfortunate,' AMISOM on Friday disclosed details about the incident that occurred at 14.34 hrs on the fateful day.
According to a press statement released, the deceased had contracted the services of a private transport company for a meeting within the heavily guarded Base camp.
"They were travelling to the Aden Abdulle International Airport after the meeting when she was hit by a bullet. There were a total of 3 people in the vehicle - a driver, a non-injured passenger and the deceased who was in the back seat behind the driver in a right-hand soft-skin vehicle," the statement reads in part.
"The bullet pierced the rear passenger window of the vehicle and injured Ms Elman who was pronounced dead on arrival at the AMISOM Level II hospital."
AMISOM says it immediately constituted a Board of inquiry, which has already visited the scene of the incident and interviewed the driver and some identified eyewitnesses.
Preliminary investigations indicate that Elman was hit by a stray bullet, especially as no firearm discharge was reported within the Base camp at the time of the incident, the AMISOM statement says, citing similar past incidents of stray bullets.
The agency said it will work jointly with the Somali government, Somali security forces and other agencies to fully investigate the incident and that the findings will be shared with the public.
Ugandan maintains the largest share of peacekeepers deployed to Somalia, where development operations have been interrupted by attacks from Alshabaab militants.
Ugandan peacekeepers are in charge of the Lower Shabelle region which includes the capital Mogadishu and its vital installations including the airport
Who is Almaas?
Almaas fled to Canadaat the height of the civil war in Somalia in the 1990s. Her father, Elman Ali Ahmed was killed in 1996 in Mogadishu by unknown gunmen in 1996.
She previously worked at the Somali embassy in Kenya and was reportedly hired as a consultant for the European Union delegation in Somalia
Almaas held duo Canadian and Somali citizenship and was reportedly in Somalia to attend a meeting for the Elman Peace Centre set up by her father in 1990.
Her sister, Ilwad Elman, also a youth activist, was shortlisted this year for the prestigious Nobel Peace Prize.