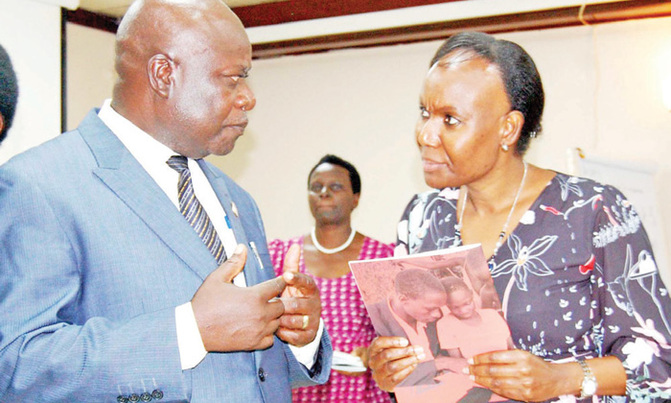 According to the findings, pupils who use Runyankole- Rukiga have a higher chance of reading and understanding English words.
Dunstan Balaba (left) the CAO of Tororo district interacting with Nakabugo during the launch of the Learning Assessment report 2019, at Hotel Africana in Kampala on Tuesday. Photo by Sylvia Katushabe
Revitalising education in Busoga region may require a special committee of inquiry. Even with the introduction of local languages including Lusoga as a medium of instruction in lower primary, pupils in Busoga are struggling, a study has established.
A report by Uwezo Uganda has established that unlike pupils using Runyankole- Rukiga, Luganda and Leb- Acholi, those who speak Lusoga need special attention. According to the findings, pupils who use Runyankole- Rukiga have a higher chance of reading and understanding English words.
These are followed by Luganda, Leb- Acholi, and Lusoga in that sequence. Uwezo is an initiative that aims to improve competencies in literacy and numeracy among children aged six to 16 in Kenya, Tanzania, and Uganda.
In there survey dubbed "Are Our Children Learning?" Uwezo sampled the above four languages to establish local language competence and learning outcomes. The four are some of the most widely spoken languages in the country.
Much as there was no significant change in the use of local language and learning outcomes in the top three languages, those who speak Lusoga struggled even more. For instance, the report says Primary Three to Primary Seven pupils who are from Leb-Acholi speaking homes are nearly twice as likely to have achieved reading competence as those who are not.
On Luganda, the report says, there is only a slight difference between native and non-native speakers. This also applies to Lusoga, but a few of either group are achieving literacy in the language obstacles adding that the main obstacle is likely to be in school rather than home.
In Runyankole-Rukiga, nonnative speakers are reading at least as well as the native speakers. In the overall conclusion, the report says the teaching of Runyankole-Rukiga and Luganda is considered more successful than that of the Leb- Acholi, and Lusoga.
Dr. Mary Goretti Nakabugo, the Uwezo country coordinator, said a total of 5,228 pupils from 32 districts within the 15 sub-regions took part in the study. "Busoga should be treated as a special case. Much as there was no significant change in literacy levels in the other languages, Busoga was performing poorly," she said.
Nakabugo attributed the dwindled literacy rates in Busoga on poor teaching methodology. She made the remarks yesterday while launching the report at Hotel Africana in Kampala.
Recently, the education ministry through the Uganda Teacher and Schools Effectiveness Project rolled out the Early Grade Reading (EGR) for lower primary. Under EGR, the ministry cleared 11 local dominant languages to be taught in lower primary from Primary One to Primary Three.
These included Ateso, Lusoga, Luganda, Lumasaba, Lugbarati, Leb-Lango, Leb- Acholi, Lukhonzo, Runyankole- Rukiga, Runyoro-Rutoro and Ngakarimojong. Education ministry speaks The education ministry, however, said using local languages as the medium of instruction has improved literacy levels generally in primary schools.
"We recently had a report on EGR indicating that a proportion of learners are able to sound one or more letters per minute correctly with the use of local languages," Dr. Kedrace Turyagyenda, the director of education standards in the ministry, said.
Turyagyenda, who represented the First Lady and Minister of Education and Sports, Mrs Janet Museveni, also confirmed that Busoga needs special attention to improve education. At the moment, she said, the ministry is working to find solutions on how education can be improved in the region.
"We will address the gaps," she said. Haji Abby Musoke, a principal education officer at the Basic Education Department, said the ministry, with the support of eminent people from Busoga region, have established an initiative aimed at reviving education in the region. Other key findings While a small number of children have already achieved basic literacy and numeracy skills at the age of six or seven, by 14 years, only a minority have achieved Primary Two reading competence.
According to the report, Primary Two competence is achieved by about 55% at that age. In addition, the report noted a general trend of persistent delayed progression of pupils through primary grades. By the time children reach the ages of 12 and 13, only a few have reached Primary Seven or Senior One through uninterrupted promotion.