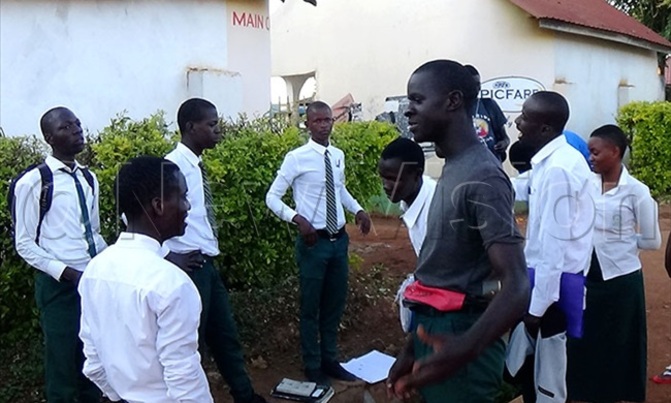 Management of Top care secondary school has finally accepted a cash donation of shillings 3.62 million intended to bail out 45 senior six students.
EDUCATION UNEB

IGANGA - Management of Top care secondary school has finally accepted a cash donation of shillings 3.62 million intended to bail out 45 senior six students who had earlier missed sitting for their first paper for failure to clear their tuition.

The money had on Friday last week been delivered to the school by one Difan Ahabwe on behalf of Banyakole Kweterena international an association of Ugandans living in the USA but was rejected by management.

However, following the intervention of the resident district commissioner Iganga, Eva Kwesiga management accepted to take the money to clear the entire tuition of the students who had missed sitting their advanced level History paper on the first day.

The money was paid by Difan Ahabwe in Baroda bank Iganga before delivering the receipts to the affected students at Top care secondary school.

Difan Ahabwe said he had played his role of paying all the tuition and was heading back to Kampala.

"I have done my part by doing whatever I was instructed to do and now am going back to Kampala for my business, "he said

The resident district commissioner of Iganga, Eva Kwesiga when contacted confirmed receiving receipts for payment of the tuition of the senior six students.

She, however, declined to divulge more details saying she had been instructed by the minister for education and first lady, Janet Museveni not to speak to the media about the school anymore.

Kwesiga said the ministry of education and sports had started investigations into the activities of the school management for disciplinary action.

"It's not only about denying the students to sit for the examinations but there are even more serious allegations that need thorough investigations, "she said

It was a moment of excitement after the affected students realized that some sympathetic Ugandans had volunteered to clear their tuition.

Huzeifa Buluma one of the students said he earlier feared that the school management would hike the fees tuition when results had been released as a way of punishing them for speaking to the media about the school.

"We feared there could be a hidden agenda that's why management was refusing the cash donation but now am relieved that things have been cleared," he said

Buluma hailed Banyakole Kweterena international for the support towards ensuring the entire school tuition was cleared.

Efforts to seek a comment from the school director Speke Muyinda proved futile as he could not answer any phone calls from known mobile numbers.

The district education officer Iganga, Baker Kasadakawo urged students to always alert him earlier about school proprietors who attempt to block them from sitting for examinations in order to avoid similar incidents in the future.

Background
On November 11, 2019 school administrators of Top Care secondary school in Iganga Municipality barred fifteen senior six students from sitting exams over fees balance.

Ministry of education later intervened with the assistant commissioner in charge of private schools, George Mutekanga promising to crack the whip on school administrators.