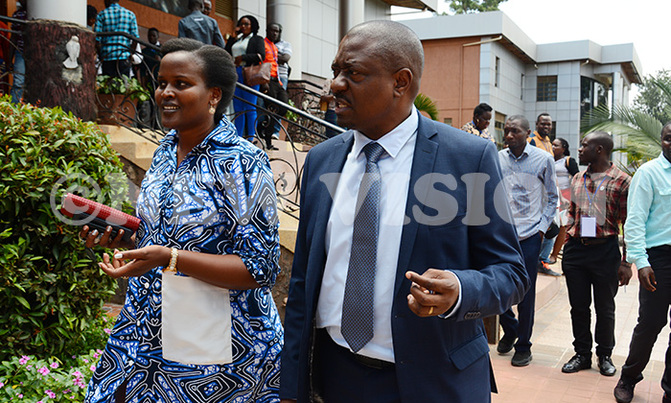 They argued that it is 20 years since its draft form was written and the public is still waiting for the final policy.
GEOGRAPHICAL INFORMATION SYSTEMS (GIS)

KAMPALA - Experts on Geographical Information Systems (GIS) have asked President Yoweri Museveni to ensure that the National Spatial Data Infrastructure (NSDI) policy is approved/ formed.

They argued that it is 20 years since its draft form was written and the public is still waiting for the final policy.

The experts pointed out that once the NSDI is in place, data will be integrated into one location (put in one portal) rather than having different ministries, departments and agencies managing their own data.

"We need to sit down and brief the President about the importance of having the National Spatial Data Infrastructure policy. This needs his intervention and once he backs us, all the bottlenecks will be addressed," Dr. Richard Irumba, the director at Kampala Capital City Authority said.

The objective of the NSDI is to provide a national infrastructure for access, and use of geospatial information in decision making at local, national and regional levels for economic development.

Reid Talemwa, GIS officer at Uganda National Roads Authority emphasised the need for professionals from the military, police, and academia and others to come together and utilise the benefits that come along with GIS technology.

He noted that this will only be possible if the data infrastructure policy is in place. "Otherwise, it will be a white elephant," Talemwa stated.

A UPDF officer Col Tunyuma Kanyoma stressed that having central data at one location put on a portal should be encouraged as it has been done by some countries.

He advised the National Planning Authority mandated to come up with data infrastructure policy to benchmark from other countries that have been successful.

Shafiq Nedala a GIS expert informed the audience about the urgency of data infrastructure policy saying it will help to regulate and curb those who would want to hack the data.

The experts made remarks during celebrations of GIS Day at Silver Springs Hotel in Kampala on Friday.

Rita Ajidru officer at National Planning Authority informed participants that draft policy is being scrutinized by Cabinet awaiting its approval.

She said once adopted, the policy would address gaps of data duplication by different ministries, departments and agencies as well as solving the problem of agencies not wanting to share data.

"There is a lot of resistance by ministries, departments and agencies to release data to other entities/bodies, people don't want to release it," Ajidru told participants.

At the moment agencies like security, Uganda National Bureau of Statistics collects data on security and population respectively noting that each one wants to remain in control of its data.

However, the military will be in control of sensitive data that might jeopardise the national security of the country.

The acting executive director of Kampala Capital City Authority (KCCA), Eng. Andrew Kitaka, informed the audience about the importance of GIS.

He said it is smart technology that is used to capture, store, manipulate, analyse, manage and present all types of geographical data to guide service delivery and decision making.

So far, he said the authority has made significant strides in transforming the city through smart technology.

For example, it has been used to identify floods hot spots, naming of the roads and numbering of buildings, solid waste collection among others.