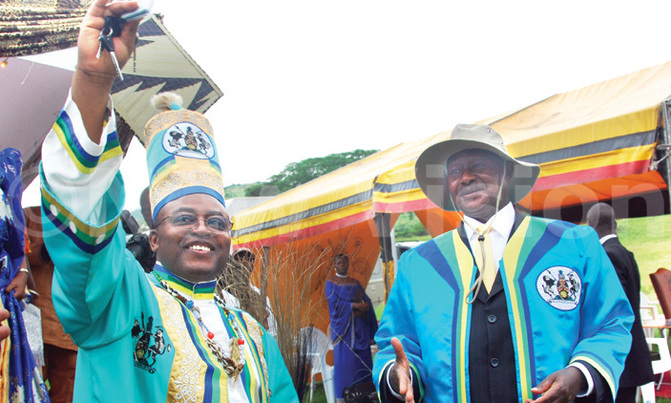 Mumbere inherited the title at age 13 and assumed the position of king at age 18.
On November 19, 1998, Rwenzururu Prince and heir to the throne, Charles Wesley Mumbere, returned to Uganda.
He had spent over 10 years in a self-imposed exile in the US. His return was against the background of insecurity in Kasese. The locals believed that his return would help curb the insecurities that had rocked the Rwenzururu.

Who is Mumbere?
Charles Wesley Mumbere, known by his royal title Irema-Ngoma I, is the king (Omusinga) of the Rwenzururu kingdom, located in western Uganda.

The Rwenzururu kingdom was established in 1962 as the result of the secessionist Rwenzururu movement by the Bakonjo living in the mountainous region of western Uganda. The revolt was led by Mumbere's father, Isaya Mukirane, who was later recognised as the king.

Mumbere inherited the title at age 13 and assumed the position of king at age 18. When he was 30, he made an agreement with the government of Uganda by which the government sent him to the United States for an education.

In 1984, at age 30, he enrolled in business school, but his government stipend was cut off. He obtained political asylum in the United States in 1987, received nurse's aide training, and began working in a nursing home in suburban Maryland near Washington, D.C.

He later moved to Harrisburg, Pennsylvania where he continued as a nurse's aide.

He kept his royal title secret during most of his 25 years in the United States.

In July 2009, Mumbere mentioned his kingship in an interview with The Patriot-News, the primary newspaper of Harrisburg, and said he was considering returning to Uganda, which had recognized Rwenzururu and designated Mumbere as king.

In October 2009, Mumbere returned to his homeland, where he was crowned on 19 October.

Because of clashes between Mumbere's guards and Ugandan police, the government arrested Mumbere on 27 November 2016. The clashes resulted in the death of about 100 people.

Since then, Mumbere has been battling the case, although he was released on bail.

However, his bail restricts him to Kampala and surrounding areas, over 350 kilometres away from his kingdom.