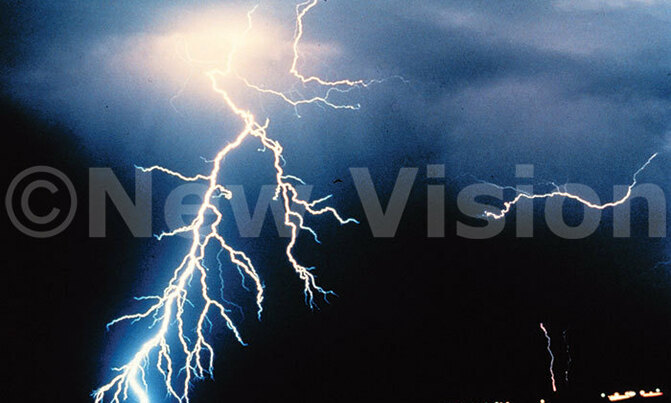 Lightning struck Kyabagoma Muslim Primary School at Mwalo village in Bukomansimbi district killing 2 teachers and injuring 8 pupils
25.07.14 - 8 pupils of Buramba Primary School in Bushenyi municipality, Bushenyi district died when lightning struck as they were in class while 14 pupils and a teacher were injured. The dead included Danson Nuwamanya P.7, Aston Mukama P.7, Annita Nuwandinda P.6, Comfort Akampurira P.6, Junior Nuwahereza P.7, Grace Ainembabazi P.7, Hillary Tumusiime P.7 and Agnes Muheisenta P.7., and the injured were Bridget Nuwasiima, Udith Asimire, Sheila, Charity Amutuheire, Viola Kabagahi , Nampa Oliver, Anita Tukamuhebwa, Naturinda, Praise Nuwasiima, Edson Tumuramye, Rita Amutuheire, Sylivia and the teacher Nickson Nagaba.
05.07.13 - 7 students, Florence Murungi (S.2), Juliet Nanbunya (S.2) , Julian Baker Kabateremwa (S.3) , Sheila Kimuli (S.3), Gloria Katushabe (S.3), Brendah Nyakojo (S.1) and Helen Murungi of (S.1), all of Mandela Secondary School were struck by lightning during heavy rains in Hoima district while they were in class for evening preps. All of them survived.
07.03.13 - Lightning struck Kyabagoma Muslim Primary School at Mwalo village in Bukomansimbi district killing 2 teachers and injuring 8 pupils. The teachers were Karim Kisekka and Joseph Mukasa. All the children recovered.
05.11.12 - Lightning struck 10 P.7 candidates of Nakaseta Islamic Primary School in Mityana district during a morning drizzle, as they were preparing for their Primary Leaving Examinations. The children survived but 5 of them who were critically injured missed the examinations.
06.09.10 - Lightning killed 6 pupils in Apac and Alebtong districts on 04.09.10 & 05.09.10 respectively. 4 of them, Teddy Atino, 17, Jessica Akullu, 17, Monica Angom, 13, and Joe Ojok, 6 were pupils of Te-lela Primary School while the two, Felix Oluma, 11, and Simpo Akao, 9, were of Oburu Primary School.
Facts about Lightning.
The air masses (cumulus and cumulo- nimbus clouds) moving in opposite directions cause heat. The warm air expands and in the process due to the increase in the volume it occupies more space and encounters cold air. It finally contracts which causes thunder.
The sudden expansion of air causes an explosion called thunder. When the sound waves are being transmitted, they encounter cold air and generate an electric discharge which moves towards the earth.
Lightning connects to earth through high points like trees, buildings, human beings and animals. Areas around the lakes are the high risk areas.
Lightning strikes are common at the beginning of the rainy season because there is a lot of energy built-up in the air. Lightning which is increasingly claiming lives is attributed to the massive deforestation which has hindered the absorption or providing channel for transmitting lightning.
What you should and not do during a lightning storm.
Install lightning conductors on buildings because lightning strikes through the highest points.
* Avoid taking shelter under a tree because they are immediate conductors
* Lie down if you are in an open place like a football play ground
* If in a car during a storm, avoid touching the ignition key, the car is insulated by the tryes, but the driver can complete the circuit and become affected
* Avoid collecting water in metallic containers when it is raining.
* Avoid answering telephone calls when it is raining even while indoors.
* Do not touch plumbing installations such as metallic water pipes.