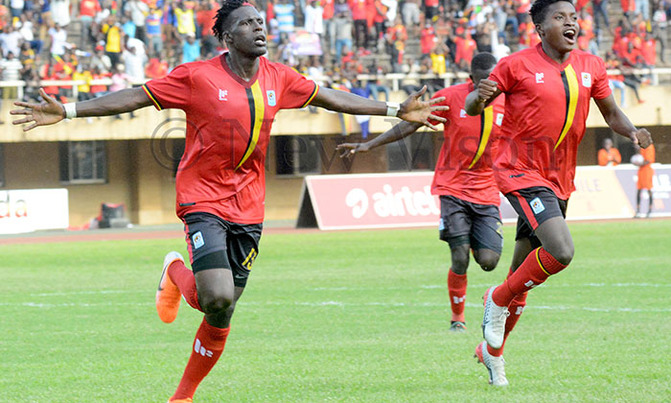 "For us, we took our chances when the opportunities were presented to us and we utilized them...."
Africa Cup of Nations 2021 qualifiers


Group B results

Uganda 2 Malawi 0

South Sudan 1 Burkina Faso 2



The Cranes could make it back to the Africa Cup of Nations following their excellent start to the 2021 qualifiers.

The Cranes have managed to pick four points from two games and currently top of Group B on goal difference ahead of favorites Burkina Faso.

The road to Cameroon is now wide open for the Cranes who must keep up with this impressive start ahead of their remaining games.

Coached by the Irish man Jonathan McKinstry, the Cranes managed to salvage a crucial away point against Group favorites Burkina Faso on Wednesdays last week in Ouagadougou, before exhibiting the same spirit on Sunday against the Flames of Malawi after a convincing 2-0 victory at Mandela National stadium Namboole.

McKinstry also had a remarkable start to his role as head coach since his appointment last month replacing French man Sebastian Desabre, who quit after the last AFCON campaign where Uganda did quite well by going past the group stages only to lose to Senegal by 1-0.

His first game in charge of the national side was an away tie against Ethiopia which his charges won 1-0 courtesy of Emmanuel Okwi's goal.

The Burkina Faso Challenge was the second one for him and he surprisingly led his troops to Ouagadougou and picked a 0-0 draw.

In his post-match press conference after the Malawi game, McKinstry said he was overwhelmed by the energy and persistence of the visitors but he fully credited his side for handling the challenge very well to stop the Malawians from getting anything positive from the game.

"First of all full credit to Malawi, they are an energetic team, young and full of running. To be honest we did not expect that energy to last that long, because they did not back down even in the second half despite trailing," McKinstry appreciated.

"For us, we took our chances when the opportunities were presented to us and we utilized them. Emmanuel Okwi an experienced campaigner does not need many chances to score a goal when it presented itself he scored. Collectively the team did well," he added.

Malawi head coach Meke Mwese admitted that his side was error-prone throughout the game and thus it availed Uganda a chance to capitalize on that to score the two goals.

"It was a tough game for us; we made some errors especially in defense.

You know when you make errors, you get punished and that's what we have been subjected to by Uganda," Mwese noted.

Burkina Faso also won their second match away in Khartoum defeating South Sudan 2-1. South Sudan hosts its home games in neighboring Sudan since its national stadium is under renovation in Juba.

Veteran Striker Astride Bance scored a brace for the West African nation to ensure they share top spot with Uganda on four points each in Group B. South Sudan's lone goal was scored by Stephen Pawaar.

The other key highlights of yesterday's game were the first senior debut for Allan Okello who was introduced in the 66th minute replacing William Luwagga Kizito.

Okello's introduction and the few moments he held the ball attracted wild screams from the fans who have been dreaming of the moment to watch the young KCCA FC midfielder play for the national team.

Vipers SC Fahad Bayo Aziz also making his Cranes debut scored his first goal on such a big stage like the Africa Cup of Nations qualifiers.

The attendance wasn't like the one that we last saw in Namboole as portions of the stadium was empty, but those who came enjoyed, with some blaming the sh20, 000/- entry fee as a turn off for an opening match.

Others blamed FUFA for not giving the match enough publicity, especially for a Sunday game.