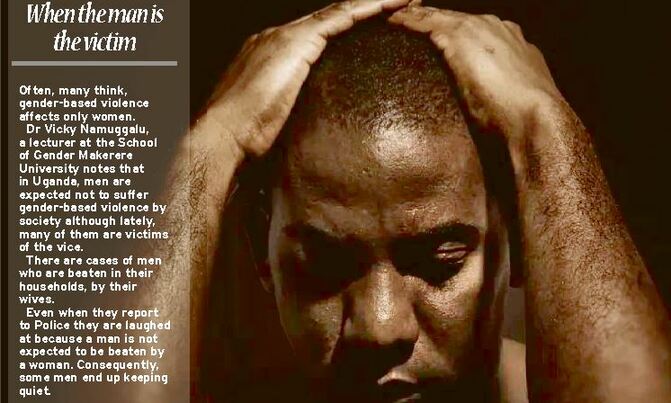 Many times, victims of GBV fear to speak out because of cultural limitations.
Last Friday, Vision Group launched a three-month multi-media campaign aimed at achieving access to sexual and reproductive health and rights for all Ugandans.
The campaign dubbed 'Live Your Dream', is being implemented within the context of United Nations Population Fund (UNFPA) global strategic plan.

Gender-based violence (GBV) is one of the issues hindering girls and women from living their dreams. Agnes Kyotalengerire analyses the challenge of gender-based violence and its impact on society.
With one hand, she struggles to carry a saucepan as she prepares a meal for her three children. Her right hand is swollen and a bandage wrapped around it. Lovina Aketch, 45, a resident of Nvara in Arua district, was assaulted by her husband of 10 years.
He returned home drunk in the wee hours of the night and battered her because she failed to serve him a warm meal. Aketch did not report the incident to the Police or area leaders. She says the issue is a domestic matter that outsiders should not get involved in.
Like Aketch, many women suffer silently when subjected to GBV because they want to 'protect their families'. Studies have shown that gender-based violence is complex and fighting it needs a multipronged approach. Gender experts warn that the culture of silence in the face of GBV is only fuelling the vice.
Efforts to encourage women and girls to speak up when subjected to GBV are yet to yield much progress. Dr. Vicky Namuggalu, a lecturer at the School of Gender, Makerere University, says GBV affects everyone.
She adds that many times, victims of GBV fear to speak out because of cultural limitations. "It is a problem that affects the whole community and some categories of the population just cannot speak about it, given the social-cultural settings. "There is a need to change the attitudes and perceptions that relate to GBV," she says.
Muggalu believes many of the GBV cases happen because people do not care. She notes that GBV affects the economic performance of individuals and, eventually, communities. It affects the health standards since the victims are injured and, therefore, cannot perform to the expectations.
In so doing, the negative implication of gender-based violence escalates from individuals to the families, communities and then nationwide. Annually, the Government spends close to sh77b on issues that would have been prevented.
For instance, in the health sector, there is a lot of money that is spent on cases of poor maternal health resulting from abortions due to a pregnant mother being abused. As such, many communities accommodate it and think it is okay; that it is normal for a man to beat a woman.
Others believe GBV is one way of disciplining or showing the women love. The Uganda Demographic Health Survey report of 2016 puts West Nile and Acholi sub-regions among areas with high indicators of GBV. Compared to the national figure of 39.6%, GBV in West Nile stands at 43.4%, while in Acholi sub-region, it is at 39%.
This means one in four women in the age bracket of 15 and 49, have experienced GBV at some point in their lives, compared to men with less than one in 10. Dr. Florence Muhanguzi, a lecturer and gender expert from Makerere University, says it is important that everyone cares about sexual and GBV because of the negative implications related to the physical and emotional harm that it inflicts on the victims.
"It does not inflict harm on only the woman, but even the people around them, especially the children. The effects of GBV on children are far-reaching," she explains. The implication of GBV on children At 35, Simon Kirya is still haunted by the unpleasant childhood memories where he witnessed his father batter his mother every night he returned home drunk.
According to Kirya, the moment that has psychologically tortured him to date was when his mother sustained a fracture after being assaulted by his father. "It not only tortured us psychologically but also caused our mother to divorce," Kirya recollects his childhood GBV ordeal.
Later in life, the vice caused a financial burden on him being the elder child in the family. From his savings, Kirya, who is a driver with a nongovernmental organisation has to foot hip replacement fees for his mother of up to a tune of sh18m.
What went wrong? Mondo Kyateka, who is the commissioner for youth and children affairs at the Ministry of Gender Labour and Social Development, blames the rampant cases of violence against children on the broken moral fabric of society.
"We are seeing church leaders getting involved in issues concerning child abuse and neglect. "In addition, fewer people are going to church and as a result, people are doing things differently," Kyateka says.
Bernard Atiku, the chairperson of the Parliamentary Forum for children, says the daunting figures of violence against them stem from the fact that it took the government long to comply with the convention of their rights of which Uganda is a party.
For instance, Atiku says, it has taken the Government close to two years to table statutory instruments that will help agencies to implement some of the provisions in the amended Act. The Act has proposed the creation of the Uganda National Children's Authority, but this cannot be put in place without statutory instruments, Atiku explains.
However, there is a light at the end of the tunnel. Kyateka says Government, through the gender ministry, has come up with parenting guidelines to help curb the torture that children are subjected to as a result of GBV.
The guidelines were drafted following the violence against a children report that revealed that people who are abusing children are not strangers but parents, relatives and neighbours.
"As government, we think one of the things people need to know is understanding parenting. "This will consequently curb torture the children are subjected to," Kyateka explains. The guidelines specify that 2017 to 2020 were declared years of the family. Kyateka says during the years, the issue of parenting should be emphasised.
He, however, laments that lately, parents are preoccupied with looking for money and do not have time for their children. GBV in refugee communities According to the United Nations High Commissioner for Refugees monthly protection update - sexual and GBV (SGBV) published in May this year, out of the 458 incidents of GBV that were reported from refugee-hosting districts, 419 were females while only 39 were males.
About 71 incidents managed were of child survivors. Incidents of physical assault totalled 178, thus remaining the most prevalent incident followed by 100 cases of rape, the psychological/emotional abused victims were 80; denial of resources, 61; those forced into early marriage were 33 and sexual assault victims were six.
The abuse of power in relationships continues to be the main contributing factor to SGBV in the settlements and host communities. Other drivers of the violence, include scarcity of fuel and natural resources increasing risks of attacks, limited livelihood opportunities, poverty, and conflict, among others.