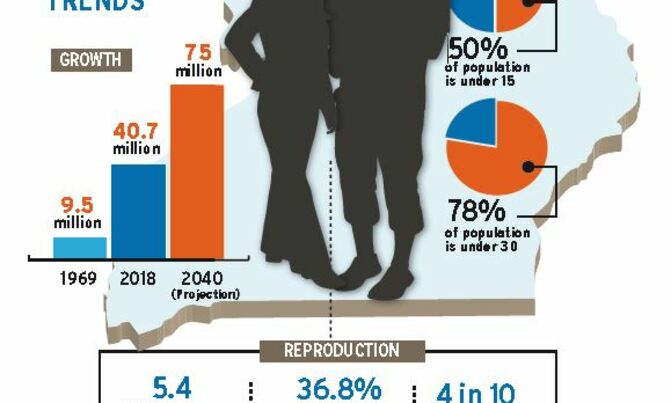 Uganda still faces challenges in delivering an integrated package of sexual and reproductive health and rights, including supporting young people on the road to realise their potential.
Vision Group is running a three-month multi-media campaign aimed at achieving access to sexual and reproductive health and rights for all Ugandans.

The campaign dubbed Live Your Dream is being implemented within the context of the United Nations Population Fund (UNFPA) global strategic plan. Agnes Kyotalengerire analyses the objectives of the campaign and it's expected outcomes

A chubby, half-dressed toddler in green shorts restlessly pulls at a young girl's blouse, struggling for her attention.

At first, I mistake her for a baby-sitter, but later realise that she is the mother after she positions the baby to breastfeed. At 18 years, Patricia Lanyero would probably be chatting away with her peers in school.

Unfortunately, Lanyero is already a mother struggling to understand parenting issues of breastfeeding and caring for babies. She can hardly construct a sentence in English apart from telling me her name. When she fails to explain in English, she switches to Acholi, which I do not understand.

Luckily, one of the village health team members who guided me to Lanyero's home volunteers to translate. Lanyero, a resident of Pudore village in Mucwini sub-county, about 14km from Kitgum town, is struggling to raise her son as a single mother. She was in Primary Five at Mucwini Primary School last year when she became pregnant and dropped out of school.

Her father died of an undiagnosed illness and her mother succumbed to liver disease. Lanyero was left in the care of her paternal aunt. Lanyero was lured into a relationship with a young man in the neighbourhood who gave her small gifts such as money to buy vaseline, shoes, and clothes.

She got pregnant and had to go and live with the man's family. When the family started mistreating her, Lanyero returned to her aunt's home. Unfortunately, her aunt died three months ago. Lanyero inherited the home where she currently stays with her son. Lanyero's teenage parenting woes are part of the sexual and reproductive health and rights challenges that the country is grappling with.

Interventions
However, all is not gloom for young girls and women. Interventions to enable them to live productive lives have been put in place. One such intervention is the campaign Live Your Dream, which is being implemented within the context of the United Nations Population Fund (UNFPA) and global strategic plan.

The campaign has three key goals; ending unmet need for family planning, ending maternal death, violence and harmful practices against women and girls. Martha Songa, the programme analyst for advocacy, partnerships, and networking at UNFPA says the campaign is a social change movement. It will impact everyone countrywide but majorly is focused on West Nile and Karamoja regions.

The UNFPA representative in Uganda, Alain Sibenaler, says the campaign also aims at aspiring the country to attain middle-income status by 2040. Sibenaler adds that the poor sexual and reproductive health and rights indicators might make it hard for Uganda to achieve the 2040 aspirations.

He says the campaign will help people live there dreams in every aspect of there lives. Songa says the campaign is hinged on four key pillars.

Let Girls be Girls
This will focus on addressing issues that abruptly end the childhood of girls. These include gender-based violence (GBV), harmful socio-cultural practices such as child marriages and female genital mutilation.

"We believe that all women and girls have the right to lead vibrant, dynamic lives where they can be bold in the pursuit of there aspirations," Songa says.

Books Before Babies
This will emphasize keeping girls in school by addressing barriers to education.
It will also promote access to appropriate education on reproductive health and rights to prevent teenage pregnancies and HIV. Dr. Joseph Matovu who works at Makerere School of Public Health says when girls stay in school, there is a reduced risk of teenage pregnancy and less of early marriages, a decline in fertility and consequently an improvement in living standards.

With You(th)
Under this theme, the campaign aims at investing in young people in order to unleash there potential, empower them for innovations and social change. Seventy-eight percent of Uganda's population are young people below 35 years. Young people, especially girls, are disproportionately affected by ill-health.

This is evident with the HIV prevalence among young people aged between 15 and 24 at 3.7% and it is much higher at 9.1% among females aged 20 to 24.

Generation for Generation
This pillar will focus on bringing generations together, infusing the wisdom of the elderly with the energies of the youth.
It will also aim at tapping into the insights of academia with the diversity of views of decision-makers.

What needs to be done?
Matovu says initiatives to keep girls in school should be fast-tracked and implemented by the key stakeholders. However, he adds that there should be interventions targeting out of school girls with skills-based training.

For example, if they are empowered with hands-on skills to make liquid soap, candles, weave and sell mats, they are able to earn money which reduces the risk of vulnerability. Dr. Betty Kyadondo who is the director of the family health department at the National Population Council says there is a need to address more than the sexual and reproductive needs of young people.

"The needs of young people go beyond health and stretch as far as economic issues," Kyadondo says.

The magnitude of the challenge
Uganda still faces challenges in delivering an integrated package of sexual and reproductive health and rights, including supporting young people on the road to realise there potential.

The country has one of the highest teenage pregnancy rates in sub-Saharan Africa of up to 25%, according to the demographic health survey of 2016. This means that one in four girls aged between 15 and 19 has already begun childbearing or is carrying her first pregnancy. The same report indicates that adolescent childbearing is more common in rural than in urban areas at 27% and 19% respectively.

The same report shows that there is regional variation, with Teso sub-region having the highest proportion of adolescents who have begun childbearing at 31%. Teenage pregnancy rates in Acholi and West Nile sub-regions stand at 26.6%, while the Kigezi sub-region has the lowest at 16%.

The proportion of married women with unmet need for family planning (those who want to use contraceptives but cannot access them) stands at 28%, according to the Uganda Demographic and Health Survey 2016 (UDHS 2016) down from 34% in 2011, while adolescents and youth have the highest unmet need at 29.6%. Three out of 10 women are not able to access and use contraceptives.

The maternal death rate stands at 336 per 100,000 live births and adolescent pregnancy contributes up to 20% of maternal deaths in Uganda according to the Ministry of Health report of 2016. The UDHS 2016 indicates that one in five women in the age bracket of 15 and 49 have experienced sexual violence at some point in there lives compared to men with less than one in 10.

What others say
Prof. Rodan Banyenze, dean, Makerere School of Public Health
There has been a challenge in empowering young girls in life skills to make smart decisions that affect there lives. This includes issues of early sex for the girls are often forced into there first sexual encounter which goes with gender-based violence. Young people need to know how to get out of situations such as unplanned sex.

They should have access to prevention tools to protect themselves from sexually transmitted diseases. They need access to condoms and contraceptives, especially at youth-friendly corners.

Dr. Nelson Musoba, director-general of Uganda AIDS Commission.
The biggest challenge is access to the right information. We need to equip young people with knowledge on sexual and reproductive health rights early in life. Once they have the right information, it will help them make the right decisions which include behavioural change.

Catherine Odeke, co-ordinator Nursing Now
Young people lack the empowerment to make decisions that affect there health and lives. For instance, the power to make decisions to seek family planning services or even to engage in sexual intercourse. They have not been sensitised on sexuality education issues and changes that happen to there bodies.